"It's actually good this time!"
That's what I would say if Salesforce.com were to ask me for a quote—movie poster style—about their new mobile Salesforce CRM networking app, Salesforce1. Actually, I'd probably say something much nicer, as I would be flattered to be asked, but that's what I would have been thinking!
That thought is more of an indictment around how terrible their last app was than a commentary on the newest version. Did any of you use the old app? I tried to find some screenshots of it but had no luck. I now believe Salesforce wisely had them all destroyed. All screenshots of the old app, if real, would have been the perpetually loading "updating" screen. I think that image was burned into the Gorilla Glass on my old iPhone.
Can you tell I wasn't a fan of the old app? The new app, on the other hand, has some brilliant stuff. And I'm not talking about all the crazy app integrations that it was being touted for at the big Dreamforce reveal. As a sales guy myself, my reasons for considering Salesforce1 one of the best productivity apps for business growth strategies are much more practical than the tech hype.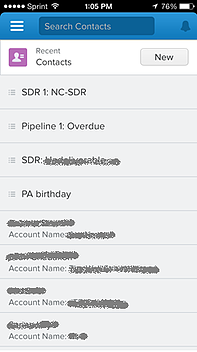 1. Home Screen:
First things first. Yes, I have Sprint. I'm not proud of it, but I'm not about to put on airs about it either. Baring my soul here people.
Back to the app, the first thing you'll notice when you open it is the fact that it actually opens. And what's more is it opens to your most recent items. And this list updates incredibly fast. You can test it by opening a new contact in Salesforce on your desktop, then thumbing the list to refresh it on your phone. The new contact pops in!
I can't tell you how many times I've been able to quickly grab contact information from this screen when en route to a meeting or trying to call someone I've recently accessed on my desktop. It just works. Everytime.
That alone makes it worth the ZERO extra dollars I spent on this app.
2. Tabs: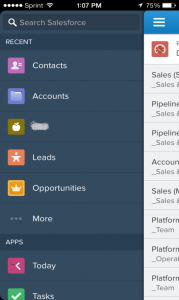 There are two things I would like to point out on the Tabs part of this app.
Firstly, it's just so clean and intuitive. I know being able to thumb-slide (technical term) over to a Tabs section in an app isn't breaking new ground, but it's nonetheless great. And it looks so nice too.
Secondly, all of these tabs open up to parts of the app that are updated and easily edited. Honestly, if the app just had the ability to access and update opportunities it would get four stars from me. Everything else is gravy.
3. Today: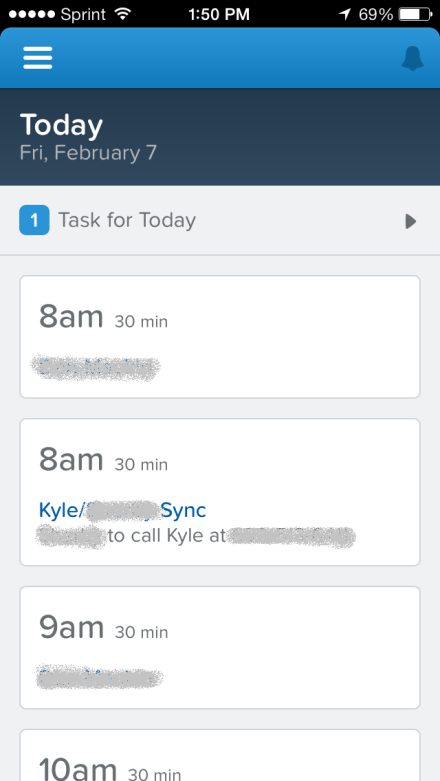 At the bottom of the Tabs section you may have noticed a "Today" tab. Today is Salesforce1's Calendar app and it's really great.
After selecting this tab for the first time, Salesforce1 will ask for access to your calendar. And you will give it!
It's simple, but the fact that you can, in one place, access your appointment information from your calendar and the contact record for the person your meeting with is really helpful. After your call, you can simply click on their contact record and log a quick activity. It's so easy, a caveman could do it.
Also, I'm aware I double booked myself at 8 a.m. And that I have only 1 task for today—that's because tasks are useless.
4. Contact Record: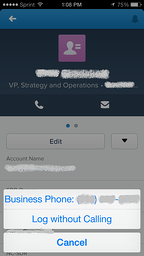 Wondering what it looks like when you actually click on that contact name? Well you've come to the right place my friend!
The contact record in Salesforce1 is again, a clean and simple professional networking tool. More importantly you can quickly access the two most important items, their phone phone number(s) and their email. Accessing them from the app will prompt you to create an activity afterwards as well. Is this real life?
You bet it is, and it's getting just a little bit easier thanks to Salesforce1.