As a CEO, you need to be in the know. It's your job to be at the cutting edge, staying up to date on the latest tech tool and trends so you can lead your team to the best of your ability.
That said, it's too easy to get caught up in switching from one software suite to another in the name of a few moments gained to devote to a more important project, assuming the onboarding time for the app doesn't actually cost you more time.
Now, I'm a dedicated software nerd, and I'm always searching for better tools to make my workflow more efficient, so I've been busy scouring Product Hunt, AngelList, and more to find you best in class apps to keep you at the top of your game all year long.
I've sifted through dozens of apps, extensions, and pieces of software and refined it down to this list you probably haven't heard of to help you have your most effective year yet.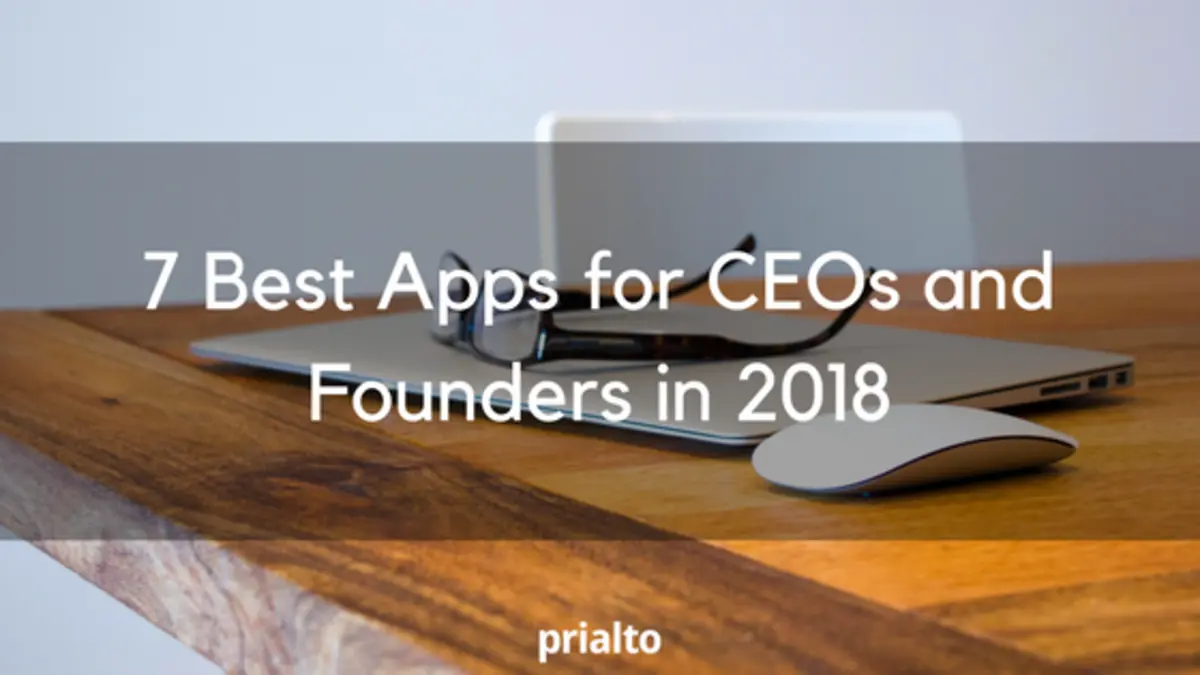 7 Best Apps for CEOs and Founders in 2018
Station - Desktop App for Windows/Mac
Get distracted by all the of tabs and apps you constantly have open? Download Station for your desktop, and you'll instantly be immersed in a beautiful environment that makes it easy to stay focused.
Besides the UI making work a more pleasant experience overall, Station does an outstanding job of helping you stay on task by keeping your most used apps easily accessible and top of mind. Additionally, it consolidates your notifications into a manageable inbox, so they aren't constantly interrupting your workflow.
Drag - Chrome extension
It's Trello for Gmail. Like the name implies, it turns your Gmail inbox into a drag and drop board of to-dos, tasks, and checklists. Now, you can finally make your email the project management system you've always wanted. While it makes your email client a little slow, the level of inbox organization and task management I've achieved after using it for a few days has made me a believer.
The Pro version of the software is worth it if you primarily work out of your email, but even the free version will upgrade your workflow.
FollowUp.cc for Gmail - Chrome extension
Turn your inbox into a powerful CRM and task manager with FollowUp.cc. With email and link tracking, the ability to view contact information within an email, and an add reminder function, FollowUp.cc eliminates the need for many other extensions like Ugly Email, Rapportive, and more, ensuring your browser is running as quickly as possible while giving you all of the benefits of the app.
One of the most promising features is the automatic followup function. Never lose out on an opportunity because of a failure to followup again.
Throttle - Cross-platform app
Have you ever wanted to control who could and couldn't send you email?

Throttle prides itself on keeping time wasters out of your inbox. From marking accounts as spam to finding out who's tryign to sell your email address to creating a single digets email for your less important emails, Throttle makes email efficient again.

If you're a VIP, this app is well worth the investment to keep your inbox clear. They are currently working on a feature that will automate emails like email subscriptions, package tracking, and more
For additional time managemant apps, take a look at our round up post here.
First Search - Search tool
First Round has a reputation for excellence, positioning themselves as the HBR of startups. With First Search, they've made their articles completely searchable, giving everyone access to the best advice available. This is your new secret weapon for consistent education and growth.
Zoom - Available on almost every platform
Zoom has managed to overtake almost every other piece of video conferencing software on the market. How? By actually being reliable. With the ability to work across mobile or desktop, plus the ability to call in when you can't be on video, Zoom will upgrade your videe conferencing immediately.
For other video conferencing tools, check out our post here.
Voxer - Android/iPhone app
Voxer is your digital walkie talkie. Leave messages for your team to listen to when they are ready to, and reduce the number of interruptions while increasing the level of connectedness and communication.
Become A More Effective Leader
Join executives, entrepreneurs, and industry-leading professionals from around the world who use our research-backed advice and services to become more effective and productive leaders. Download our free guide:
We understand your inbox is already packed and promise to only send you relevant content.