At Evernote, John McGeachie works on supporting customers in developing their own productivity process - one that goes beyond the limitations of traditional pen and paper notes. His iPhone home screen is proof that John himself has embraced the concept of automating productivity. His favorite apps cover everything from filing his expenses to keeping track of where he goes, making his work seamless.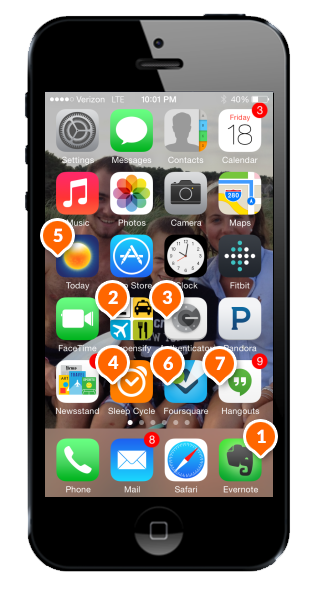 1. External brain
John uses Evernote multiple times a day, so he keeps it in pole position for easy thumb tap access.
2. Expense Management
John uses his Expensify app to log expenses anywhere and everywhere he goes.
3. Locking down
John's Google Authenticator app is a constant, but annoying companion that allows him to easily move through the many important spaces that now require 2-factor authentication.
4. Tracking sleep
John's favorite $1 app - Sleep Cycle - helps him monitor how poorly he's been sleeping!
5. On the horizon
John loves the Today app to check weather in his favorite cities, day-by-day.
6. Check-in addiction
John loves checking in on Foursquare, though he's not sure why, since they've now made points less of a "thing." He also likes leaving a digital trail of breadcrumbs by using IFTTT to log his checkins to Evernote!
7. Hanging out
John finds it very useful to have his Hangouts easily accessible on the front page. At the same time, they frustrate him because he can never get the badge down to 0, even when he's sure he's seen everything.
See more
To see more smartphone personalities in our series, click here.
---
"This article was originally posted by Prialto: The Virtual Support Service for Executives. Prialto Virtual Assistants are geared to actually pull your business forward and make delegating easy"