On October 30th, Prialto held our first company-wide virtual celebration. We were celebrating the many things our teams were able to achieve this year despite the immense challenges. It was a night filled with inspiring messages and one that attendees will remember for years to come.
As our first virtual celebration, we learned a ton over the five-week planning process. What we discovered can easily be adapted to drive events that are being planned on a shorter timeframe.
Here are six tips that will help you plan a fun and engaging virtual holiday celebration.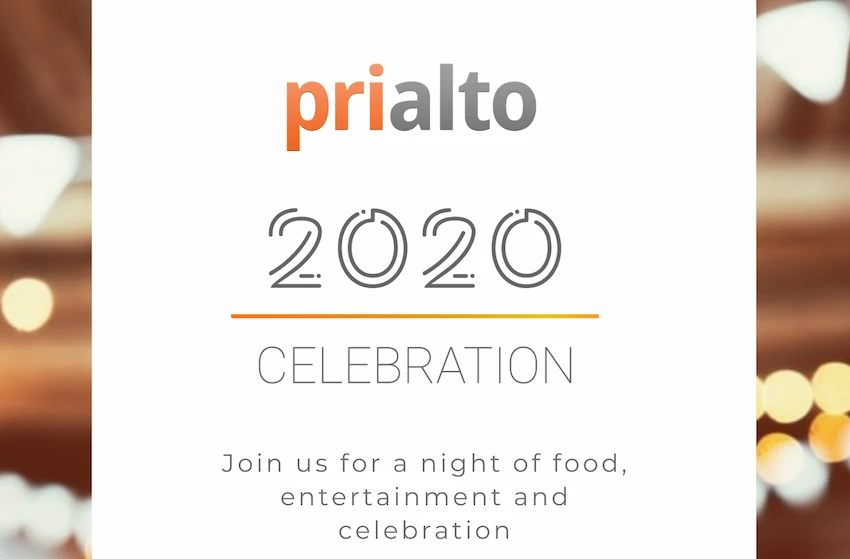 Form a Cross-Functional Planning Committee
The key to success for any celebration is making sure it reflects the interests, struggles, and successes of all groups attending. To do this, include at least one member of every team/department in your planning committee. Not only does this allow you to capture a diverse array of opinions, but it also spreads out the workload, so no team is burdened by the planning process.
Here are some tips that helped our committee run smoothly:
Start by deciding a theme and tone for the event. Agreeing on these items will provide much-needed guardrails for the rest of your decisions.
Have regular check-ins. How frequently you should meet depends on how much time you have until your event and how elaborate it is. The sooner and more complicated your event is, the more frequently you should check-in with your committee.
Determine the next steps and who is responsible for each at the end of every meeting. This helps hold everyone accountable for making progress.
Create a group chat for people to ask questions, share ideas, and get feedback while working on their deliverables.
As we got closer to the event, we scheduled a couple of extra meetings to finalize all of the components and resolve last-minute issues that came up.
Related: How (And Why) To Celebrate the Holidays with Global Teams
Decide On Your Speaking Elements as Early as Possible
Once your planning committee has settled on a theme and tone, the next step is to decide your speaking elements.
Start by brainstorming what messages you want to communicate during the event. This can include a variety of parts such as:
A reflection on the past year
Raffles
Employee recognition
Your organization's path forward
Company wins
Client testimonials
And any other messages that fit your theme and are engaging for your audience. Once you have the elements, determine who in your organization is the best fit to speak on each subject and make sure they're comfortable doing so.
Making this decision early gives someone (ideally a communications professional on the committee) time to work with all speakers to ensure they're telling a cohesive story throughout all of the elements.
Since attendees at virtual celebrations may have many distractions in their home, it's critical to take the time to craft engaging messages if you want to hold their attention.
Related: How to Throw a Holiday Party that Employees Want to Attend
Choose Lighthearted MCs
One of the biggest challenges of virtual celebrations is that they tend to be more structured than in-person events, which can make the experience stiff and boring for attendees. However, you can create a lighter environment by choosing upbeat MCs who can tie all of your sections together in a conversational way.
While you can run your show with one MC, two is ideal since they're able to bounce jokes and commentary off each other. We found that choosing two well-known friends in the company as MCs brought extra life to our celebration as their banter added entertainment between speakers.
Remember that, while you want your MCs to be as authentic as possible, they should still follow a rough script or outline. This prevents them from going overtime or forgetting any logistical messages that they're responsible for sharing.
Use Breakout Rooms for Meal Times
Often, one of the most fun parts of in-person holiday celebrations is getting to chat with colleagues over dinner. It's a great opportunity for your team to bond and reflect on the year. While your remote team can't eat at the same restaurant together you can create a space for bonding by delivering food to everyone's home and having them eat together in Zoom breakout rooms. This set up provides a relaxing opportunity to chat freely in the middle of an otherwise structured event.
We've found that limiting the groups to four to five individuals/families is ideal. It's enough people to have a dynamic conversation while still small enough for everyone to contribute to the discussion.
If you're providing dinner and dessert, include different people in each breakout room, so employees have an opportunity to chat with more people at your organization. If this means grouping people who may not know each other, add conversation prompts to the rooms, making it easy to spark conversations.
Assign Ownership of Every Part of the Live Event
If you've ever planned a virtual event, you'll know there are a ton of small, easily overlooked tasks during the live event. This includes:
Moderating the chat to encourage conversations and answer questions throughout the event
Doing back-end tasks such as spotlighting speakers, playing videos and triggering breakout rooms
Finding and muting guests who come off mute at inappropriate times
Jumping in as a back-up for speakers. Even with a ton of preparation, there's a possibility that one of your speakers will have technical difficulties the night of the event. Assign one or two people to jump in and move things along if that happens.
Plus, additional tasks depending on the scope of your holiday celebration. Think carefully about everything needed to make your virtual celebration run smoothly and assign committee members or other employees to manage them during the event. These small details will create a more seamless experience for your attendees.
Conduct Rehearsals a Few Days in Advance
Don't leave the success of your virtual holiday celebration to chance. Conduct one or two rehearsals a few days in advance to test. In your first rehearsal, it's likely that someone will forget one of their responsibilities, there will be some confusion with zoom settings, or another issue will arise.
Finding these problems gives your team time to resolve and retest them so that everyone is confident in what they need to do to make it run smoothly on the day of the event.
These tips helped us have a celebration that positively impacted our team during these challenging times, and I hope they do the same for you.
About the Author: Emily formerly led Prialto's content production and distribution team with a special passion for helping people realize success. Her work and collaborations have appeared in Entrepreneur, Inc. and the Observer among others.