This article is part of our ongoing PA Note series. It reflects the thoughts, experiences, and motivations of Prialto's Productivity Assistants from the field.
There are many satisfying elements to building Prialto. Like any business, we love getting positive feedback from our member customers who tell us that we help lighten their load. What is equally magical, though, is when we see our global colleagues achieve their individual goals, both inside and outside of their Prialto work.
One such colleague, Astrid Carranza, recently circulated a note inside of Prialto upon reaching an amazing milestone. Astrid started with Prialto as a PA in October 2012. She has risen to team captain while simultaneously working towards her law degree.
Last month, she earned her degree. This is a major achievement for her and for her family. Earning a law degree in Guatemala requires special comittment:
It requires a total of 6 – 7 years of dedication: the main program takes about 5 – 6 years, with a required one year of pre-specialization.

Classes take place every day of the week, and additional, required practices take place on the weekends.

There is a grueling, three-part final examination which includes two rounds of 2+ hour panel interviews with four attorneys, and a thesis project.
Getting through all this was a family affair; Astrid is the youngest of four with three older brothers and, amazingly, all have studied law.
Prialto has been pleased to play its modest role along the way, and we appreciate the shout-out from Astrid in her note below.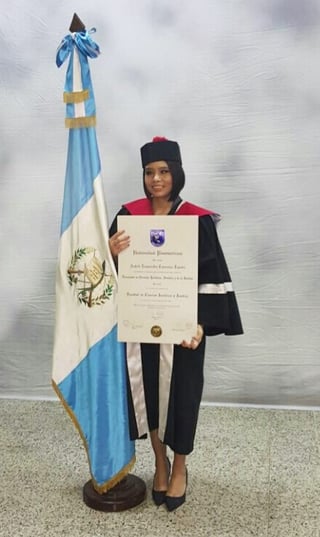 A few years ago, I decided to go down the path called "the road less traveled" here in GT due to the career I chose (Law).
Finally, that journey has successfully ended and I am very grateful to see that all of my hard work has paid off in the end.
Someone once told me, "Go forth in life to achieve your dreams, but don't forget the reasons and the people who make the journey worth while".
That being said I do want to thank everyone who supported me: my family, my friends and Prialto who all have been behind me in this journey.
- A note to Prialto from
Astrid Carranza, May 2016