You are probably adequate at networking. If you were not doing a passable job, you would not be in business. But you are probably not an amazing networker. Those who are amazing at professional networking are already reaping the benefits of being great, but you aren't one of them.
So how can you move beyond mediocrity and be great?Driving a networking process and being amazing at networking are NOT the same thing. In fact, putting them together may diminish both the process and the actual networking. Moreover, the person who is good at one is likely weaker at the other.
So how might you proceed?
Why it is important
This is preaching to the choir, I know, but let's first remind ourselves about the power of staying in touch.
If you offer any professional service, the vast majority of your business comes from either repeat business or referrals. And the rest of your business, which comes from leads outside of your existing network, still requires the support of those who know you well. That's because those who don't know you are going to vet you through those who do before they agree to sign and work with you.
This is true whether you are a real estate agent or a venture capitalist. The following pie charts outline the fact that the sources of those businesses look about the same.
Contactually recently conducted research on 100+ real estate brokerages and compiled the stats on their new business outlined in the chart below.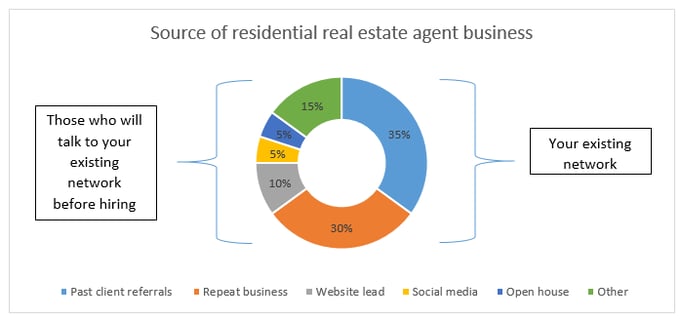 While Contactually collated the data only on new real estate business, a study on venture capitalist or executive recruiters would yield nearly identical pie charts like the following: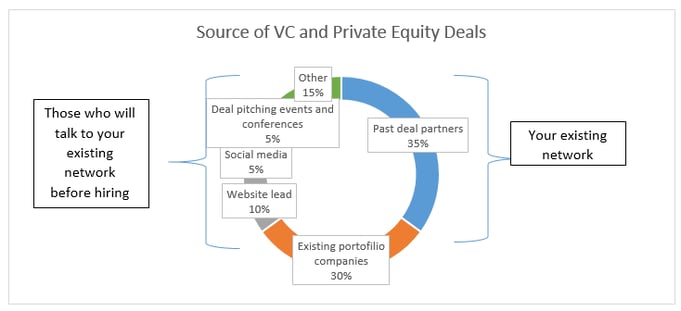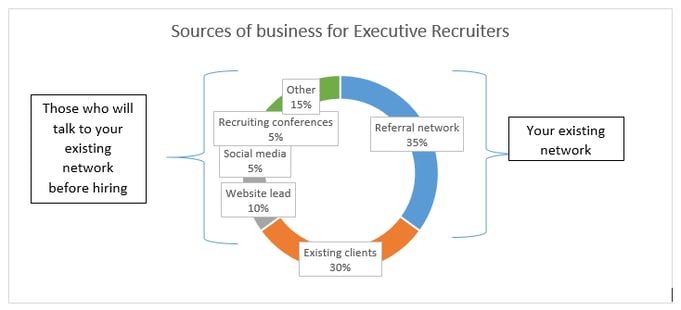 Of course, whether you're working in real estate, principle investment or executive recruiting you already know all this.
So why are you not already an amazing networker?
Chances are that you've become paralyzed by the process of networking and you've conflated the art (your personal touch where the most value is created) with the process (the essentials for giving you the chance to perform your art).
Why you are paralyzed?
There are a few reasons why you are stuck, and an almost zero chance that you are unsticking yourself.

The bottom line is that getting a consistent, ongoing personal networking process going and then keeping it consistently in place requires tremendous intervention into your daily activities. However, your business is already getting by. You've probably worked tremendously hard to get to where you are. You are already at least moderately successful and probably very successful. Changing things up, learning new habits, and reworking your existing workflow requires fighting inertia and solving a difficult or potentially impossible calculation on the risk-reward tradeoff with your time.
Meanwhile, you likely skim the personal productivity articles that are full of contradictory advice: model these "simple" habits to make yourself more productive, explains one expert. Work around your weaknesses and focus only on deepening your greatest strengths, explains another.
The power networking process is simple, but not easy
Becoming a better and more consistent power networker is simple:
Get to the right events to meet the right sort of people for your business

Bucket all your contacts by the frequency at which you should be communicating with them

Use a CRM or contact manager like Salesforce.com, Contactually, Zoho, Microsoft Dynamics, orSugar CRM to manage those contacts and help remind you to "reach-out"

Personalize the outreach just enough (add your art) to keep your communication authentic and to make it value-add
Do this in a consistent and scalable way and, over time, you'll find your network referring you valuable business.

Though simple, integrating this into your life yourself is NOT easy. If you are not already following a system like this and you are a mid-career professional, there is almost no chance that you are going to adopt this process.

Your best chance is to delegate this process to a trusted resource. In fact, if you do this, your chances of applying your art and talent to a dependable networking process will go from near zero percent to near 100 percent.