Time Doctor co-founder Rob Rawson is a bona fide productivity expert. He's built a company and a consultancy on making sure his customers are spending their time wisely. So, unlike the rest of us, he truly optimizes his phone for time management. Timing and productivity apps make it to his home screen, as do the things he uses to fill in the "sand" in his day. The other stuff stays off, to keep him from getting distracted.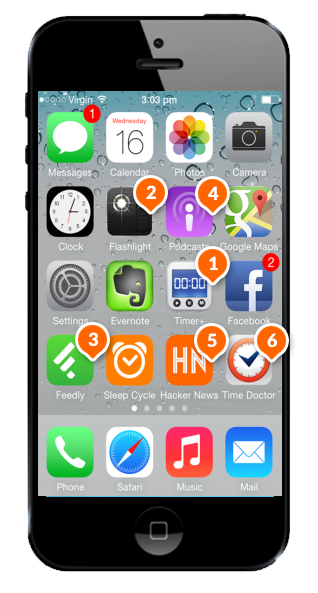 1. Startup chef
Rob uses the Timer app largely for timing eggs. He's got it down to a science - 6 minutes for perfect boiled eggs!
2. Stealth moments
There are a few times a day when Rob anticipates using or actually uses his flashlight – to look in on his baby boy at night, or if the lights go out!
3. Filling in downtime
Rob uses Feedly to follow several RSS feeds from blogs on his favorite topics, such as split testing, entrepreneurship and venture capitalism. He enjoys the app during his downtime, while waiting for a red light, for example.
4. Learning on the go
Rob enjoys listening to the Mixergy podcast whenever driving. It features interviews with over 1000 successful entrepreneurs.
5. Hacker news
Rob admits that he's just a wee bit addicted to YCombinator's Hacker News website and app. It keeps him up to date on all things tech and disruption.
6. Time for productivity
Rob uses his own app, Time Doctor, to both keep up with his developers and to monitor his tasks and time worked throughout the day. It keeps him busy, productive, and constantly ready for the next thing.
See more
To see more smartphone personalities in our series, click here.
---
"This article was originally posted by Prialto: The Virtual Support Service for Executives. Prialto Virtual Assistants are geared to actually pull your business forward and make delegating easy"