---
We can all benefit from tools and hacks that will free up our schedules, allowing us to spend more time focused on moving our business goals forward in the most effective ways possible.
Here are 9 task management tools and hacks to increase your business productivity.
---
With all the online information available at our fingertips, it's easy to get distracted. With the Pocket app, you'll stay focused instead of going down distracting paths that derail from the necessary tasks we need to accomplish on any given day.
Here's how I make Pocket work for me to avoid unnecessary distractions during my work day:
In the morning during my commute, I browse Twitter, The Wall Street Journal, Huffington Post, and Tech Crunch for news. I skim headlines and save the most relevant and captivating to Pocket for later reading. I save content directly from my browser or from other apps like Twitter. Throughout the day, as I research and develop content, I come across a variety of interesting articles, videos, tweets, images, recipes and so on.
All those go into Pocket, and I organize everything using tabs.
At lunch or in the evening after work, I dig into Pocket for those articles that I saved throughout the day. This way, I can stay focused throughout the day knowing all those bits of content are waiting for me in one place on any device I want to use, whether online or off.
When I'm ready to dig in, I simply click on the content I'm interested in viewing. Instead of having to revisit the content where it lives online, Pocket pulls it up in a format without ads, comments, or sidebars.
Zero distraction achieved, on so many levels!
Evidence suggests that constraints make us more productive. Enter the 30/30 app, which fuses task management with a timer.
After you create a list of tasks you need to complete, 30/30 allows you to assign a specific amount of time to each task. Unlike a calendar where you aren't held to the constraints of a ticking click, 30/30 keeps your task list within the confines of a series of alarms that you set up. It's up to you to abide by those alarms.
The whole point is that it's easy to get lost in your to do list. Tasks that you know should only take you 30 minutes often end up taking hours because of distractions, rabbit trails, and self-imposed procrastination.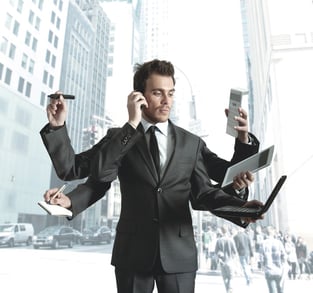 Let's say you have one hour open on your calendar. What to do? All sorts of tasks beckon: calls, emails, social media, impromptu meetings, and the like. Instead of getting lost in the seemingly endless tasks you could perform, you open up 30/30. When you browse your 30/30 to do list, you see that you need to perform prospect research and prospect outreach to keep your pipeline full. You don't want to become too immersed, because you have a full calendar for the rest of the day. So, you set yourself up to research for 30 minutes and outreach for 30 minutes. The timer begins, and now you feel the pressure to make progress within those small windows of time. If you view it as a bit of gamification, you'll have fun while you slam through your to do list.
The 30/30 app is also fabulous for those of us who tend to overspend our times on tasks, meaning we spend way more time on certain tasks than we should.
The app is super easy to adopt, and even easier to use. It includes a variety of default icons that you can assign to tasks, and provides you with additional icons for a nominal fee. It's designed to set you up for three major tasks, but you can always add more.
30/30 is a tremendously useful tool to add to your workflow to help you realistically manage expectations in order to stay productive on a consistent basis.
If the 30/30 app is a task management with a timer then Wunderlist is a task manager attached to a to-do list that provides a simple interface from which to work on your own or with others.
Getting things checked off your to-do list becomes easier when you're able to add, track, and complete items with just a few clicks. Additionally, Wunderlist makes remote collaboration hassle free by allowing you to assign tasks, share tasks, comment, and customize due dates and reminders with ease.
Wunderlist is available across almost all devices.
Text messages, instant messaging (Slack, Trillian), emails, phone calls…
They all pound at the door of our focus. Unfortunately, we've trained ourselves and each other that we must pander to these constant distractions in order to be considered elite in our productivity and ability to collaborate in real time.
What to do?
Use music designed to help you focus, and make a concentrated effort to ignore all those small distractions that destroy our quality of work and capacity to effectively finish what we start.
Focus@Will is a time management app that uses neuroscience and music to impact neural circuitry in areas important for memory, analysis, and creativity.
Try it out while also using 30/30 (above), and you'll be well on your way to becoming the best version of your most productive self.
Email interrupts quality work, unless you've learned to tame your inbox.
Consider this: the average employee checks their email about 11 times an hour, processes 122 messages a day, and spends about 28% of their work week on email. Whoa… That's a lot of unproductive time.
To prevent you from wasting time on emails, Sanebox does the filtering for you. So, important emails are prioritized, and the rest are compiled into a daily summary.
If you're looking for an artificial intelligence solution to scheduling, Clara has you covered. This very basic AI app will schedule and coordinate meetings for you.
Clara works via email. When you Cc Clara on an email, the app immediately begins the process of finding free time in both your schedule and the schedule of the person you wish to have a meeting with. In this way, Clara takes the back-and-forth burden off your plate, allowing you to spend your time and energy elsewhere.
The majority of companies that seek to hire a virtual assistant are looking to save money and bring in a skill set that would be prohibitively expensive if they had to hire someone in their office. That cost may be too high for them either because the cost of labor is too high or they need only a fraction of a person throughout the day.
Increasingly, however, companies hire a virtual assistant through the best virtual assistant services because of their expertise. As these services have gotten better, a virtual executive assistant is often able to manage your tasks more effectively and with more focus than an internal employee can.
What better way to improve real life habits than with a video game?! Habitica takes self-improvement to a whole new level through competition that turns your tasks into monsters you must defeat in order to make progress in the game.
You can play solo or with others, which really turns up the volume on productivity. Think about it. You may have no problem ignoring the game (and your tasks) if it's just you playing by yourself. But, if others are involved then social accountability kicks in. This makes Habitica an innovative team collaboration tool.
Bottom line: if you want your character to win then you must conquer your tasks in real life.
At Prialto, many of our clients use LastPass to manage their passwords. It's an incredible tool for all of us who simply can't (or don't want to) keep every one of our passwords at the forefront of our minds at all times.
With LastPass, all you have to do is remember your master password, which you set up within the tool. A browser extension is available, and should be added to your browser of choice's toolbar after you download LastPass. That way, the tool is always accessible when you're online.
---
CONCLUSION
Time is one of our most precious assets.
As executives and founders, it's easy to become overwhelmed by tasks. So, the promise of any task management tool or hack should equate to heightened productivity that can actually be achieved through the tool or hack.
The tools and hacks above should help you minimize or get rid of all the late nights and long working hours.
Save Time with an Inbox Management System
Download our free guide for creating an inbox management system that dramatically reduces the amount of time you spend on email and prevents important messages from slipping through the cracks. In it you'll learn:
How to choose a sorting approach
Best practices for creating clear sorting rules
Tips for implementing your inbox management system + productivity hacks
[Pro Tip] How to delegate your inbox management to an assistant