Virtual assistants were first introduced to the business world in 2009 by Tim Ferriss, author of "The 4-Hour Work Week." Ferriss taught readers how to work less by outsourcing repetitive or disagreeable tasks to an offshore contractor at a low hourly rate so you can spend more time on higher-value work, and more time doing what matters to you most like travel and adventure.
The idea caught on and with it all kinds of virtual assistant businesses and freelancers offering their services—so many that trying to find the right model and person can be overwhelming.
There are many ways to hire virtual assistants, onshore and offshore, and this guide will help you sort through the options and find the right solution for you and your business.
Table of Contents:
What Is the Definition of a Virtual Assistant?
A virtual assistant is a remote administrative assistant for executives, sometimes called a virtual executive assistant—though the two roles are not always interchangeable. The term "virtual" can be confusing because the word implies something that is not real. Virtual assistants are real people that support executives from a remote location.
From voicemail to email and calendar apps, technology has made full-time executive assistants a rarity and has created the expectation that executives should be self-sufficient.
While it may be the case that you don't need a physical assistant guarding your office door, it doesn't always make good business sense to pay yourself to do work you can easily hand off to someone else at a lower cost and improve your efficiency.
Advances in high-speed internet, cloud software that you can access from anywhere, and communication tools like chat channels and video conferencing make it easy for executives to hire part-time assistants without the expenses of office space and full-time employment.
Why You Need a Virtual Assistant
You need a virtual assistant when you reach the point where you're not hitting your business goals because you are spending too much time keeping the wheels turning, and you don't have time for strategic planning. It is common for business owners and entrepreneurs to save money by doing as much as they can themselves.
Eventually (if the business grows), they reach a point where the growth stalls because they can't keep up with the executive functions of their business or department.
Signs you need a virtual assistant
Sales start to plateau
Your work-life balance teeters toward work
Customers complain about poor service
You're not following up with sales leads fast enough
Employees are leaving
Sales, customer, and financial data are in disarray
You're falling behind on invoicing
All of these signs indicate that you're not spending enough time leading your business forward. Customers, employees, and family members aren't getting the attention they deserve. When you reach the point where you're not invoicing and getting paid, you're in trouble.
Additional Related Resources:

20 Signs You Need a Virtual Assistant

Overcome 5 Objections: Why You Should Hire a Virtual Assistant
What Can a Virtual Assistant Do?
The types of work that a virtual assistant does include:
Executive Administration
Sales and Marketing Support
Back-office Operations
Personal Life Tasks
Specialized Skills
Let's look at the specific tasks virtual assistants can perform in each category.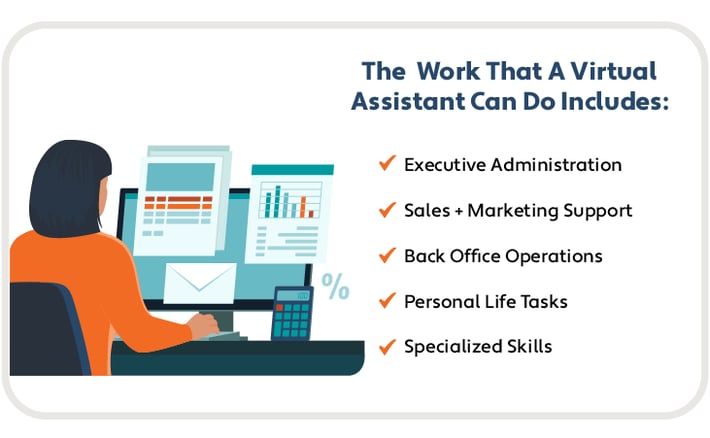 Executive Administration
On average, executives spend 16 hours a week on day-to-day tasks that distract them from work that moves their business forward. That's 40% of the week spent on admin work.
Where does the time go?
Examples of the time executives spend on admin tasks include:
3 hours a day on email
23 minutes to schedule each meeting
12 hours planning every business trip
Taking 23 minutes to schedule a meeting may not sound like a lot, but it adds up fast.
Executive administrative tasks a virtual assistant can perform are front office tasks that are outward-facing—think of the traditional administrative assistant stationed at the front of a physical office.
These are general admin tasks such as:
Scheduling meetings & calendar management
Fielding phone calls and emails
Placing phone calls and sending emails
Planning travel arrangements and events
Filing expense reports
Reaching out to your professional network
Preparing and maintaining templated documents
General data entry
A virtual assistant can help you recover those three hours a day spent reading and responding to emails. Your assistant can learn your email preferences, monitor your inbox, alert you when key contacts reach out to you, and respond on your behalf to messages that don't require your attention.
Other email management tasks a virtual assistant can perform are:
Storing emails in folders by categories
Confirming meetings to avoid no-shows
Archiving old emails that are no longer relevant
Updating changes in your calendar
Virtual assistants can also help executives maintain and expand their professional networks, which can be tough to do when you're busy. Building a list of priority contacts enables the assistant to schedule meetings optimized around your calendar.
For example, if you are traveling, your virtual assistant can book appointments for you with key contacts in the destination area. They can also track your preferences (or your contacts' preferences) for meeting locations and times.
Professionals that use virtual assistants for these tasks include:
Sales and Marketing Support
Sales and marketing teams require more administrative work than you realize.
Multiple studies show salespeople spend just 11%-36% of their time selling while most of their time is spent on non-sales tasks. (Insidesales.com: 36% Proudfoot Consulting Group: 11% Pace Productivity: 22%)
Selling time of 11 to 36% is a broad spectrum, but what is clear is that sales leaders spend less than half of their time selling.
Where does the time go?
According to Pace, a sales leader's time allocation in a typical week looks like this:
Admin and paperwork: 7.3 hours
Email management and correspondence: 8.2 hours
Internal communication: 6.6 hours
CRM Management: 2.2 hours
A virtual assistant can take much of this work off a sales leader's plate and give them more time with customers and prospects.
Many sales leaders' needs are similar to those of an executive's front office needs—scheduling meetings, planning travel, email inbox management, document prep, etc.
Tasks unique to sales include:
CRM data entry and management
Customer and lead research and targeting
Leader generation
Social media communication
Prospecting
Following up on sales leads
Managing email campaigns
Let's start with prospecting, which 40% of sales teams struggle to do consistently.
If you want to build a marketing campaign, you can start by creating a list of known and/or unknown contacts to reach out to them. You can search your internal CRM database or a third-party platform like LinkedIn or ZoomInfo, based on persona criteria such as industry, company size, job title, and location
Building a prospecting list using predefined criteria is tedious and time-consuming, and a virtual assistant can easily do it. You can expand the requirements or create multiple lists for different market segments that match them. But it's only the beginning of how a virtual assistant can support sales.
An assistant can also:
Send email invitations to prospects
Enter response data in the CRM per business rules
Follow up on responses
Schedule appointments
Complete missing contact data
Update proposals, sales sheets, and presentations
Email management for sales teams is demanding. According to Salesforce, it takes six to eight touches to make a sale, but 70% of salespeople stop at one. Why? Because it takes too much time and salespeople get pulled in too many directions. If you are already busy, multiplying your sales outreach eightfold is quite a challenge.
Email outreach cadences will differ for each business, but you can delegate many of these scheduled emails to your virtual assistant.
You can also give scripted follow-up emails and inbox management to a virtual assistant to make sure you:
Follow up on qualified leads at the right frequency for your business
Don't miss any high-priority incoming messages buried in your inbox
Following up on sales leads quickly is critical:
78% of customers buy from the first responder
Sales conversions are 391% higher in the first minute after making contact
After five minutes, conversion rates decline by 80%
Most companies take five or more days to respond
A virtual sales assistant can be your lead follow-up ninja by:
Responding to inquiries immediately
Following up with calls and emails
Scheduling sales call
CRM management is another foundation for a successful sales team. Maintaining accurate customer data is critical to business success. That data is usually in a CRM, and companies that use a well-implemented CRM perform better, plain and simple.
Customers spend 20%-40% more with companies that use a CRM
Companies that use CRMs increase retention and customer satisfaction by 47%
Conversion rates rise by up to 300% for CRM users
The average ROI for a CRM is $8.71 for every dollar spent on the platform
But only 30% of businesses have strong CRMs.
Once you define rules for contact information and the CRM is up to date, a virtual assistant can pull lists, complete missing data, confirm pipeline status, and enter new contacts as they come in. The assistant can also generate lists, email campaigns, and process response data.
A virtual sales assistant can help you leverage your CRM by:
Entering all your contacts into your CRM and filling in additional information about them
Logging every call, email, and meeting so you have a record of all your interactions with leads
Keeping your data clean and up to date by changing statuses as needed, removing duplicate data, filling in missing information, etc.
Running reports, so you have access to the latest insights about your pipeline
Virtual assistants can also take on marketing tasks that align closely with sales processes, such as:
Launching and monitoring email campaigns
Building workflows for email cadences
Posting and promoting blog posts
Social media management
Updating products and descriptions on e-commerce sites
Content Management
Help implementing search engine optimization
Back-office Operations
Back-office tasks are those that support your business's infrastructure and systems. These are essential, time-consuming tasks that take place behind the scenes that need constant attention, making them essential to hand off to a virtual assistant.
For example, executives spend:
8 hours a week creating templated documents like proposals, contracts, sales sheets
7 hours a month entering data in bookkeeping programs
20-days a year pursuing overdue payments
Back-office work is serious stuff, but it is also easy to lose sight of it. An assistant dedicated to getting the correct documents into customers' hands, keeping books up to date, and chasing down delinquent invoices can work wonders on the bottom line.
Back-office operations impact:
Cash flow—your lifeline
Compliance
Your ability to hire
Customer onboarding
Back-office tasks that a virtual assistant performs include:
Data entry and cleanup
Light bookkeeping
Invoicing and billing
Payment processing
Collections
Generate reports
HR record keeping
Compliance documentation
The work is essential, or the executives would not be doing it in the first place. Delegating back-office work to a virtual assistant can make sure it all happens.
CRM management could also fall into the category of back-office operations—especially as it relates to forecasting, supply chain management, and inventory control.
Personal Life Tasks
Executives spend up to 25% of their time on personal activities while at work. This isn't necessarily a bad thing. Taking care of shopping, vacation planning, and scheduling doctors' appointments can free up time previously spent during evenings and weekends, giving you more time for family, exercise, and other activities.
The rise of remote work has further blurred the line between personal and work tasks.
Executives often ask their virtual assistants to take care of personal tasks, not just to spend more time at work and boost their productivity, but to also spend more time on what matters most to them.
It's common for virtual assistants to straddle the personal and professional chores executives face.
Examples of personal tasks a virtual assistant can do include:
Planning vacation travel
Scheduling fitness classes
Scheduling medical and personal appointments
Sending gifts and ordering flowers
Making online purchases
Paying bills
Read More: How to Find a Personal Assistant
Specialized Skills
Another way businesses use virtual assistants is for specialized skills needed occasionally or on an ongoing basis. In most cases, these skills are beyond what a traditional administrative assistant would provide. These functions require a good deal of training and are typically the sole focus of the virtual assistant.
For needs that are tasked-based and are one-off projects, a marketplace like Upwork might be a good choice. There are also virtual assistant contract agencies that specialize in specific disciplines.
Examples of specialized virtual assistant skills include:
Graphic design
Web design and development
Accounting
Content writing
Search engine optimization
Project management
Some virtual assistants may have experience in one or more of these areas, but they will also have to develop a nuanced understanding of your business and message.
Additional Related Resources:

26 Tasks You Can Outsource To a Virtual Assistant
How Much Does Hiring a Virtual Assistant Cost?
The short answer to how much a virtual assistant will cost is, "it depends." It depends on:
The kind of work you need
The type of relationship you want
The amount of quality control you want
The day-to-day training and management you want to take on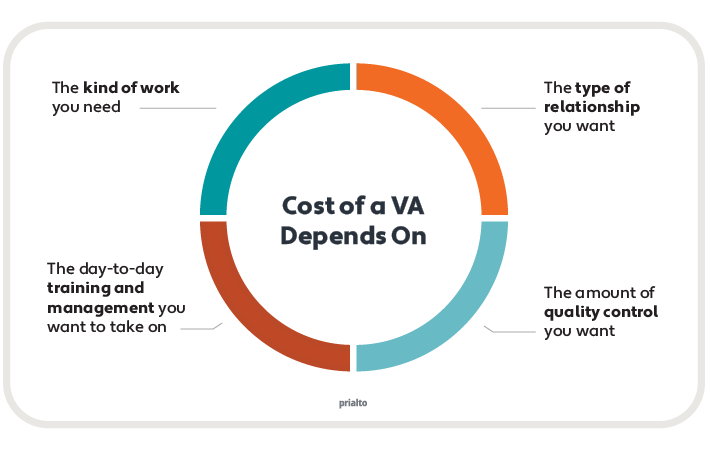 The cost of a virtual assistant also depends on your method of hiring.
There are three ways to hire a virtual assistant:
Hiring a freelancer directly or through a marketplace
Contract virtual assistant agencies
Managed virtual assistant services
The Cost of a Freelance Virtual Assistant
You can hire a freelance virtual assistant through a marketplace like Upwork or through a job board like Indeed.com or Craigslist. Upwork lists virtual assistants for as low as $10 per hour. Assistants on job boards start at around $20. A freelancer is typically the lowest-cost option.
A freelance virtual assistant can work if:
The kind of work you need is short-term and project-based
The relationship you want to have is sporadic and transactional
You want to be directly responsible for quality control
You're up for taking on day-to-day training and management
You're looking for specialized skills beyond the traditional virtual assistant role
Freelance virtual assistants are suitable for short-term project-based work because they typically work for many clients and can't promise dedicated time. They can also be a good way of accessing specialized skills like graphic design or accounting. You don't bring them onto your team.
A risk is that they may not have the skills they advertise. Many are in offshore time zones and work while you're sleeping, which makes quality control a challenge—prepare to iterate. Also, you're the boss.
The Cost of a Contract Virtual Assistant Agency
Contract virtual assistant agencies maintain a bench of vetted virtual assistants from which you can choose. Most are looking for long-term work and bunch pricing by monthly retainers. Pricing depends a lot on location—U.S.-based agencies charge $30 to more than $100 per hour. Agencies that match you with offshore assistants start at about $20 per hour.
You're paying a bit more for contractors because the agency takes a fee.
A contracting agency works if:
The kind of work you need is ongoing admin support
You are willing to work at building a productive relationship
You want to be responsible for quality control
You are ready to take on day-to-day training and management
Agencies are mostly match-makers. There's not much hands-on support and getting the relationship and quality control right is up to you. Also, not all agencies specialize in virtual assistants—some offer other services like accountants, web designers, and graphic artists.
The Cost of a Managed Virtual Assistant Service Provider
Managed virtual assistant service providers hire, train, and optimize the performance of virtual assistants on your behalf. The assistants are employees of the service provider.
An account manager serves as your partner in making the service work. Most are U.S.-based businesses, the virtual assistants are offshore, and pricing is $20-$25 per hour. It is a high-touch model that enables you to hire fast and takes on relationship building, quality control, and day-to-day training and management, so you don't have to.
A managed virtual assistant service works if:
The kind of work needed is executive admin, sales, or back-office support
You want a white-glove service that trains assistants on your tools and systems
You want a guaranteed service level
You don't want more people to manage
Account managers work with you to document processes and train the virtual assistants on client systems before the engagement. The assistants show up ready to contribute on day one. Client feedback goes to the account manager who coaches and supports the assistant.
Most also offer backup assistants to step in if the primary one is absent. They focus solely on virtual admins and have dialed-in best practices to deliver predictable results. This can be another way to access specialized services, but the agency may not be able to give you expert guidance in finding a virtual executive assistant.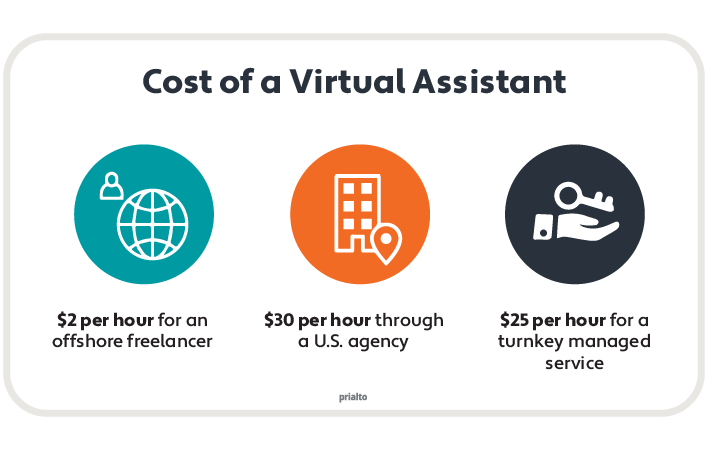 To summarize, the cost of a virtual assistant starts at:
$2 per hour for an offshore freelancer
$30 through a U.S. agency
$25 per hour for a turnkey managed service
Additional Related Resources:
How to Hire a Virtual Assistant
How to hire a virtual assistant is very closely related to the cost and business model that best suits you. Each has its risks and benefits.
There are three ways to hire a virtual assistant:
Hire directly
Use a contract agency
Partner with a managed service provider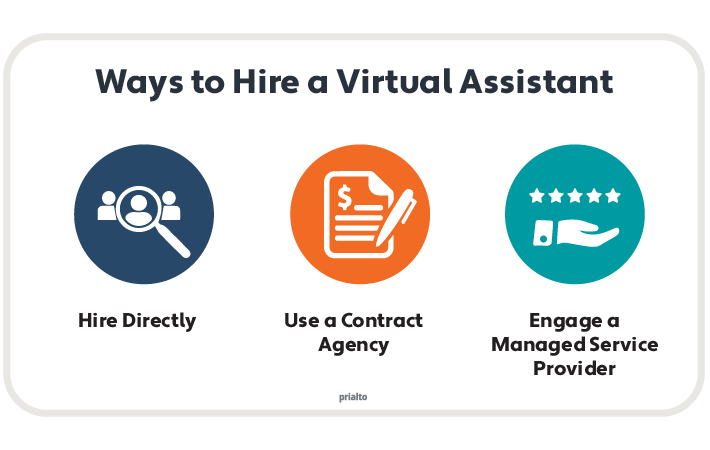 Directly Hire a Freelance Virtual Assistant
You can hire a freelance virtual assistant directly through a job board or marketplace, as mentioned above. Some job boards offer rates as low as $2 per hour. Upwork prices start at $10 per hour.
Hiring a freelancer is the lowest cost and the most time and effort-consuming way to go.
The advantages of hiring freelancers are:
Lower hourly rates
You have total control over how you work with the assistant
You can set your hours
You can hire for specialized skills like web development and graphic design
If you want a local virtual assistant—one can you can meet with in person and perform local tasks like deliveries and errands, you may be able to find a freelancer in your local market.
The disadvantages of directly hiring freelance virtual assistants have to do with time and risk.
You have to spend time recruiting, interviewing, and vetting candidates
You must invest in training, project management, and performance management
You have the overhead of payroll and any legal compliance with the home country (of offshore assistants)
If the virtual assistant doesn't work out, you start over
Lack of control of data, device, and network security
You might need to buy software for your virtual assistant
It can be difficult to find someone with solid virtual assistant skills
Freelancers usually have several clients, so availability may be a factor
You also need to know the exact skills and experience you're looking for and create a virtual assistant job description to attract suitable candidates. Defining job requirements can be a challenge if you are looking for your first assistant.
Hire a Contract Virtual Assistant through an Agency
Hiring a virtual assistant through a contract agency reduces the time you spend recruiting and vetting candidates. Also, you typically pay the agency in US dollars and don't have to deal with any compliance issues if the virtual assistants are offshore.
The rates will be costlier than a direct hire—starting at about $30 per hour in the U.S.
The rest of the advantages of this model are like that of hiring a freelancer:
You have total control over how you work with the assistant
You can set your hours, though most agencies only sell monthly packages
Many agencies offer specialized skills like web development and graphic design
The disadvantages of hiring a virtual assistant through an agency are also like hiring a freelancer, minus the time to recruit, vet, and hire.
You take on any training, project management, and performance management
If the virtual assistant doesn't work out, you start over
Most contractors work out of home offices with personal computers so IT security can be a risk
Contactors often have multiple clients, so availability may be an issue
If the agency does not specialize in virtual assistants, it may not be able to help you find what you need
As with freelancers, if you want a local virtual assistant that can meet in person and perform local tasks like deliveries and errands, you may find one through a local contract agency.
Hire a Managed Virtual Assistant Service Provider
With a managed virtual assistant service, you're hiring the service provider, not an individual assistant. You get a team—an account manager, a virtual assistant, and backup managers and assistants. Managed virtual assistant services start at around $25 per hour.
The main advantage of this model is that all recruiting, vetting, hiring, training, and performance management are off your plate, along with most of the risks of hiring freelancers and contractors:
You can hire faster
You have an experienced partner in helping you leverage a virtual assistant
You get a virtual assistant pre-trained on your processes and tools
An account manager documents your operations and enables you to offload more tasks
The account manager provides ongoing service optimization
Backup assistants mean you never start over
Assistants undergo background checks and have secure facilities, networks, and computers
The model is not for everyone.
The disadvantages of managed virtual assistant services are:
Services come in packages with set monthly hours
It will not be the cheapest option
Works best with repetitive processes, not so much with creative work like web and graphic design that requires artistic judgment
Managed virtual assistant service providers bear most of the risk in hiring virtual assistants. The service provider employs the assistants, pays them, and provides benefits and growth opportunities.
This model is also attractive to businesses concerned about how providers treat offshore assistants, including their working conditions.
Additional Related Resources on Where to Hire a Virtual Assistant:

Questions to Ask Before You Hire a Virtual Assistant

Top Virtual Assistant Company Review Sites

What You Need to Know About Virtual Assistant Security
How Do You Manage a VA?
Remote virtual assistants come in two broad categories: managed and unmanaged services.
In an unmanaged service where you hire a freelance assistant or a contractor through an agency, you engage, onboard, train, and manage the virtual assistant's performance.
In a managed service, assistants are hired, trained, overseen, and paid by the service provider.
Unmanaged Assistants
With unmanaged virtual assistants, you need to know what you want the assistant to do and how you want them to do it. Defining what you want is often a challenge for business executives with a lot of their processes in their heads. They tend to have difficulty delegating those processes to others.
It can also be challenging to manage the performance of someone in a role you're creating for the first time.
You may find someone with enough experience to help you navigate the position. It helps if the assistant also uses the same email, scheduling, accounting, CRM, and HR platforms as your business.
This experience can reduce the time you have to spend training an assistant. But it is unlikely that the virtual assistant will know your processes on day one.
The lift required by other responsibilities like payroll, HR paperwork, performance reviews, and giving and receiving feedback will depend on the model of hiring.
Contract agencies often handle some of that, but with freelancers, those responsibilities will be on you. You also must consider the IT security risk of the virtual assistant's computer and network.
Managed Services
The main benefit of a managed virtual assistant service is that the management portion is off your plate.
The service provider:
Hires the assistants
Documents your processes, tools, and preferences
Trains the assistant on those processes
Onboards the assistant for you
Manages performance
Provides backup assistants
The model is ideal for those that don't want to manage another employee and can't or don't want to take the time to train and onboard a virtual assistant. The model also offers scalability—it's relatively easy to add more assistants as needed, usually in the form of an already-trained backup.
The IT security issue previously mentioned is also covered—the managed service provider does background checks, and supplies secure computers, networks, and facilities.
Managed VA services typically work on a monthly retainer where you pay for a certain number of hours per month. They are not ideal for occasional projects like a quarterly report or creative projects requiring fresh design, writing projects, or graphic design-intensive projects.
Hire Virtual Assistants to Provide Productivity and Efficiency
If you've reached a point in your business where growth is limited by the time you can spend on moving the business forward, it is probably time to consider hiring a virtual assistant.
Virtual assistants can be a cost-effective way to do this, increasing productivity by giving you and your team time back in the day, and increasing the efficiency of work by enabling greater focus on growth (not to mention the countless other benefits of hiring a VA).
With some 25,000 virtual assistant services to choose from, finding the right assistant and the right service model can be daunting!
Use this guide to narrow down the options by defining the kind of work want to offload, the relationship you want to have with your assistant, the amount of management you want to take on, and of course the price you want to pay.
Ready to hire a virtual assistant you don't have to manage?

Book a call with us to discuss if Prialto is right for your business.