---
If you have been looking to hire a virtual assistant to perform important-yet-menial tasks like managing your calendar, cleaning up your email inbox, and helping you organize your professional life, you may have considered using artificial intelligence (AI).
Software applications such as Clara, x.ai, or Jarvis utilize machine learning to coordinate your calendar or remind you to get certain tasks accomplished.
Yet, these AI apps can only perform such menial tasks by mimicking data and following commands. They can't brainstorm, think creatively, or tackle novel situations they haven't encountered before, even though machine learning is the most powerful branch of artificial intelligence.
In the article below, find out exactly how a virtual executive assistant will help you stay organized and grow your business exponentially better than any AI ever could...
---
The incredible pace of technology innovation has led many of us to think that AI technology is on the cusp of being able to do almost anything.
But the simple fact remains that AI can't adapt the way humans do.
Humans are proactive and AI is reactive.
A real life virtual executive assistant will bring deductive reasoning, emotional intelligence, and a non-linear approach to work and life that is impossible for AI to achieve. That's the bottom line.
Take customer service, for example.
The chart below (courtesy of Hubspot) asserts that openness to AI increases for easy service questions and plummets for complex questions. That's because AI is unable to apply the pattern recognition necessary to handle subtle or esoteric requests, which is why we trust humans more than AI.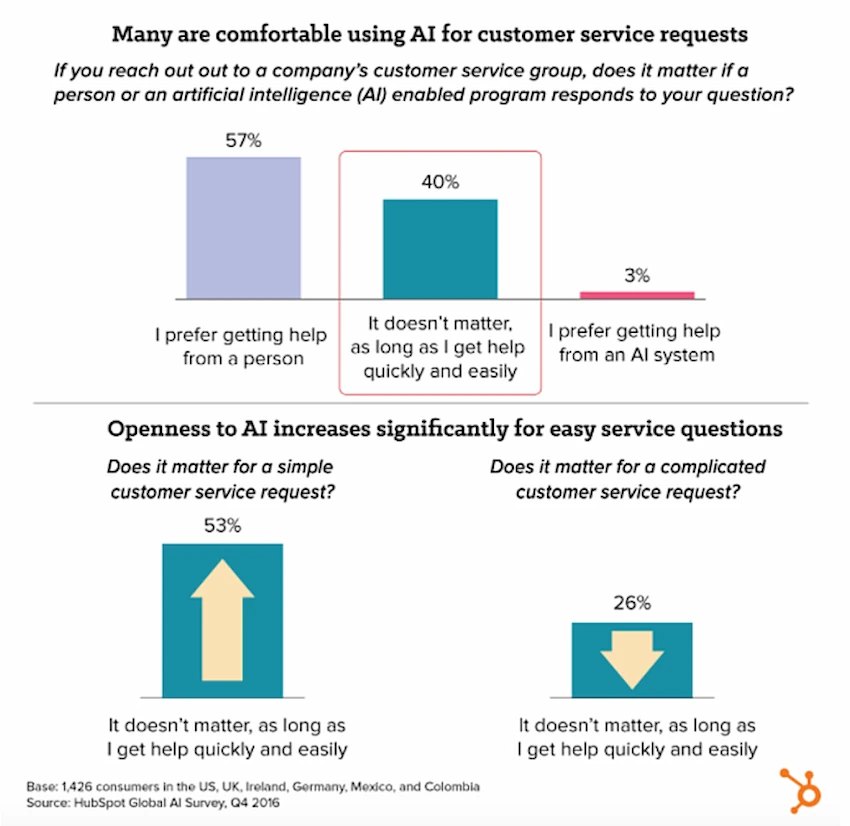 What about scheduling and calendar management?
At Prialto, we rigorously screen, train, and manage human virtual assistants who support executives and small to midsized business founders. A large part of this support is invested in managing calendars and scheduling meetings for our clients. We have an incredible amount of calendar management tips in our arsenal!
Scheduling automation is a task that many AI companies have targeted as a good use case to show off what AI can do for busy business professionals. Consequently, many of our virtual executive assistant employees ask if they will get replaced by AI.
Additionally, many of our prospective customers ask why they should spend money on our service instead of subscribing to scheduling automation software.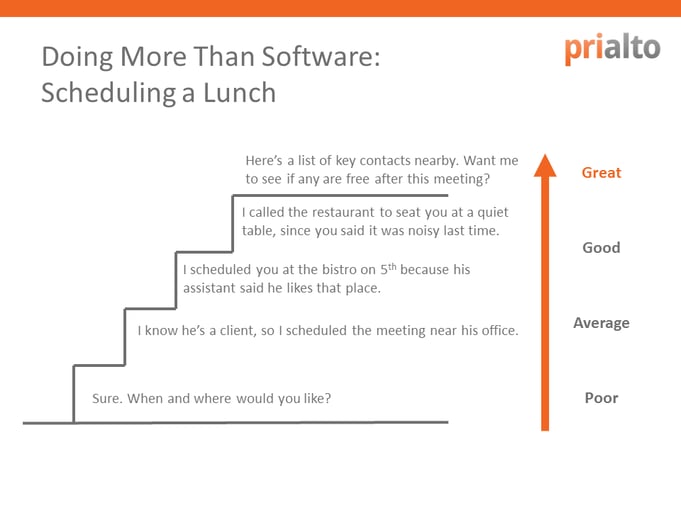 Scheduling is actually a perfect use case to illustrate how humans are better than AI. You can think of it in terms of a basic 80/20 rule. A virtual administrative assistant can embrace AI software to reduce the 80% of time spent on lower-order tasks and increase the 20% of time spent on strategic work.
This plays out in other areas such as sales.
Today, many sales people spend 80% or more of their time on the tactical aspects (e.g. menial tasks) of their role. The whole sales profession could be transformed with the help of a virtual executive assistant who can leverage AI to take on that workload and free up sales people to get better at that 20% of strategic work.
Here are some examples of the types of tasks that executives and small to midsized business founders can delegate to a real life human virtual administrative assistant:
Prospect Development and Lead Generation
Identify potential prospects, research their contact information, and give you the context to reach out to them
Conduct initial and/or ongoing research
Setup a system or database to store all research
Nurture and Grow Your Client Base
Monitor relationships and referrals by ensuring regular touch points through investment updates and other communications
Follow up with customers and clients
Send thank you emails and other reminders
Liaison between you and your team members
Email management and filtering
Reply to customers and client's enquiries via email
Answer inbound calls on your behalf
Make outbound calls on your behalf
Answer support tickets
Document Preparation and Management
Ensure proposals, key investment documentation, and other reports are ready when you need them
Create basic reports (monthly, weekly, daily, or annually)
Create charts for board meetings
CRM Management
Manage and schedule appointments or bookings
Basic data entry
Update contact lists
Calendar Management
Manage and schedule appointments or bookings
Schedule and re-schedule your meetings
Confirm appointments
Travel Management
Book flight, hotel, car, etc
Arrange meetings with customers or clients in-between stops
Apply all necessary rewards and miles programs
---
CONCLUSION
AI isn't capable of detecting novel patterns and new behaviors or presenting them in a uniquely nuanced manner. Therefore, there is an inherent level of human creativity and sophistication needed to manage and build upon all software applications, AI or otherwise.
AI cannot write emotionally compelling emails for your drip campaign or soothe a frustrated caller with personalized conversation. AI cannot decipher subjective purpose from meeting notes or read between the lines of your haphazard instructions given on-the-go.
That's a huge deficit in our modern business world where the ability to adapt is more crucial than ever.
If you'd like real help from a real life virtual executive assistant who works proactively to move your business forward, contact us today.