According to the National Association of Realtors, only 13% of realtors have an assistant. Despite the low utilization in the industry, top producing agent and author, Brandon Doyle, says that hiring an assistant is the key to getting ahead of your competition.
Working with a virtual real estate assistant is a cost-effective solution that helps you be a top producer by enabling you to:
Spend more time engaging with clients. Offloading all of your admin work to a VA gives you more time to deliver exceptional service to your clients and to foster relationships with more of your leads.
Easily keep your listings up-to-date. To consistently gain leads from Google and other platforms, you need to constantly update your listings. A real estate VA can easily upload your info so that you can spend more time crafting messages that attract buyers.
Secure more leads. From helping execute your marketing efforts to reminding you to follow-up with prospects when they're more likely to need your services, a dedicated VA will support your lead generation efforts.
Give you the bandwidth to focus on the tasks that drive your success. With a VA, you'll have more time to craft effective marketing materials, build more relationships in your community, and focus on other strategic activities.
In this guide, we'll walk you through what it's like to work with a Prialto VA by explaining:
Tasks you can offload to a real estate virtual assistant
Fostering a productive relationship with your VA
How we ensure you get support when your VA takes time off
How to get additional support for yourself and/or colleagues
Tasks You Can Offload to a Real Estate Virtual Assistant
Your assistant is capable of tackling a wide variety of tasks to meet your needs. To give you a better idea of what that looks like, here are some of the common ways we support our real estate members.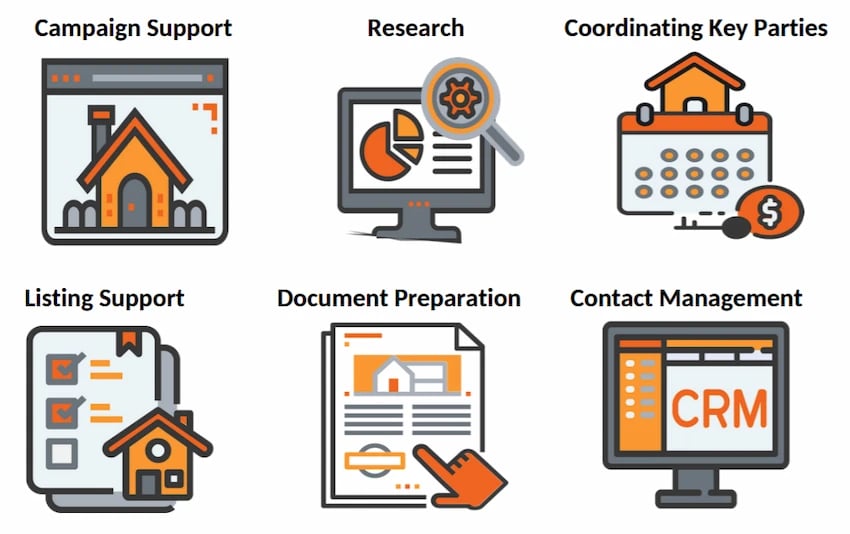 Have a task that's not listed here? No worries. We can support you with any objective, repeatable process and are happy to hop a quick call with you to explore how we can meet your specific needs.
Fostering a Productive Relationship with Your VA
Like working with an in-house colleague, you need to develop a productive working relationship to successfully utilize a VA. Here are some best practices that will ensure you get maximum leverage from your assistant.
Communicate with context
It is essential that you communicate your preferences to us every time you assign a new task. We will document your preferences in your Prialto Member Manual (PMM) so we know for the future. For example, tell us about your preferred times to communicate, how you like your documents formatted, your favorite vendors, etc.
Embrace clarifying questions
Your VA is trained to ask clarifying questions to learn your preferences. He/she documents your answers in your member manual. If you're repeating yourself, reach out to your Engagement Manager and they will improve your service. For example, if you ask your assistant to schedule a meeting but don't say whether it will be in-person or a call, your VA will ask you what type meeting you want them to schedule. If you always meet with this contact in-person, tell us and we will note it in your manual.
Leverage your Engagement Manager
Whether you want to offload a new project or are experiencing challenges with your VA, let your Engagement Manager know. Their role is to manage your service so you don't have to. So, don't wait to delegate new processes or let frustrations go by because you don't want to spend time handling the issue. Instead, loop in your Engagement Manager, sit back and watch things improve.
Think about your business processes and preferences
What are your typical scheduling patterns? What are the pain points in your current process you would like us to help iron out? If you have a big picture idea or process you would like to offload but aren't sure how, tell your Engagement Manager and they will be your thought partner in establishing a process.
The core of these best practices is simply communicating clearly with your assistant and Engagement Manager. If you do that, you'll get a huge return on your investment.
Handling Time Off and Turnover
If you've had an assistant before, you know how difficult it is to suddenly go without support while your assistant is out of the office or, even worse, when they quit.
We understand that these kinds of disruptions can have a huge negative impact on your productivity and work-life balance. So, we actively prevent time-off and turnover from interrupting the service our members receive.
Here's how:
We train a back-up assistant. When your primary assistant is out of the office, a backup who fully understands all your tools and processes will take over so you never go a business day without support.
We invest in employee retention. Unlike in-house assistants who change jobs on average every eight months, the majority of our assistants stay with us for many years. We offer a wide variety of incentives including performance-based bonuses, office parties, company-wide recognition, a vacation stipend for their two-year anniversary, etc. to encourage our best employees to remain loyal to our company.
Even if your assistant does decide to move on, we'll have a replacement trained and ready before they leave to ensure you have a smooth transition.
Getting Additional Support for Yourself and/or Colleagues
Our service is designed to easily adapt to your changing needs. Here are answers to a few of the common questions we get about obtaining additional support:
Q: Can my assistant support multiple people?
A: A single assistant can support up to three people as long as their total combined needs average out to about 55 hours per month.
Q: Can I hire multiple assistants to support people throughout my organization?
A: Yes, we can provide you as many assistants as you need and train them to specialize in various areas such as sales support, recruiting support, operations support, etc. All of your assistants will be in the same cohort so they'll work together to ensure you get consistent, exceptional service.
Q: Can I drop units that I no longer need?
A: Yes, you can reduce the number of units you have. The amount of time that it takes to fully terminate a unit is based on the notice length stated in your agreement.
Have more questions? Email us at sales@prialto.com or visit our pricing page.
Interested in learning more? Here's how to get started:
Set up a discovery call. In the call, one of our sales executives will gather more information about your needs and help you explore whether Prialto is a good fit for you.
Take our Needs Analysis Survey. The survey will help you and our sales team clarify what your needs are. Our sales team will combine the results with the information gathered in your discovery call to create your implementation plan.
Schedule your implementation plan review call. In this call, your sales executive will walk you through exactly how we'll help you achieve your goals if you sign up with us. This call is also a great opportunity to clear up any other questions you have.
Get ready to onboard. Once you're satisfied with your implementation plan, we'll send over an agreement and start preparing for your onboarding.