---
A positive internal company culture with a collaborative attitude is vital to any company's well-being, because employees are the true core of any company.
Without a positive cultural environment, things quickly fall apart.
Here's why: When employees can't rely on a sense of well-being in the workplace, confidence in the company and in team members can be irreparably harmed. Moreover, customer service will suffer from the negativity that continuously festers within the company—as will new customer acquisition, employee and customer retention, and hiring.
Companies can proactively handle such threats to the overall well-being and purpose of a company in several distinctive ways.
Below, I discuss how we at Prialto handled an ongoing negative situation in our Guatemala office several years back. Additionally, I include a variety of company culture examples that will undoubtedly help you nurture your own exemplary culture.
Before I became the Country Manager of our Guatemala service center, I was an entry level virtual assistant in our center. I held that position until 2013 when I was promoted to Team Captain, a supervisory role that oversees a cohort of virtual assistants and includes a virtual assistant workload.
In 2014, I was again promoted. This time to an Associate Engagement Manager role, which is essentially a Project Manager position that manages a group of clients (including onboarding, process set up, troubleshooting, and scaling) in addition to the virtual assistant cohorts assigned to those clients.
Throughout the three years I spent dedicated to our clients and my fellow virtual assistants in our center, I witnessed our Guatemala office go from a thriving hub of internal, collaborative support to an environment negatively impacted by gossip and self-governance.
During that time, I wasn't exactly certain how we drifted from helping each other succeed professionally and working as a tight-knit "family" to something that was distinctly…other. I just knew something wasn't quite right.
Here's why: There was an undertone of negativity stemming from disruptive gossip that had been allowed to fester unchecked. Additionally, team members were being mismanaged in a way that was leading to haphazard self-governance that was disrupting our tried-and-true processes and systems.
It wasn't long before individual team members started to actively create an individualistic environment where everyone stopped looking at the bigger picture. The internal office vibe became one of personal gain and growth above all else, and more than a hint of chaos started to emerge on the horizon.
At the time, there were four equal management "heads" within the center. Over three years, I had gradually stepped up to become one of them. Unfortunately, the biggest factor that contributed to the internal culture taking a negative nose dive was the lack of positive, consistent leadership. One of the heads dominated the other three, undermining our efforts to stay focused on accomplishing quality work for clients while repairing our internal culture.
How did this happen?
Poor leadership quialities will not create great company culture examples. In this situation, the dominant head had been purposely hiding negative behavior from upper level management at headquarters. In turn, HQ didn't have the necessary information needed to understand that a lack of positive leadership qualities in the dominant head had led to a negative cultural environment in our center wherein fellow virtual assistants were being underhandedly encouraged to work outside of their well-defined roles, go around or above center management, and set their own rules.
These harmful activities contributed to mounting trust issues among colleagues, and all but demoralized big picture thinking and team collaboration. The dominant head's leadership skills had greatly deteriorated over time by favoring autonomy, not sticking to defined expectations or continual recruitment, and through disregarding tried-and-true systems, Instead of leveraging exemplary company culture examples such as promoting basic training and advanced skills development, the dominant head had become a person who did not believe in mentorship or development. Rather, a general disengagement from our collective purpose and consistent brand messaging had taken root.
Inevitably, leadership at headquarters stepped in.
The dominant head was let go, and management in our center underwent a major structural overhaul. In 2016, I became the Country Manager—a position I still hold today. Together with the three other heads, we started the reorganizing of our management team, weeded out the "bad apple" employees, implemented new strategies, re-implemented best practices and processes, and focused on re-building the exemplary company culture we once had. Job expectations were clearly outlined. Headquarters and center communication were entirely revamped. Set processes like COILS, back-up, member feedback, and center feedback were optimized and rolled out anew. Everyone who remained in our center felt the fog lifting almost immediately.
Within months, the internal culture within our center had returned to a strong semblance of its former collaborative, supportive spirit.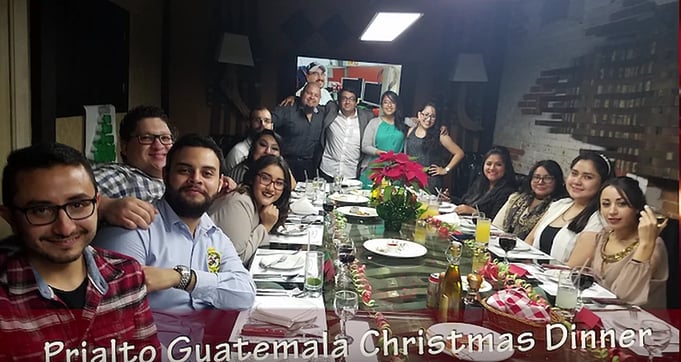 Three years later, our Guatemala center still has a way to go. We are all perfectionists and process junkies, after all.
Looking back now, I realize that our current team of virtual assistants focuses on what's most important—our members and our teammates—precisely because we went through those negative hardships and growing pains. Many of us went through it together, and have come out the other side wiser and more grateful for the exemplary culture we now enjoy.
I see that we are now focused on the big picture again with a fundamental understanding that without our teammates, we cannot be successful. Due to in-depth training, continued education, mentorship, and similar company culture examples we have been able to experience a major turnaround. New hires know what is expected of them, and seasoned virtual assistants understand the various paths to being rewarded and promoted for exceptional service and team work.
Our client base also experiences this positive overhaul, because they receive a consistent team-based service, well documented and structured processes, and a uniformly positive focus on their individual service.
---
Conclusion
As I stated above, I have overseen our entire center in Guatemala for three years now. In that time, I have watched our culture and service soar higher and higher.
Our Guatemala center no longer experiences lower than normal profits, increased customer attrition, loss of key employees, and a persistent lack of recruitment.
Instead, we enjoy a supportive, positive internal office environment that we cultivate at all costs. We feel like a professional team, once again.
---