A report from InsideSales found that reps only spend 35% of their time actually selling. Their remaining time is spent on non-revenue generating activities including:
Research
Data entry and cleaning
And other tedious, back-end activities.
To close more deals, you need to develop a sales time management system that lets you spend the majority of your time engaging with prospects.
Here's how.
Adopt an Inbox Management System
The average office worker receives 121 emails per day. Since sales reps' days revolve around communicating with others, it's not uncommon for them to receive 200+ emails per day.
Reading through all of those emails and making sure important messages don't slip through the cracks is challenging and often distracts you from giving your full attention to your top prospects.
Adopting an inbox management system helps you sort through noise and quickly jump into the conversations that matter most.
To learn how to choose and set up the inbox management system that's right for you, download our free guide:
Create a Library of Email Templates
The average sales person spends 21% of their day writing emails. Though many of your emails help drive the sales process forward, much of that time is wasted writing out the same message over and over again.
Creating a library of customizable email templates significantly saves time so you can focus on more strategic activities.
Here are some templates you should create to get started:
Standard information you want prospects to know after an intro call including key points and next steps.
Pricing information
Answers to common questions and objections
Social proof including testimonials and case studies
Plus any other topic that you write at least one email a week about.
Keep in mind that your email templates don't have to be one-size-fits-all. If a prospect asks one of the common questions from your FAQ email and wants to see some case studies, you can pull snippets from each email template. Mixing and matching sections of your email templates allows you to quickly put together custom emails.
Read More: 5 Ways to Improve Your Sales Pipeline Management and Boost Revenue
Time Block Your Schedule
If you're like most sales people, you spend your days juggling calls, responding to emails, doing research - often all at once. Though multitasking may seem like the most efficient way to tackle your to-do list, it's actually a huge waste of time.
Research published by the American Psychological Association found that multi-tasking can reduce productivity by up to 40%. Our brains are incapable of focusing on two things at once so whenever you try to work on multiple tasks, you lose time switching your focus and work slower than if you were doing one activity.
To maximize your sales productivity, time block your schedule so that you spend a couple hours a day working on each of your activities instead of bouncing back and forth between tasks.
Time blocking is a simple time management strategy where you designate every hour of your day to a specific activity. Not only does this boost your productivity by having you focus on a single task at once, it also shows that you're busy so coworkers are less likely to distract you with random requests.
Here's an example of what your time-blocked schedule could look like: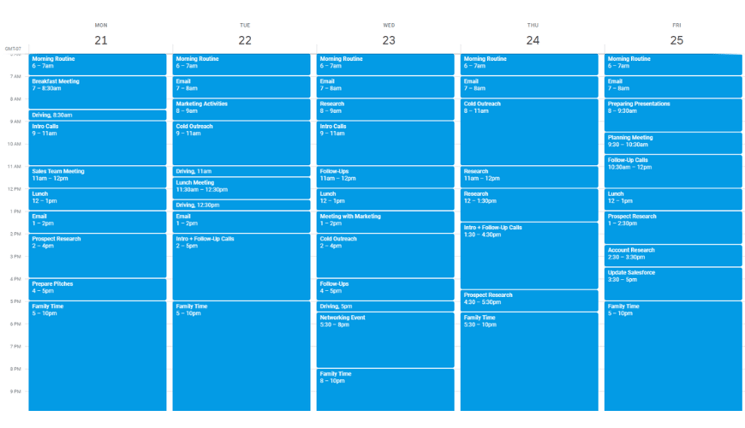 Collaborate With Your Marketing Team
According to a Forrester report, 43% of B2B sales people report losing sales due to not having the right content at the right time and 77% have experienced delays in the sales process due to a lack of relevant content.
To win over B2B buyers, you need to be armed with a library of content that can address objections, offer social proof, and showcase a variety of use cases for your offering. Not only does informative content satisfy your buyers' desires, it also saves you time since you don't have to explain everything about your offering.
Chances are, your marketing team already has all the content you need to satisfy most buyers. If they're missing pieces that your prospects often ask for or a couple of their pieces don't 100% align with your pitch, schedule a sync with them to discuss creating new content.
Leveraging your marketing team for content creation will help you educate buyers and and close deals faster.
Stop Doing Tasks That Don't Add Value
As all busy sales reps can attest, there's never enough time in the day to complete all the items on your to-do list. Instead of trying to finish everything, the most successful sales people manage their time by constantly eliminating items off their to-do list that don't add value:
Here are some low value tasks that you can eliminate:
Chasing after prospects who you realized aren't a good fit for your offering and are unlikely to close.
Attending networking events and conferences where you're unlikely to meet serious prospects.
Sales strategies that consistently fail to yield results.
When you stop doing tasks that don't add value, it frees up your time to focus on the tactics that drive the majority of your sales.
Read More: 8 Sales Training Topics that Will Increase Quota Achievement
Gain Leverage with a Virtual Sales Assistant
No matter how effectively you manage your time, staying on top of all your tasks is a challenge. A virtual sales assistant can dramatically increase your leverage by tackling tasks including:
Prospect research
Keeping your CRM up-to-date
Managing follow-ups
Scheduling sales calls
Plus any other repetitive tasks in your sales process. Offloading these responsibilities enables you to spend more time engaging with prospects so you can close more deals.
Check out these resources to learn more about how a virtual sales assistant can support you:
What You Should Do Now
If you need help with sales support, here are a few options to help you:
Download our eBook "Spend More Time Selling with a Virtual Assistant" and get a better understanding of how a virtual assistant can handle tedious sales tasks to give sales leaders and teams more time to sell and take care of customers.
Book a free consultation

call with Prialto

. We can help you regain more of your time to sell by offloading repeatable tasks to a fully managed virtual assistant. One of our experts will help you create a plan to delegate your tasks and we will even train your sales assistant for you.
If you know someone else who'd benefit from sales support, share this post with them via email, LinkedIn, Twitter, or Facebook.