Improving Employee Engagement
At Prialto, we are technically in the Business Process Outsourcing (BPO) industry, which typically views employees as disposable. The average worker turnover in the greater BPO industry is an astronomical 30-40%.
The Importance of Company Culture
At Prialto, our company is based on improving employee engagement in order to retain top talent. Perhaps that's why our turnover rate is less than 5% (yes, we're humble bragging).
We follow a philosophy of hyper visibility for our workers, because the scary turnover numbers elsewhere in the BPO industry are due to the prevailing company culture philosophy of "butts in seats" that are "a dime a dozen."
Whoever thought that cheesy cliché idioms would describe the prevailing BPO attitude...
---
Company Culture Is the Core
All things considered, the rest of the BPO industry fails to fully develop and retain top talent the way Prialto can.
Our employee engagement success is due to the fact that we deem each individual employee worthy of intensive training, ongoing support, and incentivized success.
We're nothing without our employees.
Without reliable, sophisticated, highly supported employees we certainly couldn't provide reliable, sophisticated, real time virtual executive assistant services.
So, it naturally follows that we make every effort to retain each employee who joins our team.
In a nutshell, this is how we are constantly improving company culture at Prialto.
Creating Company Culture With Employee Engagement Best Practices
While others in the industry make their employees adopt Anglo-centric names and actively prevent them from sharing contact information with callers, we encourage our employees to be exactly who they are and to build deep personal relationships with the Prialto customers they support.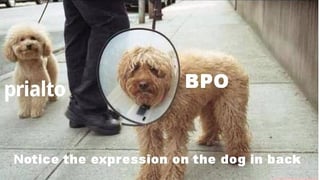 Every Prialto virtual executive assistant is an employee who can build their skills and move up the ladder with ever increasing responsibilities, title bumps, and financial incentives. They are front-and-center on our company website, blog, and social media, because Prialto's best practices around employee visibility are very straightforward. We appreciate them.
We are all family, in the best sense of the word.
Employee Engagement Strategies
If you're looking for an employee engagement definition that will help you answer the question, "what is employee engagement?" you may not find that in this article. Rather, we define it more tangible through employee engagement ideas and employee engagement activities that are examples of company culture more than anything else.
For example, our new hires typically don't know how to leverage LinkedIn. We help them build out their LinkedIn profiles, and teach them how to showcase their experience in order to grow their career.
Our employees appreciate having our branding guidelines as a frame of reference when they build their professional online social profiles. Prialto management encourages every employee to consistently grow their online visibility and promote their skills on professional networking sites like LinkedIn.
The Question You're Dying to Ask
How often do outside hiring managers try to recruit a Prialto administrative virtual assistant?
Answer: All the time!
Next question: Does this worry us?
Answer: No way!
Instead of being frightened by the fact that our employees are knowledge workers who could do their work as freelancers, we are inspired and challenged. It lights a healthy fire underneath Prialto management to continuously provide enough ongoing training, resources, and marketing support to retain our top talent.
What is Employee Advocacy?
Our definition of employee advocacy programs is better reflected in our summary of what we offer our employees.
All of our employees receive competitive pay and benefits. Those are defaults that every worker should have. In addition to the standards, Prialto gives each employee extra PTO time after two years of employment.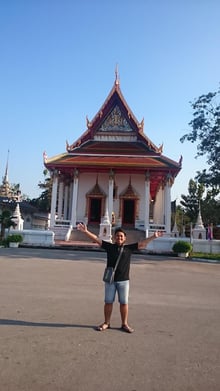 At Prialto, we call this extra vacation time an "Amplivacation," since our company motto is Amplify People. Employees receive a stipend, and are encouraged to spend their time amplifying themselves in a concrete way. We want nothing more than for them to feel rested and rejuvenated upon their return.
Many choose to travel while others stay closer to home in order to pursue leisure in their own backyard. What matters most is that the Amplivacation inspire the person to pursue their greatness in whatever form.
Employee Advocacy Program
Once hired, our employees simply stay.
We're growing and promoting internally all the time. Our retention numbers reflect that truth.
50% of our employees have been with us 3 years or more
25% of our employees have been with us 2 years
25% of our employees have been hired in the last year
Words to Describe Company Culture, Prialto Style
In our eight years of existence, we've experienced disintermediation just three times. Can you imagine?!
We've only been ditched as the middleman three times in eight years in an employee-customer effort to "go direct." And in each of those instances, their efforts tanked.
That's an incredible track record! It proves that we create as much value for our employees as we do for our customers. They'd both rather stick with us as an intermediary.
We also have a great sense of humor, and love it when our employees are creative (as this video clearly shows).
Company Culture Ideas
Our leadership team is constantly involved in volunteering, and takes initiative to showcase their talents on a broader stage. Fredi Avila is one of our Engagement Managers. He oversees our Guatemala office. Outside of Prialto, Fredi is busy. He regularly volunteers with Bradley Angle, a domestic violence non-profit in Portland, Oregon. To stay close to his roots, Fredi continues to leverage his paralegal experience in support of the immigrant community through his support of the Innovation Law Lab non-profit.
I'm Prialto's Marketing Manager, Deena Anreise. Hi! I'm proud to be a mentor for one of the largest local nonprofit organizations in Portland, Oregon: PDX WIT (Portland Women in Tech). I also speak and network at local events, fundraise for both of my boys' schools, give my time in their classrooms, and serve on the Oregon State Bar's Quality of Life Committee.
---
SUMMARY
We are proud of our employees and the strong culture we've built, which we foster daily. Our employees exemplify a company culture wherein they own who they are and are supported every step of the way.
We support our employees' visibility and professional success, which is why you will work with only the best virtual assistant on the planet when you hire a virtual assistant through Prialto.