---
Professional networking is key to your long-term growth, but you're likely inconsistent in your networking activities and follow through.
That's like engaging in a fitness routine for two hours, but only once a week: each workout is painful and the benefits are limited.
You'd be better off dividing those same two hours of total workout time over three different days during the week. Yet, this can be difficult when you're very busy...just like consistent business networking is difficult.
No single action is likely to yield much.
The benefits of business networking (and exercise) are only felt after months, even years, of consistent effort.
It's obvious that you need to get started now in order to experience future benefits.
However, the fact remains that you don't have that kind of time. Additionally, building new habits requires energy...but you need to spend that energy on executing the work in front of you.
What to do...?
Below you'll learn how to grow your business by leveraging a virtual executive assistant.
Your virtual executive assistant can help you cross the networking chasm by consistently managing key administrative and business networking activities. This way, you can keep driving the business that's in front of you today while your virtual executive assistant drives the activities that will generate business tomorrow.
The best virtual assistant services hire a virtual assistant that will:
Help you get to the right events to meet the right people
Help you be your best at those events
Help you follow-up with the people you meet at those events
Getting to the right events
Busy executives often fail to get to new places to meet the people with whom they can connect. The problem is matching time with desire. We often don't have the time, and we put off researching activities that are relevant to us. So when we have an opening in our schedule, we don't have a business networking event to fill it.
Here is how to solve that:
First, think about your personal and professional interests. Find events where these overlap. You may be an accountant, but that does not mean you ought to go to accounting conferences. If you love public affairs, go to public affairs events. But try to go to ones that might draw people who could use your accounting services. You'll naturally connect with other folks who are interested in public affairs. Eventually, they will naturally learn what you do as an accountant. Because people love doing business with people they personally connect with, it is only a matter of time before the professional and personal lines connect.
With this interest in mind, you can help your virtual administrative assistant know where s/he can source such events online. Most cities will have a local public affairs association. For example, the Common Wealth Club in San Francisco and the City Club in Portland. School alumni clubs and local newspaper websites are also good sources for such events, including small business networking activities.
Now, have your virtual administrative assistant populate a spreadsheet with these events, and use columns based on days of the week in addition to months.
Whenever you have an opening in your calendar, you can use this spreadsheet to see how you can use that time to get to a networking event. The research is done ahead of time, so there should always be something for you to do. Also be sure to use your virtual executive assistant as an accountability partner. Target a minimum number of events per week or month and have your assistant pester you to get this minimum number of activities.
Getting assistance to be your best at the event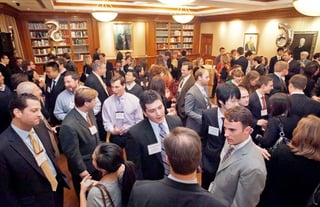 When there is a roster for the event, your assistant should create a list of fellow attendees who are closely connected to you on LinkedIn.
These are the people who you'll most naturally connect with. A great virtual assistant can also provide you with a couple of bullet points for each person, reminding you how you are connected, what might be your common affiliations, and what noteworthy things these folks have been up to recently.
Connecting with these people may not expand your network, but they will deepen it.
You should also set a target number of new people to speak with so that you also expand your network. However, you don't need to artificially go out of your way to do this. While chatting with an existing contact, you'll likely attract others to gather around you. Simply be polite about bringing them into the conversation.
Following up and staying in touch
There are dozens of network nurturing activities that your virtual administrative assistant can power on your behalf while you both stay focused on your existing work and maintain authenticity in connecting with your network.
Here are just a few networking hacks we love:
Before leaving an event, take a moment to take a photo of any business cards that you've collected. Do this in the privacy of your car before you drive away. Send the photos to your virtual administrative assistant so s/he can enter them into your contact database (CRM). This will ensure your new contacts are not forgotten when you head home and focus on your all important family and friends.

With your input, your virtual assistant should tag each of your contacts by these key attributes:

Relationship strength
Relationship value
Geography
Affinity groups and interests

In the morning after an event, your virtual executive assistant should send a link to your new contacts.

This is your reminder to send a quick follow up as well as to complete the information above in the contact record

Have your virtual administrative assistant use the tagging above to create alerts that will be of interest to your contacts. When the alerts ping your assistant, your assistant should remind you to follow-up with your contact. The more personal the interest, the better. It is far more impactful to send a congratulations to a contact whose favorite team just won than it is to send some auto-drip email with some generic industry news.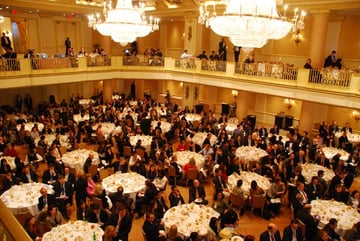 Networking and relationship building is all about sincerity, value...and excuses. Events and personal interests give you the excuse to reach out. Dialoging around personal interests keeps things sincere. As you get to know someone more deeply, you can understand their needs and find ways to provide them with valuable information in addition to helping them connect with others in your network who can assist them.
---
Getting to the right people, being prepared to meet them or deepen your relationship with them, and consistently staying in touch requires a lot of consistent administrative work that you simply don't have time to manage.
Whether you're an executive at a large firm or you're an SMB owner looking to increase your small business networking reach, your assistant can conduct much of this admin work on your behalf, thus helping you build your business in a very real way.