Is 2023 going to be your most productive year ever?
With the right tools it could be.
The challenge is that there's no prix fixe solution to productivity.
There's no pill that everyone can take to cure their productivity woes.
And while a one-size-fits-all solution sounds ideal, you don't want a standard pill anyway.
Because you need productivity solutions that are tailored to your unique situation.
The software that helps the industrial engineer get her projects done isn't the same tool that the non-profit CEO needs to manage his many teams.
While there may be a bit of overlap here or there, no two businesses align perfectly.
What you really need are customized solutions that amplify your strengths and strengthen your weaknesses.
Which is why I'm not going to give you a standardized list of "must-have" productivity tools.
Instead, I'm going to help you figure out exactly what you need in order to boost your productivity.
What we've learned from working with hundreds of executives at Prialto is that productivity needs fall into a few different categories.
So, what I'm going to do is present you with an à la carte menu of productivity-boosting options.
Once you review these options, you can try the ones that appeal to you the most.
Where do these recommendations come from?
When I started research for this article, one of the first things I did was reach out to my team here at Prialto to ask them which productivity tools they see our members using the most.
We work with high-level executives who have to-do lists the length of the Mississippi, so I knew the insights were going to be good.
Within a few minutes I had a gold-standard collection of productivity tools at my fingertips.
You'll find those recommendations below, plus some more indispensable resources I found after dozens of hours researching the best productivity tools currently available.
And you'll be happy to hear that all of these recommendations are authentic.
None of the software on this list is sponsored.
They are all honest reviews, curated to help you amplify your productivity.
Let's take a look at the options.
---
Meeting Efficiency
Meetings are important, but they can also be incredibly inefficient.
Lots of time can be saved by creating a clear agenda that participants can look at and contribute to ahead of time.
Having a meeting review process in place can also help meetings become more efficient moving forward, and follow-up tasks help everyone stay on the same page.
The programs below are developed to do all of that, and then some.
And if your meetings are virtual, Vowel makes meetings even more efficient by automatically taking minutes, allowing replays, and more.

Hypercontext acts as an in-house meeting administrator, giving you and your team more time to focus on building rapport and making great decisions.
Features include the ability to create collaborative agendas so team members can contribute, and everyone shows up to each meeting prepared, leaving you with much more productive meetings.
Meeting minutes are aligned with the agenda, so decisions and action items are all documented in one place and sent out to members automatically once the meeting is complete.
The action-item tracker makes meeting follow-ups and accountability easy, and you can keep improving your meetings with the data you collect in the automated post-meeting surveys.
Cost (at time of publication):
Free basic plan
Pro plans are $5.60/person/month when billed annually
Business plans are $8.80/person/month when billed annually

Fellow is designed to drive engagement and productivity by building better meeting habits before, during, and after every meeting.
Features include ready-to-use templates, the ability to assign, organize, and prioritize all your meeting action items in one place, organize your ideas on a digital notepad, and encourage continuous improvement through feedback requests.
Another great feature in Fellow is the ability to bring people outside of your company into meetings. One-on-ones are elevated through talking-point suggestions, and the entire workflow can be integrated with your other productivity software.
Cost (at time of publication):
Free for teams of up to 10 people
$6/user/month when billed annually for teams of up to 50 people who need to manage their 1-on-1s and meeting notes while fostering a culture of accountability.
Business and enterprise plans are also available.

Vowel is a tool for remote teams to host, capture, search, and share video meetings.
Once again, Vowel allows you to plan and share agendas, so everyone can contribute and arrive to each meeting prepared.
An outstanding feature that Vowel offers is that it includes meeting transcription, so you don't need to worry about keeping minutes or missing important details.
And because meetings are recorded, you can share highlights, rewatch key moments, and ensure everyone is clear on action items.
Cost (at time of publication):
Free basic plan that includes time and participant-limited meetings and meetings that are archived for 14 days.
Pro plans start at $8.49/member/month when billed annually, including longer meetings, advanced transcription, video downloads, and a meeting archive that dates back 60 days.
Business plans are $16.49/member/month when billed annually, and includes no time limits on meetings and other features.
---
Note-taking and Idea Organization
Another place where most businesses could use improvement is in note organization.
Whether they're taken on paper or in a Word document, notes have a tendency to float away like space junk that's left the earth's orbit.
You might create folders to try to keep track of them, but even then they can be tricky to find the note you're looking for.
Brilliant ideas are lost when they aren't connected to a bigger picture, or at the very least, stored in a searchable database.
The following programs will help you make sure that no idea goes to waste.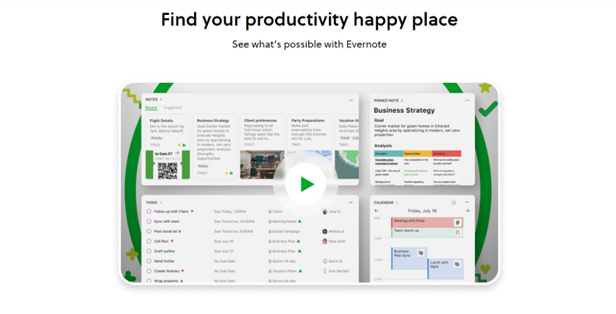 Evernote helps you keep your life organized by helping you take notes (including photos, files, and to-do lists,) project planning, powerful search and keyword tags, (including the ability to find words in photos, whiteboard scans, business cards, and handwriting, on top of your standard documents,) and the ability to sync your notes to all of your devices.
One of the great things about Evernote is that you don't have to adjust to a new system of organization.
You can create your own system within the software, or choose not to organize your notes at all and just use Evernote's search capabilities instead.
Cost (at time of publication):
Start with a free plan
Personal plans are great for individuals and families, starting at $6.67/month when paid annually
Professional plans help teams manage projects, starting $9.17/month when paid annually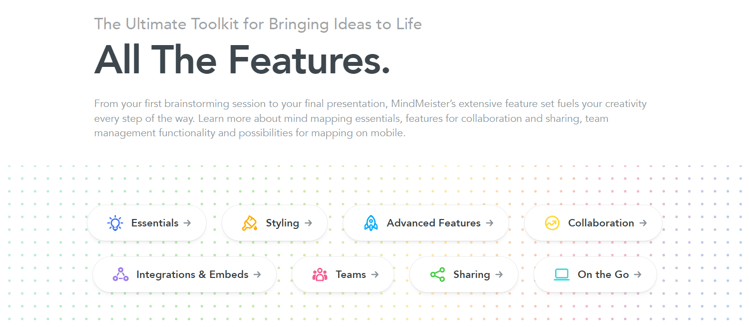 MindMeister is a mind mapping tool that allow you to visualize, collaborate on, and share creative ideas.
Equipped with beautiful themes, a variety of layout options, templates, and visual prioritization, you can customize your mind maps in the most efficient way for each project.
Teams can benefit from MindMeister's ability to toggle between visual and linear outline modes, expandable notes, commenting, Brainstorm Mode, version history, and attachment options.
MindMeister even comes with a Focus Mode so you can get your most creative work done more efficiently.
Cost (at time of publication):
The free Basic plan starts you off with 3 mind maps.
Personal plans start at $4.99/month when paid annually.
Pro plans are $8.25/month when paid annually, and include more integration options
Business plans are the best option for teams and collaboration, starting at $12.49/month when paid annually
Coggle is another mind mapping tool that helps you visualize your project flow and creative ideas.
Including more than 1600 icons and unlimited image uploads, the ability to control line styles, line paths, and change text alignment, Coggle brings your ideas to life in an easy-to-follow way.
You can also collaborate on projects, and Organization plans give you separate personal workspaces for each member.
Cost (at time of publication):
Free plans start with 3 private diagrams and unlimited public diagrams.
Awesome plans are $5/month and include more visual control as well as unlimited private diagrams.
Organization plans are $8/month and are ideal for teams who want to control access to their data and consolidate billing.

Notion is an all-in-one workspace that allows you to close all tabs and organize all of your tools in one place.
With Notion, you can keep everyone on your team aligned and manage multiple projects from a single platform.
Instead of searching through multiple apps and duplicate folders, Notion allows you to create a wiki for your company that clearly organizes all essential information. With Notion, you can easily keep track of meeting notes, goal planning, process docs, and log all crucial decisions to stakeholders have visibility into who's doing what, and when.
Cost (at time of publication):
Free for individuals
$8-10 per user/month for small groups
$15-18 per user/month for companies that need to connect several teams and tools.
---
Communication
A cohesive team needs cohesive communication tools.
The following are some of the best options we've found.
Slack is a business messaging app, and it allows you to keep your focus by supporting asynchronous work.
Through the use of dedicated spaces called "channels," Slack allows you to bring together the right people and information, and allows you to access the information you need on your own time, without needing to coordinate schedules.
But what really sets Slack apart is that it gives everyone in an organization access to the same shared and searchable information, so teams can stay aligned and make decisions more quickly.
Cost (at time of publication):
$7.25/user/month for small teams when paid annually
$12.50/user/month for businesses when paid annually

Chanty is an intuitive team-collaboration tool that gives you to share content via video and audio call capabilities, text & voice messages, public and private conversations, screen sharing, unlimited message history, task management, and more.
Highlights include the ability to share a variety of content within a single app, speak directly to members with @mentions, save innovative ideas with pins, and code snippets with dev-friendly formatting.
Cost (at time of publication):
Free for teams with up to 10 members
$3/month/user for business plans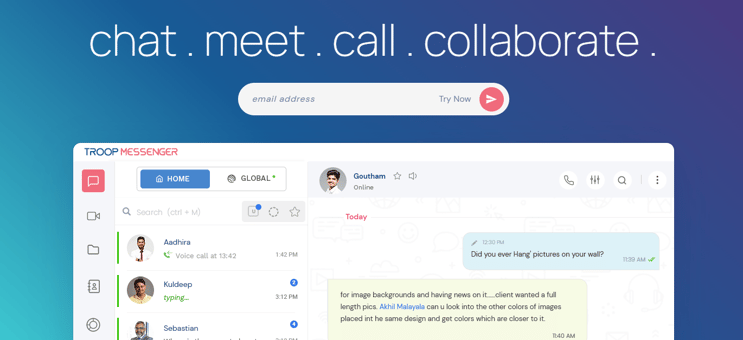 Troop Messenger is a team collaboration tool that features instant messaging, audio & video calling, group chat, file sharing, remote screen share, and end-to-end encryption.
One thing that sets Troop Messenger apart is the ability to send a 1:1 "burnout" chat, which enables you to have private and confidential conversations with text messages that vanish once a pre-defined timer expires.
You can also flag important messages, forward, copy, and delete messages, edit messages within 5 minutes of sending them, see when messages have been read, tag messages for later response, and more.
Cost (at time of publication):
Premium plans start at $2.5/user/month
Enterprise plans are $5/user/month and include more perks like the Burnout feature
Superior plans are $9/user/month and include remote desktop control, annotation, and other features.

Loom allows you to record quick videos to update your team and cut down on meetings by 29%.
You can record your screen and camera easily from any device, share your recording with a link, and keep the conversation going with emoji reactions, time-stamped comments, and interactive features that keep your team connected.
Async video helps you to save time by eliminating the need for long emails, meeting schedules, and the obstacles that come when working across time zones.
You're able to capture context, tone, and personality in detail so there's less miscommunication, and it becomes easier to deepen your company culture and build community when your workforce is scattered in different parts of the world.
Cost (at time of publication):
Free Starter plan with quick video messaging
$12.50/creator/month when paid annually, with advanced recording & analytics
Enterprise plans are also available for more advanced admin and security

Pumble is a free team chat app designed to replace email and help you collaborate with co-workers more efficiently.
Pumble allows you to create public and private channels so everyone in your company can stay connected and get relevant updates.
You can search through past conversations, share files, and even reply to a message via a thread so it doesn't clutter a channel or conversation. Messages can also be saved, pinned, and you can add mentions and reactions.
Voice calls, video conferencing, and screen sharing are also available on Pumble.
Cost (at time of publication):
A basic Pumble plan is free.
Pro plans are just $1.99/user/month and include guest access, group video calls, screen sharing, and other perks.
---
Process Automation
One of the best things about the modern workspace is the ability to use programs to automate processes that used to eat up all of your time.
The following are tools that can make automation even easier, allowing you to create seamless processes that take the "busy" out of work so you can focus on what really matters.

Scribe helps you turn any process into a step-by-step guide, instantly.
It's useful for onboarding new hires, creating SOPs, building training materials, answering frequently asked questions, assisting customers, and more.
The way it works is that you turn on the Scribe recorder, record your process, and when you're done your step-by-step guide is automatically generated, complete with screenshots, instructions, and clicks.
From there you can easily add edits and customization, annotations, custom branding, and redact sensitive information. Share your new how-to manual and you're off to the races.
Cost (at time of publication):
Free for individuals
$23/user/month for teams that want to share guides
Enterprise plans are also available.

Popular with 99% of Fortune 500 companies, LucidChart is the intelligent diagramming application that brings teams together to make better decisions and build the future.
It equips you to visualize complex ideas faster, clearer, and more collaboratively with drag-and-drop diagrams.
This means you can create business process maps that are easily updated, gather multiple perspectives on your flows so you can make the best process decisions, scale cloud infrastructure and understand how your plans impact your existing infrastructure, organize team members by skill sets, location, and key competencies to assign people where they will make the biggest impact, and more.
Cost (at time of publication):
The Free plan includes 3 editable Lucidchart documents, 60 shapes per document, and 100 templates.
Individual plans start at $7.95 and include unlimited documents and objects, 1 GB of storage, presentation options, and more.
Team plans start at $9/user and include more options like commenting and revision history.
Enterprise plans are also available.

IFTTT (If This Then That) helps all your apps and devices work better.
IFTTT does this by enabling you to set up automations with triggers, actions, and queries. This allows you to do everything from getting a weather forecast every day at 7 a.m., turning your heat up when the weather dips, to tweeting your Instagrams as native photos on Twitter.
There are lots of automations already published in the IFTTT community, but you can also build your own if you want to, just by following a few easy steps.
Cost (at time of publication):
Test IFTTT out with a free plan
If you want more, Pro plans are $2.5/month for up to 20 automations, faster speed, multi-action automations, and customer support.
Pro+ plans are $5/month for the ultimate automation fan who wants unlimited options.
A step up from IFTTT, Make helps you boost productivity across every area and team by allowing you visually create, build, and automate powerful workflows through a drag-and-drop interface similar to mind mapping, (no coding necessary).
With Make, you can integrate all your tools and manage your processes in one single platform.
Choose from thousands of ready-made app integrations and templates, connect any app you want, and customize automations to match your ideal workflows.
Cost (at time of publication):
Test Make out for free.
Core plans are $9/month billed annually, and are ideal for creatives and solopreneurs who are just getting started.
Designed for SMBs, startups, and automation pros who want to scale quickly, Pro plans start at $16/month billed annually.
Teams plans are $29/month billed annually and allow you to create and share scenario templates, plus some other perks.

Zapier offers significantly more app integrations than Make, but it's less intuitive or visually satisfying, relying on a more linear approach to designing automations.
Still, Zapier offers more versatility and a very straightforward user experience that many users appreciate.
Cost (at time of publication):
Try Zapier for free when you just need basic automation
The Starter plan is $19/month billed annually, and is great for individuals with simple, multi-step automation needs.
Professional plans are $49/month billed annually and give you unlimited automation potential
---
Social Media Management
Social media can be a huge time-suck, but there's no escaping social media in modern business.
If you want to avoid losing hours of focus every week as you task switch to try to monitor and update your social media strategy, you're going to need a social media management tool.
A solid social media management tool is going to help you support your social media strategy and boost productivity through bulk-scheduling and analytics to keep you on track.
Here are some of the best options we've found:

Buffer is a social media management tool that is designed to help you grow your audience without losing a ton of time.
Buffer helps you organize all of your social media content in one place, offering integrations with Instagram, TikTok, Facebook, Twitter, Pinterest, and LinkedIn.
You save time and increase productivity by scheduling your content in batches, allowing you to stay focused on your other work while Buffer automatically posts what you have scheduled.
It also tells you when and what to publish so your content will stand out, suggests hashtags to help you grow, and offers in-depth analytics, giving you the insights you need to grow.
Cost (at time of publication):
A basic plan is free for individuals and businesses getting started with social media
$60/year/channel for professionals who want publishing, analytics, & engagement tools, with the option to add additional channels for $5/month.
$120/year/channel for teams who want unlimited user seating, collaboration, and reporting, with the option to add additional channels for $10/month.

Later is another social media management tool that makes it easy to plan, analyze, and publish content in advance so you can save time and grow your business.
Later is especially good for businesses that sell products and use a lot of visuals. It allows you to bulk upload and store photos, organize media with labels, and repurpose media items for multiple social profiles.
Analytics help you figure out what's working, and what isn't, and the Linkin.bio feature allows you drive traffic and sales from Instagram and TikTok.
Cost (at time of publication):
$18/month for one user using 1 set of all social media channels
$40/month for growing teams with up to 3 users, and 3 sets of social media accounts
$80/month for teams managing multiple brands

Sprout is a powerful social media organizer that allows you to intuitively plan, schedule, and deliver social content and campaigns across most social networks.
Boasting a visually striking publishing calendar, Sprout supports your long-term strategy and optimizes outcomes by automatically publishing content when your audience is most likely to engage.
What really sets Sprout apart is that it is built for teams, giving you the option to generate workflows that guide the submission, review, and approval process and safeguard your brand standards while simplifying collaboration.
Cost (at time of publication):
$249/month for a standard plan with up to 5 social profiles
$399/month for a professional plan with unlimited social profiles
$499/month, with additional features like message spike alerts and chatbot automation tools

If you research social media management tools, Hootsuite will be at the top of most lists.
They back up their striking branding by helping you plan your posts with ease, manage incoming messages from multiple social channels, stay informed about market trends and competitors, promote organic content, manage paid ads, and measure your results across all social networks.
And if you're new to social media management, they offer beginner classes to help you seamlessly integrate their software into your workflow.
Cost (at time of publication):
Try Hootsuite for free for 30 days.
Professional plans cost (at time of publication) $49/month when paid annually, and include 1 user and up to 10 social accounts
Team plans cost $249/month when paid annually, for up to 3 users, 20 social accounts, and include perks like roles & permissions, and the ability to assign posts to team members.
Business plans are $739/month when paid annually, and can be used by up to 5 users on up to 35 social accounts, including perks like approval workflows, tagging, a content & asset library, and customer support.
Enterprise plans are also available.
---
Project Management
The 5 most popular project management tools we see Prialto members use are Monday, Asana, Trello, Todoist, and TickTick.
They're similar, but different teams prefer different features, so it's worth taking some time to consider each.

Best for medium sized businesses, Monday.com is a favorite that we've used here at Prialto to keep operations running smoothly, and we see many of our members benefitting from this software, too.
Monday.com is a collaborative management software that gives a visual overview of where things stand at a glance. Monday.com helps you track progress, timelines, and budgets so your whole team can stay synced. And through intuitive automations, your team won't have to worry about redundant manual tasks.
Cost (at time of publication):
Basic plans start at $8/seat/month, or $24/month annually
Standard plans are $10/seat/month, or $30/month annually
Pro plans are $16/seat/month, or $48/month annually

Great for teams of all sizes, Asana is a project management software that offers features for task management, collaboration, document management, workflow management, project portfolio management, and more.
Asana also boasts more than 200 integrations, including Dropbox, Slack, GitHub, Mailchimp, Zapier, and many others.
Cost (at time of publication):
Basic plans are free for individuals or teams who are just getting started
Premium plans are $10.99/user/month
Business plans are $24.99/user/month for companies with multiple teams

Trello is a visual project management tool based on Kanban, which is basically a visual timeline or pinboard that helps you keep track of steps within a project. Trello also allows you to seamlessly move tasks from one list to another, and it offers automations that save time and hassle.
Trello is a great choice for individuals, but because you can't assign tasks to individual people, managers have a hard time overseeing multiple projects simultaneously when working with bigger teams.
Still, for personal project management, Trello is a great choice.
Cost (at time of publication):
Free for individuals
$5/user/month for small teams
$10/user/month for teams with multiple projects
$17.50/user/month for enterprise organizations

If you're a fan of to-do lists, you're going to love Todoist.
Todoist is a list-style planning tool designed to help with every aspect of your life.
To-do lists are automatically sorted into "Today," "Upcoming" and "Custom Filter" views so you can focus on the most important things, first. And you can track productivity goals through gamification to keep you motivated.
Todoist allows you to break tasks into subtasks, move tasks into projects, share projects, set up reminders, discuss with teammates in comments, prioritize, delegate, and add integrations.
And it has the added bonus of personalizing your experience by giving you personal productivity recommendations based on your unique strengths and traits.
Cost (at time of publication):
Free to start
$4/month for individuals
$6/user/month for businesses

TickTick helps you get your to-dos out of your mind and get them done in less time. It includes unique features like voice inputs to make it quicker and easier to add tasks.
You can also turn emails into tasks, add due date and time information to tasks, and keep your workflow running smoothly by clarifying what needs to happen next.
If you're a fan of the Pomodoro Technique, TickTick helps you stay focused and productive with a Pomo Timer and white noise options. You can keep track of your time and gamify your productivity with achievement scores, statistics, and the ability to review your workflow for productivity insights.
TickTick is also great for teams, allowing you to share lists and assign tasks.
Cost (at time of publication):
You can download TickTick for free, or upgrade to a Premium plan for $27.99/year.
---
Focus Enhancement
There is no productivity without focus.
But just like most modern humans, many business executives are finding that the impacts of social media and communication multitasking are having a negative effect on their ability to focus.
The following programs can help you retrain and strengthen your focus muscles so you can be more productive.

RescueTime is an award-winning software that's designed to help you be more focused, productive, and motivated.
You can run RescueTime in the background on your computer to record your activity throughout the day. This gives you a clear picture of the apps you use, and how much time you spend with each one.
RescueTime also helps you enjoy more flow states at work by evaluating your schedule and telling you when you have opportunities to schedule a "Focus Session".
Whenever you schedule a Focus Session, RescueTime helps you prep your environment and body by prompting you to clear away distractions, check in with how you're feeling, regulate your breathing, and focus on a goal. You have the option to turn distraction blocking on and off, and you can set a timer so you know when your Focus Session is over.
At the end of the day, RescueTime gives you an End of Day Review so you can use real data to modify your behavior and boost productivity.
Cost (at time of publication):
Starts at $6.50/month after a free trial period.

Forest is a phone app that incentivizes you to stay focused and productive through visual and social reinforcement.
Whenever you want to stay focused, you plant a virtual tree in the app. Your tree will grow while you focus on your work for a designated amount of time. And if you leave the app before your time is up, your tree dies.
There are different modes to choose from to help you boost productivity, including deep focus mode, plant together, and the ability to count exceeded time.
After a few days, your hard work turns into a lush virtual forest, and the data collected is turned into insightful statistics that you can use to boost productivity.
Forest comes with extra motivation, because you can spend the virtual coins you earn in Forest on planting real trees through Forest's partner, Trees for the Future.
Cost (at time of publication):
$3.99 in your app store.

Engross is a focus timer inspired by the Pomodoro method that helps you accomplish goals faster and save more time for yourself.
Including statistics & analysis, reminders, app blocks, a planner and calendar, Engross allows you to optimize your time for maximum focus.
Cost (at time of publication):
Free!
---
Stress Management
Chronic stress is one of the biggest blocks to productivity.
When you're chronically stressed, you are much more susceptible to overwhelm, procrastination, and burnout.
But many business executives are so consumed by their work that they don't even notice the impact stress is having on their productivity, (and life,) until it's too late.
Luckily, there are programs you can use to help you monitor and relieve stress before it causes problems.
Here are our top recommendations: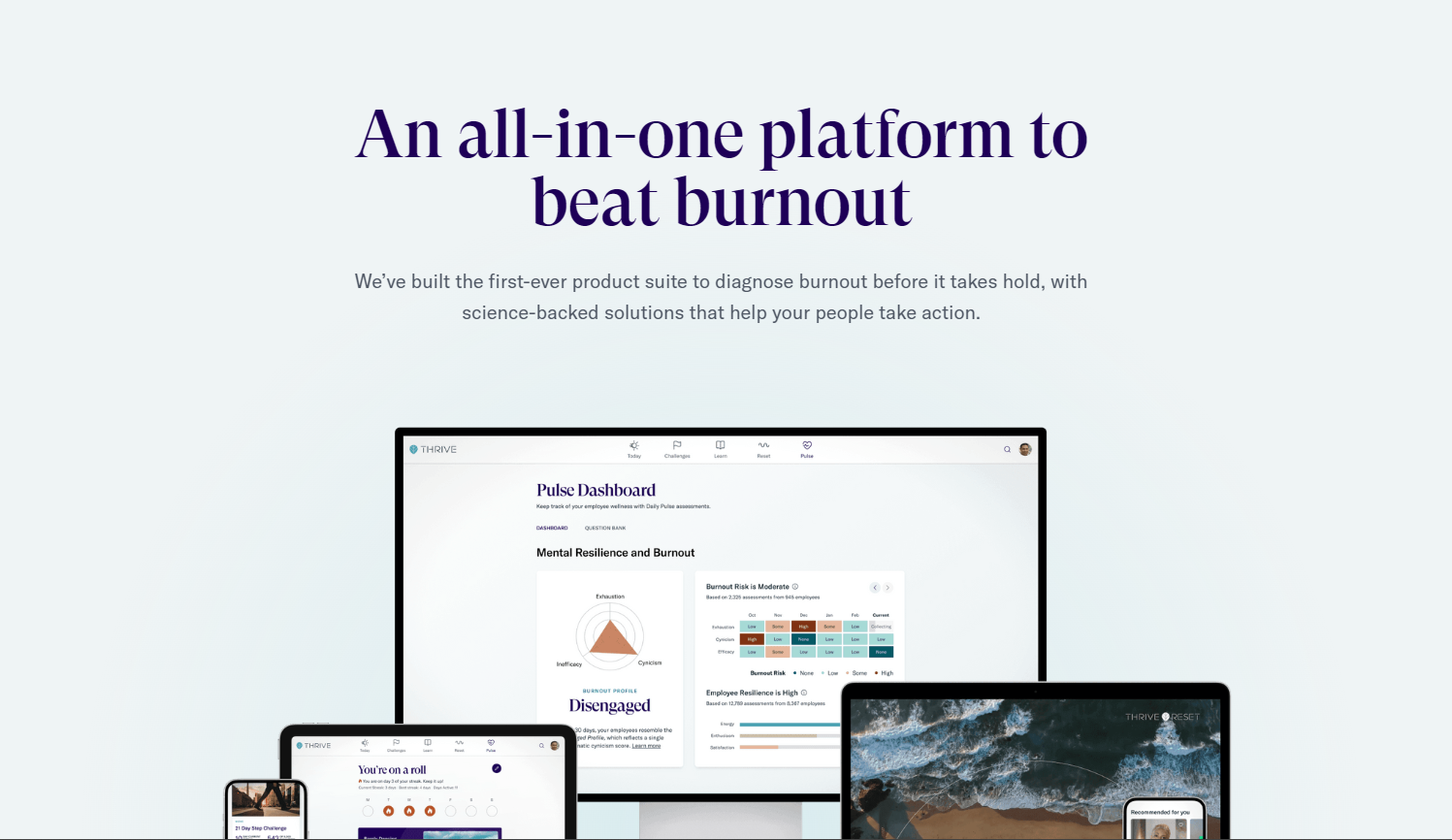 Thrive Global is the science-backed, all-in-one platform to diagnose and beat burnout before it takes hold.
It works by measuring employee burnout risk and resilience directly in their daily workflow. Behavior change tools and technology empower workers to prioritize their well-being and drive lasting, deeply impactful change across the workforce to increase long-term productivity.
A built-in peer network of support allows you to create communities and build better habits with Thrive Challenges.
And with expert-led courses on topics like high performance, mental health, resilience and belonging, parenting, nutrition, as well as 60-second Reset videos, your and your workforce can easily build stress reduction into your workflow.
Cost (at time of publication):
Contact Thrive Global directly for rates.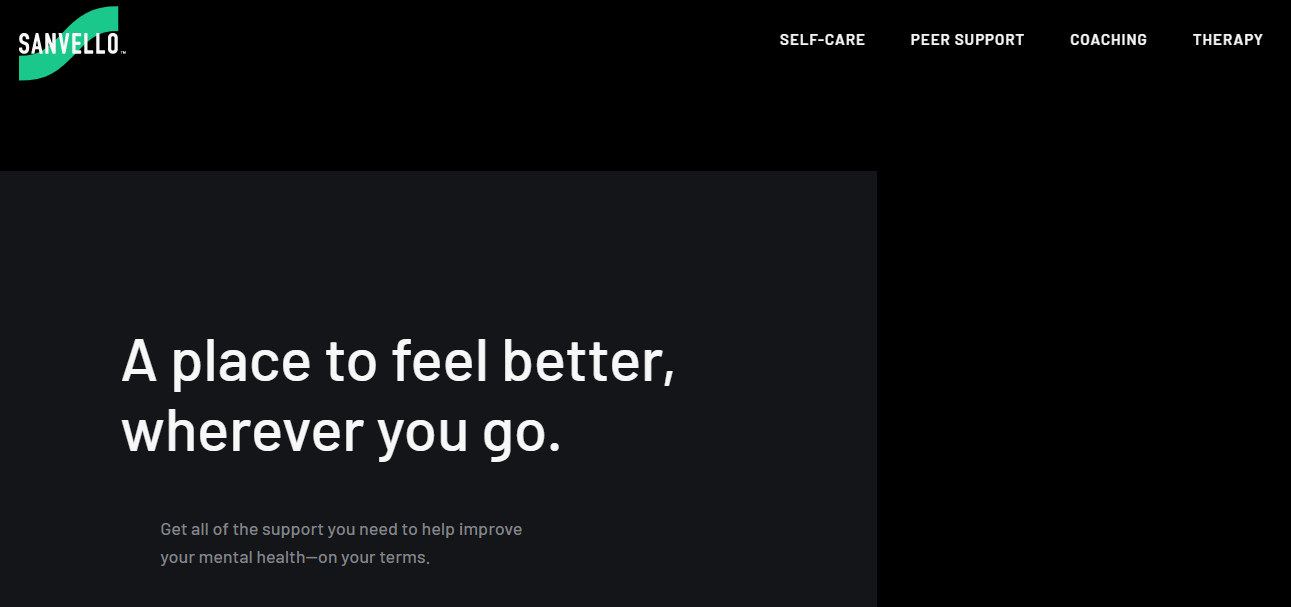 Sanvello is the top-rated app for stress, anxiety, and depression with over 3 million users. It offers 4 kinds of clinically proven support: self-care, peer support, coaching, and therapy.
Based on proven therapies, including cognitive behavioral therapy and mindfulness meditation, Sanvello self-care features include daily mood tracking, guided journeys that use proven therapies to help you feel more in control and build long-term life skills, coping tools, and progress assessments through weekly check-ins.
And when you need extra support, you can connect with peers, get guidance from a coach, or start developing a relationship with a therapist to help you identify the thoughts and behaviors that are holding you back, and make a plan to feel better.
Cost (at time of publication):
Sanvello self-care and therapy is included in-network in health plans for more than 40 million Americans. You can also get started for free on the website.

MoodTracker.com is a simple app that lets you track important health measurements like depression and anxiety levels, sleep, water intake, and many others, which are then recorded on a vibrant chart.
Through tracking, over time you'll be able to see patterns emerge that can help you identify what works for you, and what doesn't.
MoodTracker.com also includes a public forum where you can talk to other like minded people, treatment tracking options to keep track of your medications, supplements, and exercises, as well as in-built wellness reminders.
Cost (at time of publication):
Free Basic plan
Advanced plans are $4.95/month and allow you to track up to 10 measurements, view bar charts, get text reminders, and track medications and exercises.
Complete plans cost $9.95/month and include unlimited measurements, journal search so you can easily collect data, test message reminders with reply so you can easily track responses, supplement tracking, and wellness mentors.

Happify
As part of the Intelligent Healing Company, Twill Health, the Happify app helps you break old patterns and form new habits so you can take control of your feelings and thoughts.
Features include easy and effective exercises and games that are developed by leading scientists and experts in the fields of positive psychology, mindfulness, and cognitive behavioral therapy.
You can choose from month-long programs that include Conquering Negative Thoughts, Fueling a Successful Career, and Building Mindfulness Through Meditation. And Twill's clinician-trained Therapeutic Assistant helps you break down complex goals into real-world skills, leading to progress you can track in real-time.
Happify also allows you to measure your well-being over time and guides you to improve your happiness score, leading to increased motivation and productivity.
Cost (at time of publication):
Basic features are free.
Premium access costs $14.99/month, $139.99/year, or $449.99 for lifetime access.
---
The productivity tool that's sweeter than technology
Productivity tools are abundant online.
But even when you're swimming in software to support your business, humans are ultimately what hold it all together.
If you really want to amplify your productivity, you need a person by your side to take care of all the time-consuming details.
Personalized support is the dessert that will make your workflow significantly sweeter.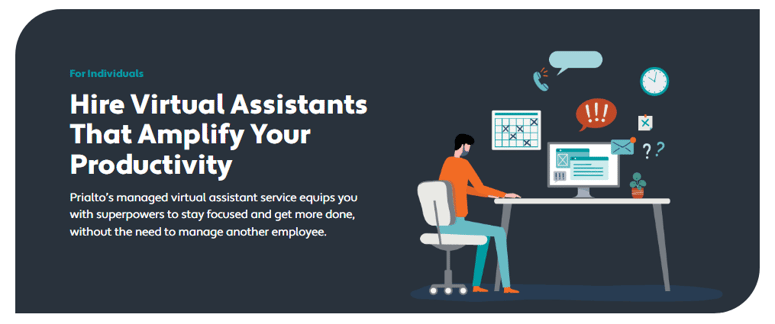 Prialto's managed virtual assistant (VA) service gives business leaders like you the support they need to amplify their productivity, and lives.
For example, when you have a VA manage your schedule, they can help you optimize your workflow so you are free to do deep work when you're best able to focus, hold meetings at hours when you're most sociable, and block off time so you can practice the self-care that will keep you going strong.
Your VA's job is to learn your workflows and know preferences.
If you eat at the same restaurant regularly, your VA might even go above and beyond to check if there's a frequent diner's option available to save you money.
A VA can help with other admin tasks, too.
Instead of wasting dozens of hours every month looking up hashtags for your social media posts, you can have your VA do the research for you.
And once you have posts ready to go, your VA can save you even more time by using your social media management system to schedule them for you.
Your VA can also organize your inbox, expenses, and other time-consuming admin tasks so you have more time to focus on the work that only you can do.
And because each VA at Prialto comes with a team to back them up, you never have to worry about a lapse in service if your VA takes time off or moves on to another job.
All of this for a fraction of the price of an in-house assistant.
The result is that you feel less time-pressure at work, more satisfied with your productivity, and happier in life because you know that you have the personal support you need.
These are just some of the perks you get from hiring a VA.
Want to amplify your own productivity and life with a virtual assistant?
Learn more about Prialto's managed virtual assistant services here.