Rather than offering a step-by-step social media guide complete with character count best practices, optimal scheduling times, writing tips, and image guidelines for the most popular of the social media platforms, I've decided to provide a higher-level overview of the etiquette required in order to gain attention and attract followers on your various platforms.
Going forward, here are two crucial social media statistics to keep in mind:
Obviously, there are a ton of us on social media. Our various feeds can sometimes feel like online clusterbombs of information, mixed intentions, and emotions of every sort.
Such a mess of content can make it very difficult to determine what the best practices are when it comes to social media etiquette. So...what kind of content, tone, and approach will get you noticed in a good way?
Everyone's brand voice and target audience are different. Some companies stick very close to the facts while others love hype. Many individuals jump on any and all trending topics while others try to maintain a semblance of journalistic relevance and timing for their specific audience.
What's in a platform?
If you think about your favorite social media platform, you'll immediately form a picture in your mind or a feeling in your heart that sums up the entirety of your interactions on that site.
For me, I love Twitter. It's where I go for my news, inspiration, industry trends and best practices, and thought leadership about nearly everything under the sun. The picture in my mind is of a clean, dynamic user experience that never dissapoints. I always find what I'm looking for, whether it's already front-and-center in my feed, suggested on either the left or right side of my feed, or retrieved from the Search bar.
What I feel in my heart is gratitude and excitement. I've connected with influencers who I've successfully pitched, either asking them to guest post on this blog or to publish one of my works in progress for their own site, eNewsletter, and the like.
The Bones of social media engagement
The absolute best aspect of Twitter for me is the 140-character limit. That limit goes a long way toward keeping my feed manageable, since it's very difficult to go off on a tangent when you've got to keep your rant confined to the length of an average sentence. For these reasons, I find Twitter much more structured and reliably streamlined.
Not so on Facebook, where people can (and do) write mini-novels about their random, acute experiences with the strangers, family members, kids, pets, jobs, and so on. It all gets very chaotic, and I find myself wondering what the value is beyond getting to gripe about life for a few likes, shares, and moments of elusive attention within your network. Why not just call a friend, text a co-worker, or go to the gym and work out all that angst...?
Admittedly, Facebook is a great place for businesses to connect with current and prospective customers. It works precisely because it promotes longform content and conversation that leads to an engagement of longer duration and intensity.
But I still love Twitter for its inherently efficient, sleek design.
Who is responsible?
All of this begs the question: How can business professionals maintain a unified front for their branding and communication efforts on a variety of platforms that have inherently different social dispositions?
You've likely heard the saying "perception is everything." Nothing could be closer from to the truth when it comes to branding. Branding will make or break a business.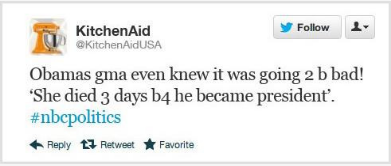 Remember the whole KitchenAid PR nightmare that happened when one of their employees mistakenly sent out a deplorable tweet from KitchenAid's official American account (instead of a personal account) during the 2012 presidential debates? Essentially, the employee insinuated that President Barack Obama's grandma died (right before his 2008 Presidential win) because she knew his first term would be a disaster.
Yeah, it was bad.

Likely, you aren't running a monolith like KitchenAid. But that doesn't matter. Whether you have one employee or one thousand, a snafu is a snafu. It's bound to happen if you don't have standards for your social media outreach.
Branding or bust, social media-style
Brands are based on a business run by people. Branding is a collective effort, which some make look like mere child's play. They employ the visual skills of stylists and content creators and brand advocates who fill their feeds with lifestyle photography that packs one hell of a branding punch (see below example of the Shores Project, a British watch brand).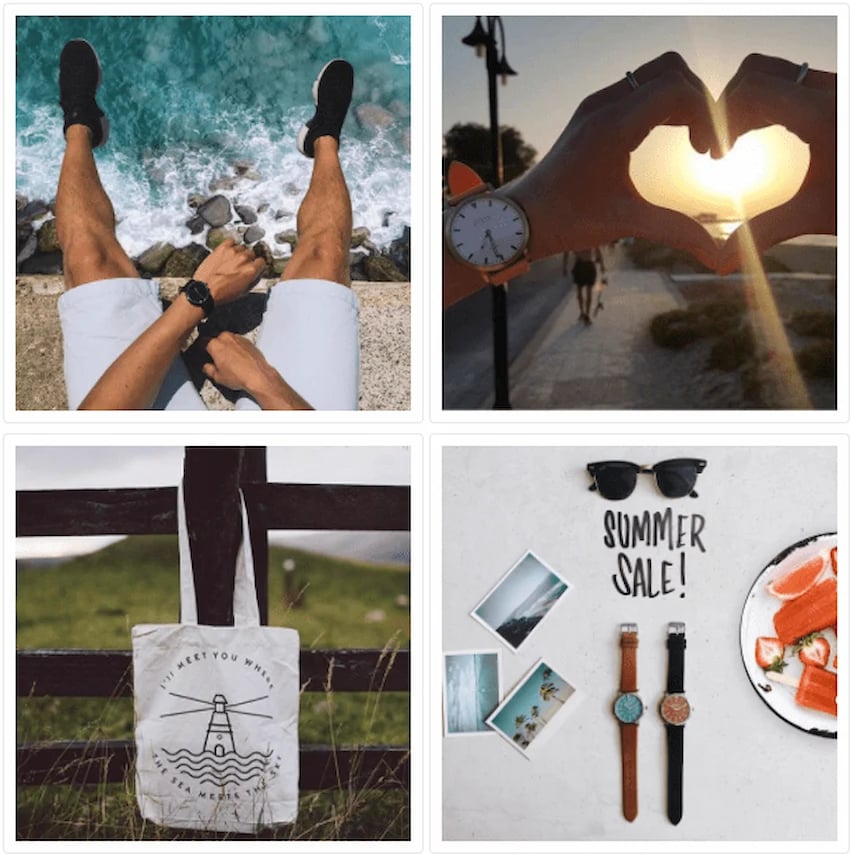 The perception of a brand through social is sometimes the most widely known lense from which to view a business's products, services, and company culture.
So always make sure that your communication goals align with your organizational and branding objectives.
1. Know Your Buyer Persona
This is your Who
Many people will tell you that a buyer persona is created by compiling insights from sales, marketing, customer service, CEO comments, general conjecture, and the like in order to come up with a description of your ideal buyer.
This is dead wrong.
A buyer persona is not just a description of your ideal buyer. That's not as helpful as you'd think, because it often results in the development of way too many personas who are segmented by aspects of their identity such as lifestyle choices, age, location, or what new media they prefer.
While you may be tempted to believe the hype that these aspects are important, stay strong. Because they aren't. There just isn't enough information there to guide marketing efforts, even though at first glance it seems like there's more than enough information.
"Built from the real words of real buyers, a buyer persona tells you what prospective customers are thinking and doing as they weigh their options to address a problem that your company resolves. Much more than a one-dimensional profile of the people you need to influence, or a map of their journey, actionable buyer personas reveal insights about your buyers' decisions — the specific attitudes, concerns and criteria that drive prospective customers to choose you, your competitor or the status quo."

Adele Revella, Founder and CEO of Buyer Persona Institute
The main takeaway is that you need to know what your buyers think about doing business with you, and what their expectations are when it comes to your services as well as your competitors' services. Get this information from interviews, email comments, verbatim quotes captured by your sales team, and so on.
2. Know Your Content Marketing Strategy
This is your What
First, let's begin with a few definitions aimed at clarifying what I mean when I talk about content marketing strategy.
Content strategy refers to the planning, development, and management of content.
Content marketing strategy refers to the direct engagement of an audience using content that develops a larger brand story in order to drive profitable behaviors.
A thoughtful, research-based content marketing strategy will increase your brand exposure by positioning your products in the right light, to the right audience (a.k.a., buyer persona).
Here are a few key points to keep in mind when building your strategy.
Create a company culture that celebrates employees-as-brand-advocates
Develop social media guidelines and best practices that are shared with employees
Track metrics that measure the effects of your content marketing (e.g., website visits)
Overall, focus on quality over quantity at all times. Pay attention to what content your audience engages with, how long they engage with it, and whether they share it with their networks. If your content isn't getting much play, it's likely that you need to revisit your buyer persona and get a better handle on what your audience wants to engage with.
That said, make sure you're publishing on a regular basis, since nearly every person on social media tends to pursue evermore recent items in their newsfeeds at an alarmingly fast pace.
3. Know Your Metrics
This is your When
Focus on the importance of maximizing your company's content marketing strategy by paying attention to metrics.
Here are a few key metrics to track regarding the "when" of audience engagement on social:
Your website and/or blog visits
The number of landing page visits
The number of online form fills
The number of new and returning visitors to your online properties (landing pages, website, blog, etc)
Optimal times to publish posts each day (more on this below)
Best amount of posts to publish per day
Content engagement and shares
Timing is everything on social media. Do you know what your ideal social media scheduling is? Hootsuite just put together a well-researched list highlighting the best times to post on social media. It's a fantastic resource.
Bottomline: No eyeballs on your feed means no attention or engagement for your business. When you're considering your publishing schedule, you could easily ask the rhetorical question, "if a tweet goes out but no one is around to see it, did it actually post?"
For businesses with larger online audiences, it's important to double down on our commitment to post quality content much more often during the hours our target audience is spending time on social.
Consistency (and tenacity, really) gives us more opportunities to increase engagement and shares, drive traffic to our online properties, and grow our audience while nurturing relationships with our current customers.
"That depends on the audience you're trying to target (who they are and where they're located), the networks you're using, your goals, and the kind of content you share. But while there is no perfect time to post, there are resources that can help you find the optimal times."

Dara Fontein, blog writer at Hootsuite
4. Know Your Social Platform
This is your Where
Let's face it, there's a lot of social media real estate out there today. You could position yourself and/or your business on any number of platforms: Facebook, Pinterest, Twitter, Snapchat, Instagram, YouTube, LinkedIn, Google+, Quora, Reddit, and so on and so forth.
Are any of them better or worse for your business? That depends.
"You don't need to be on every platform. In fact, being on every platform and shifting focus whenever a guru tells you to will only distract you from creating meaningful relationships with your followers/customers/etc."

Dakota Shane, Co-Founder of Arctiphi Marketing
Go back to the concept of your buyer persona. Then make that buyer persona exacting and instructive. Really flesh that sucker out so you know, beyond any doubt, who your ideal buyer is and where they are spending their social media time?
You must know these answers in order to have any real impact on social. Otherwise, you're just fishing in the dark without bait.
Heck, you don't even have a line or a rod if you haven't nailed down your ideal buyer. So why even bother to go fishing? Without an ideal buyer, the net you cast is too wide to be worth your time. No marketing qualified leads or sales qualified leads will come in. If they happen to find your outreach online, they will have beat the odds.
Because even though I love Twitter, I cannot justify being most active on that platform if my ideal buyer is living on Instagram and Vimeo. So I'll repeat it: know where your buyer persona is most active on social. Then and only then can you decide where you should be posting and connecting with them on social.
Armed with your ideal buyer, you can launch into what some call a "channel plan," which includes the social media platforms you will use to build your content marketing strategy and tell your story.
Your channel plan should specifically state your standards and objectives for each platform, and map out how each of them will connect them so that they create a cohesive brand conversation.
5. Know Your Point
This is your Why
I can walk you through some brainstorming by asking a few important questions to help you narrow down your reasoning:
What ideas and messages do you want to communicate?
How does your messaging differ from that of your competitors?
What impact will your messaging have on your ideal buyer when they see it?
Are you engaging in productive dialogue?
There's a secondary reason why I posed so many brainstorming questions above, and that's because it's important to ask questions of your audience.
In everything you post, try to spark audience engagement by asking a question. You can create a feeling of urgency and/or inclusion by simply ending each post with a question to engage your audience.
"Your story is the people, places, and ideas that your company thrives on. It's the foundation that keeps a brand going and growing. It's a blend of those vital little core pieces of information about your business — how you came to be, why your products or services are special, what you're passionate about, your company culture, how you make people's lives better, and why you would do business with your company."

Debbie Williams, Co-Founder of SPROUT Content
Bonus: Don't Be a Jerk
Of course, there are individuals and businesses out there that thrive off being rude. I'm not talking about the comedic tongue-in-cheek kind of rude meant to poke lighthearted fun at something or someone, because who doesn't love browsing The Onion, You Had One Job, and Funny or Die.
I'm talking about the kind of rude that is paralyzing, and has zero lasting value. Dustin McKissen briefly touches on these kinds of negative, counter-productive online interactions in his Inc article meant to encourage us all not to be jerks on social media.
"If you define bravery, wit, and your contribution to the world by how harsh you can be to those willing to actually create something--whether that "something" is a widely read column or a simple social media post--you are failing.

You are failing to change anyone's mind and failing to make any positive change in the world. Your insult might get a few likes, but there is a reason "likes" come so easy.

Likes come so easy because they are fleeting and worth very little."
---
LEARNING IS BEST WITH EXAMPLES...
Hopefully, this article provided you with a launching point from which to begin or expand your social media brainstorming. If it did, hop over to Twitter and share your thoughts with us there. We always love to hear from you about what works for you and your business, and what doesn't.
Just for fun, here's a curated Hubspot list that showcases several very large companies doing a remarkable job at keeping brand consistency across platforms. Don't have a gagillion dollars to spend on making sure branding consistency happens for your business? Join the club...
For all of us who are knee-deep in working for a small to medium size business with a small to medium size budget, here are some awesome examples of genius social media branding and outreach, via the Small Biz Trends article, "30 Businesses That Are Rocking Social Media."