---
In business, there's always room for improvement. Every great business leader knows that.
So how do you become a great business leader?
Typically, business leaders have mentors. They also belong to groups like the EO network, and have a serious crush on continuing education opportunities such as conferences, meetups, books, group or one-on-one coaching, and podcasts.
This article takes a look at the latter opportunity – the podcast – in relation to their ability to help you become a more capable, dynamic, over-achieving leader for your business, employees, and customers.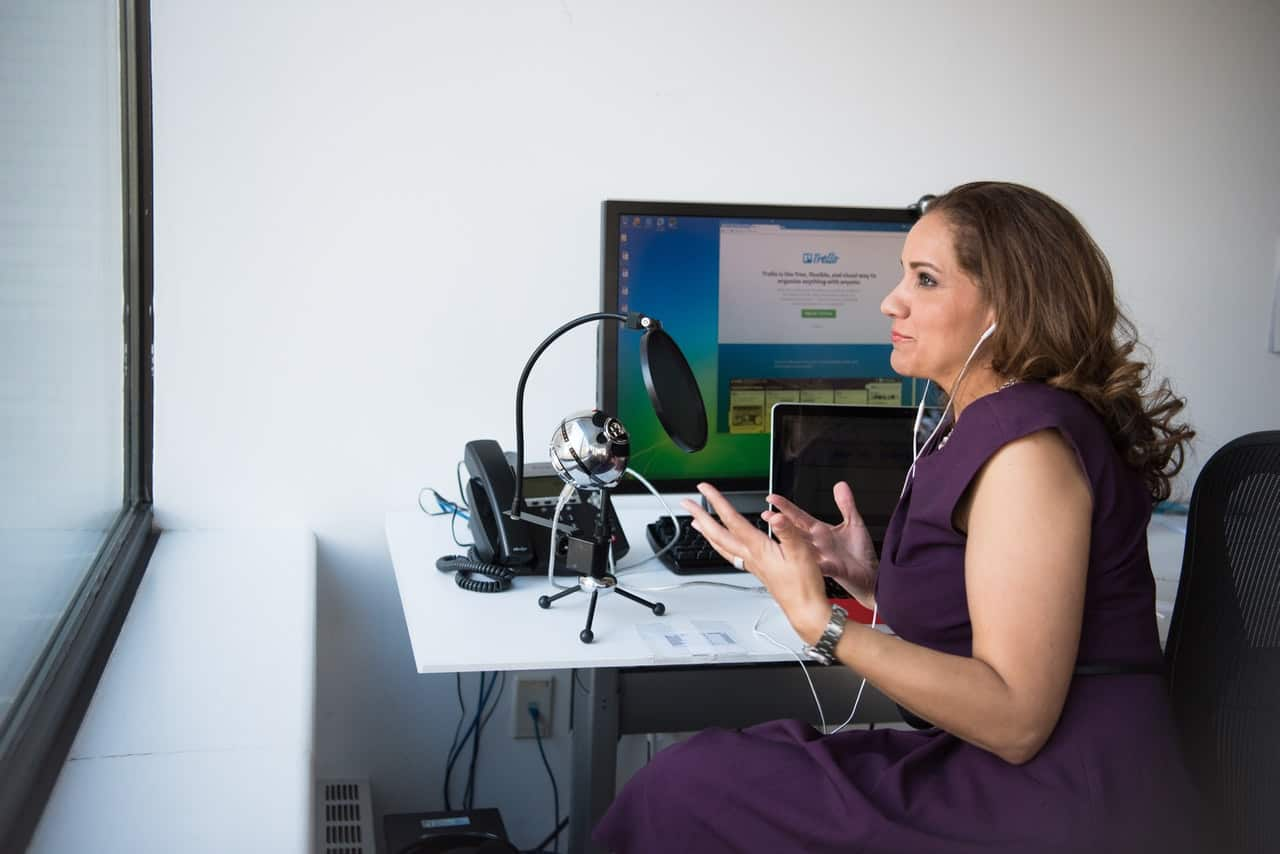 The 12 Best Podcasts for Building Leadership Skills
All of the business leadership podcasts featured below are professionally produced and edited, which means the listening quality will be on par with the quality of the speakers.
Host Dov Baron interviews well-known leaders from around the world about their journey to success and leadership. This is one of the longest running leadership-focused podcasts with two new episodes per week.
With Dov being named as one of Inc Magazine's Top 100 Leadership speakers, you will finish each episode inspired and ready to take action.
Learn More: 4 Strategies to Ignite a Culture of Continuous Improvement
Back in 2012, host Jonathan Fields launched the Good Life Project (GLP), which boasted a weekly web series featuring in-depth, unscripted, extremely candid conversations with acclaimed artists, entrepreneurs, makers and world-shakers. The web series quickly grew to more than 1,000,000 minutes of video a month, with viewers in over 150 countries.
So in 2013, Jonathan expanded the reach of GLP by tapping into the intimacy of the podcast format. Much like the web series before it, The Good Life Podcast quickly became a top-ranked show on iTunes, stitcher, and SoundCloud. Thath's no surprise, since the podcast interviews a range of different leaders about their challenges, with a particular focus and interest on entrepreneurship and professional growth.
Learn More: Personal Productivity is Key to Meaningful Success. Here's How to Boost It
Dave Ramsey's national bestseller of the same name is a business playbook that teaches you everything you've ever wanted to know about building and growing a business. So it goes to follow that his podcast would be of the same ilk.
Dave interviews leaders that are handpicked for being "hard-charging and passionate, encouraging and motivating" with a "pioneering spirit of an entrepreneur and the humble quality of a leader."
There's something for everyone in these interviews, with guests ranging from country music legend and The Celebrity Apprentice winner John Rich (of Redneck Riviera) to Kat Cole, the Group President of Focus Brands (parent company to well-known franchises like Cinnabon, Auntie Anne's Pretzels, Carvel, and Moe's Southwest Grill).
Learn More: 4 Goals Every Growth-Driven Managers Should Have
This podcast, hosted by entrepreneur and leadership coach Kyle Gorman, focuses on how leaders can build high-performing teams while effectively scaling their business.
Since 2017, Kyle has been bringing on guests from all different backgrounds and industries so listeners can learn a variety of different strategies and approaches to leadership. He also emphasizes the importance of creating a strong company culture and how leaders can ensure culture remains a top priority.
Learn More: 4 Compassionate Ways to Boost Employee Efficiency
If you provide a service, then this is the podcast for you! Bruce Eckfeldt is a coach and author on organizational development and shares his top advice to service-based businesses in this podcast. Bruce and his guests teach listeners how to grow their businesses faster and smarter. Our founder, Eric Taussig, had a discussion about his entrepreneurial journey and how he has successfully grown Prialto. You can listen to Eric's episode here.
Learn More: How to Use Continuous Improvement to Catalyze Success
Fun fact: our company was started not long before Tim's productivity bible, "The 4-Hour Workweek," was published. If you've never read it, go out and get yourself a copy asap. There are many actionable nuggets in that book, including how to hire a virtual assistant to 10x your productivity and grow your business.
In his podcast, Tim talks to world-class business professionals (from Arnold Schwarzenegger to investor Peter Thiel to director Robert Rodriguez) about what makes them so effective, and how they leverage habits and best practices to beat your competition and rise to the top. He digs deep to find the life hacks, tools, tactics, and tricks that we can all use to get ahead.
This podcast touts itself as "Business Explored: the podcast that inspires tens of thousands of entrepreneurs each week." This podcast has several co-hosts (Joelle Goldman, Matt Goldman, Michael Sacca) who interview startup founders of successful companies.
And while each episode isn't specifically focused on teaching you how to build leadership skills, I've put it on this list because it's literally crammed full of incredible content relevant to business owners at every stage of the game. They discuss everything from funding to growth to culture to sales...and everything in between.
Learn More: How to Preserve Company Culture During Rapid Growth
If you are looking for a podcast that is just as entertaining as it is informative, check out Just The Tips.This podcast is hosted by James P Friel and Dean Holland, both very well-respected business coaches. These hosts love to have a laugh while chatting with their guests about their entrepreneurial journey and what they learned along the way. Their goal is to provide their listeners with actionable tips they can apply to their own businesses.
They "not so humbly, believe it's the best business and marketing podcast in the world."
Learn More:
This is How to Use Transactional Leadership to Drive Team Success
Only have 5 minutes? Host Nathalie Lussier packs loads of information, advice, and tips into each five minute episode of her Off The Charts podcast, giving special attention to giving listeners something actionable they can do right away to be better business leaders.
Learn More: 6 Actionable Ways to Be Laser-Focused on Your Goals
10. B2B Revenue Executive Experience
Although this is technically a sales leadership podcast, host Chad Sanderson chats with guests who share some fantastic leadership advice. This podcast is targeted towards executive teams who are focused on developing high-performing teams to help scale their businesses. Chad and his guests often touch on the importance of culture and who to effectively coach team members.
Learn More: Do These 5 Creative Exercises to Boost Your Job Performance
Want to learn how to be a leader from the world's most inspirational women? This podcast is for you! Host Angie Mezzetti has a background in journalism and broadcasting, which gives her a great perspective from which to explore the challenges her female guests have faced as they've climbed their way to the top.
Whether you are male or female, every episode of the Women In Leadership podcast speaks to those that want to see more women represented at every level of decision-making. She interviews women in business, politics, science and technology, academia and education, sports, banking, entrepreneurship, philanthropy and more to discuss how they balance the demands of private and family life with the reality of their career paths.
Learn More: Here's How to Have a Mutually Successful Mentoring Relationship
John Lee Dumas is the founder and host of EOFire (Entrepreneur On Fire), an award-winning Podcast where he interviews today's most inspiring entrepreneurs 7 days a week!
With over 1500 episodes to date, John has shared a massive amount of great content through the intimate listening experience that his podcast provides. EOFire has featured incredible Entrepreneurs such as Tony Robbins, Seth Godin, Gary Vaynerchuk, Barbara Corcoran, Tim Ferriss (mentioned above), Brian Tracy, and so many more. Check it out, today!
Become A More Effective Leader
Join executives, entrepreneurs, and industry-leading professionals from around the world who use our research-backed advice and services to become more effective and productive leaders. Download our free guide:
We understand your inbox is already packed and promise to only send you relevant content.