Time. Just the word can make you nervous. Because there is never enough! Time is one of an executive's most valuable resources, and you cannot make more of it. Try as you might, you cannot get more than 24 hours out of a day.
But you can save time and increase productivity by using your time more efficiently. Fortunately, bright minds in the software industry have been making apps and platforms to help us manage our time.
We have curated a list of the best time management solutions based on over a decade of experience helping executives optimize their productivity.
Time Tracking: Time Doctor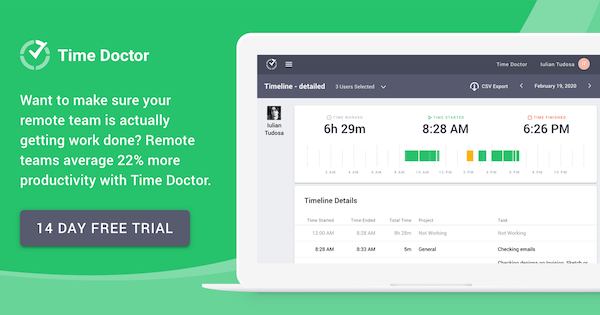 You cannot manage what you do not measure. Time tracking apps allow you to see where your time goes so you can better manage it. Time Doctor is our choice for the leading time tracking platform. Its key differentiators are:
Real-time time tracking. People have a tough time recording time after the fact. Time Doctor monitors app usage while employees are working.
Time tracking reminders. Time trackers do not work if you do not turn them on. Time Doctor also has a sneaky feature that tells employees to get back to work if they visit non-work sites like Facebook.
Automatic off switch. Time Doctor turns off when you stop working. If tracking stays on while you take a break, the report won't be accurate. Time Doctor monitors keyboard and mouse activity and stops counting after a set number of idle minutes. You could add that time back if you were working offline.
Time Doctor offers excellent reporting too. Reporting is especially valuable for teams to provide visibility into how teammates spend time. Its Workday Insights provides reports on who is working and what they are working on, all in real-time. It tracks and reports:
Active hours worked by day, week, or month
Daily productivity levels
Attendance
Schedule adherence
Real-time activity tracking
Website and app usage
Number of projects and tasks completed
Project timelines--hours spent on projects
Screen capture and recordings for proof of work
Idle minutes and seconds
Time Doctor also integrates with leading project management (Trello, Asana), communications (Slack), CRM (Salesforce, Pipedrive), payment (PayPal, FreshBooks) platforms to streamline workflows from project planning to invoicing and billing.
Other time tracking software platforms are:
Task Management: Todoist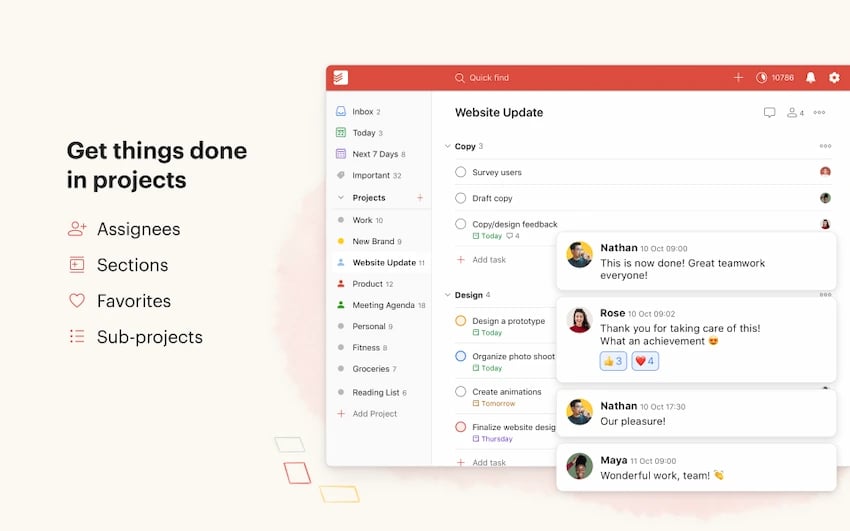 Everyone makes to-do lists, whether they follow them or not. To-do lists help you manage time by keeping you on task. Of the many digital versions available, Todoist is the leader. Todoist wins because it enables you to list your tasks and deadlines, receive alerts and reminders, and knock to-dos off the list. It works on all platforms (mobile, laptop, desktop) and supports individuals and teams where other apps or mobile-only.
Todoist makes it easy to:
Create tasks and projects
Add subtasks
Set schedules and reminders
View upcoming tasks
Set priorities every day
For teams and tasks with multiple stakeholders, Todoist helps you
Plan projects and assign owners
Share files and discuss the details
Track progress and deliver on time
The language of task management can be confusing. Todoist's core unit of a to-do is a "project." Projects have one or more tasks. There are other more robust project management platforms (see below).
Like Time Doctor, Todoist boasts some great reporting features. You can:
Visualize your productivity by displaying daily or weekly tasks completed
View your task history
Archive completed tasks
Todoist also offers Karma, a point system that scores your productivity as you use the app. Karma scores give you further insight into your productivity.

Finally, the app integrates with just about every productivity application available, including voice assistants (Alexa, Google Assistant), communication (Gmail, Outlook, Slack), time tracking (Time Doctor, Toggl), and more.
Other task management software platforms are:
Remember the Milk
Google Task
Project Management: Monday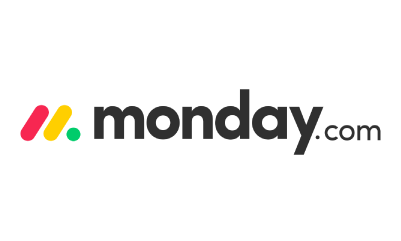 Keeping projects on track is also critical for effective time management.
As mentioned, the language of task and project management platforms can be confusing. Monday is a powerful, easy-to-use project management platform. What's the difference between a project and a task? Projects have specific start and end dates with milestones and a clear outcome, usually, multiple contributors. There is an outcome at the end--a finished product or service. Tasks are single units of work, usually by an individual, to complete a project.
Monday scales to accommodate projects in multiple departments of large businesses. Every team can create a "board" to host its projects. On that board, you can:
Group projects by type
Lists projects
Add tasks to projects
Set deadlines
Assign ownership
View status
You can customize projects by adding columns to share links to project documents, make notes, add stakeholders, create dropdown lists. You can also create custom status categories to fit the project and set alerts so that when the project status changes and transfers to a new owner, the appropriate owner gets notified that the project is now in their lap. There is a section for notes where you can tag teammates to send them your comments.
Monday also offers multiple visualization options. You can choose from the following views:
Dashboard
Calendar
Kanban
Gantt
Chart
Table
Timeline
Workload
Form
Files
Card
Views can also be used for reporting. For example, the Workload view shows the distribution of a team's workloads so you can see any imbalances. Power users can use the built-in pivot table to slice and dice data. You can also integrate Monday with CRMs, file storage, marketing automation, ecommerce, communication, and even other project management platforms used by your company or your partners.


Specifically for time management, Monday also features a time tracker. You can define the estimated time for tasks and projects and assess the results.
Other project management software platforms are:
Focus: Forest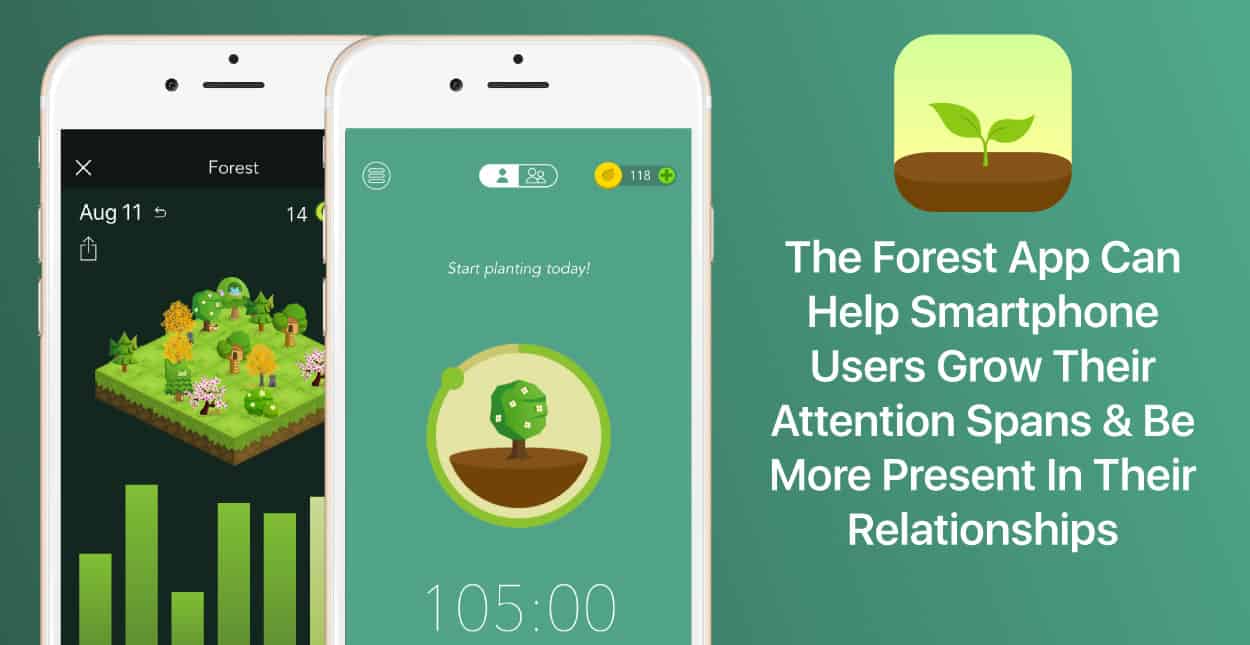 One of the biggest time management challenges in our world of constant interruptions is staying focused on a task for a sustained about of time. Your email notification dings or slides onto your screen, and the next thing you know, you spend two hours in your inbox instead of working on that report.
Forest gamifies focus with some environmental benefits thrown in. When you begin a task, enter the amount of time you want to stay focused on that task, and you plant a virtual seed in the forest. You start the timer, and the tree grows if you keep working on that task.
If you leave the app to text or email, or anything else, the tree dies, and you start over.
If you remain on the app the entire specified time, your tree is complete, and you earn points that you can use to plant a real tree through Forest partners.
Forest also has a Chrome extension for laptops and desktops. Can you cheat? Sure. You can set the timer and take a nap.
But get this, when you synchronize your iOS or Android version with your computer, Forest knows if you switch devices, and your tree dies. You have to stay on the screen you started with.
You can also:
Track your progress throughout the week.
See a timeline of the plants that grew throughout the day and how long it took to grow them.
See an illustration of all your beautiful trees.
See the trees that did not make it because you left the app.
Other focus apps include:
Multi-Calendar Synching: Calendar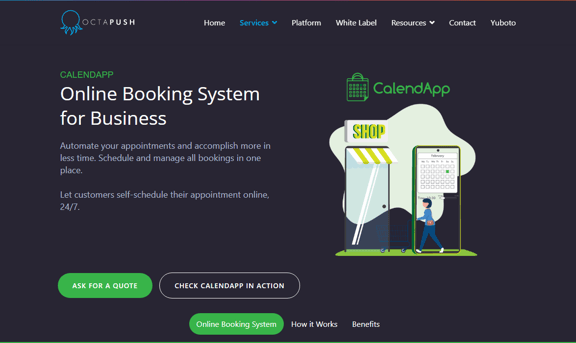 If you lose time juggling multiple calendars from multiple platforms, you are not alone. Scheduling meetings is hard enough. There are lots of apps that enable self-scheduling. But many people use numerous calendar apps, for example, Outlook for work and Gmail for personal appointments. Then there are co-workers, partners, family members, and others who can upend your schedule or add hours to the scheduling process because you cannot view one another's' calendars.
Calendar is a self-scheduling app on steroids. Not only can you allow people to schedule meetings with you based on your availability preferences, but you can also share Outlook, iCal, and Google Calendars from anyone inside or outside your organization.
The Calendar app is super easy to use and is excellent for:
Executives with busy schedules with multiple stakeholders
Entrepreneurs with multiple businesses
Solopreneurs with many clients
Calendar can also serve as a time-tracker. Its analytics allow you to visualize the time you spend by:


Meeting type
Location
People
Yes, you can do this manually with Outlook and Gmail, but it can be a complicated process, and there are not a lot of tools available to manage those connections.


Other multi-calendar synching apps include:
Time Management System: Timeboxing
Time management tools are great, but if you do not have a system for managing your time, those tools may sit on your virtual shelf. Time management systems are not software apps. They are methodologies that provide a framework for using your time well.
Timeboxing comes to us from Parkinson's law, which says that work expands to fill the time you give it--it is a method of limiting the amount of time you allocate to tasks. The idea is that if you allocate less time for your work, it will get done faster.
And it works. Timeboxing was named the number one "productivity hack" in Harvard Business Review.
Timeboxing is best suited for work you love or tasks you dread, but it applies to any project that risks getting dragged out.
With tasks you love, you risk spending too much time on them and revising your work until perfect. While inefficient, these tasks do not feel too harsh because you like what you are doing.
With projects that you dread, you tend to procrastinate, and they do not get done. The work is dreaded because you find it difficult.
Big tasks that seem overwhelming are also great candidates for timeboxing—getting started is often the most challenging part, and if you make an appointment with yourself, you are more likely to get started.
You are a perfectionist and have a tough time declaring tasks "finished."
Here's how timeboxing works.
You estimate the amount of time required to complete a task.
You schedule that time into your workweek.
You complete the work within the allotted time.
Other time management systems include:
The Pomodoro Method
The Autofocus Method
Password Management: LastPass

While password management is typically a security concern, it can also be a time management problem. Forgetting passwords means either searching your records or going through the "forgot password" song and dance, which wastes precious time.
LastPass is a powerful password management tool that allows you to generate super-strong passwords that you never have to remember. It works across devices as a mobile app and browser extension. Here is how it works. Once you install LastPass, you can load your passwords into your "vault." LastPass will prompt you to strengthen your passwords and keep you from using the same password for multiple applications.
When you download new apps, LastPass will:
Prompt you with a strong password
You accept the password
LastPass stores the password
Every time you open the application in the future, LastPass will automatically enter the password in an encrypted form—black dots—so that no one can see your password.
And you never have to remember a password again.
Managing All Your Productivity Tools
Even with the availability of all these time management tools, executives still spend about 16 hours a week on day-to-day task management. For example, we did not include communication platforms like email and instant messaging on this list because many executives find them more distracting and interruptive. Yes, online communication apps speed up communication, but they do not always speed up productivity. As Tim Ferris, author of "The 4-Hour Work Week," said, "Focus on being productive instead of busy."
All in One App: Monday
If you want to simplify by reducing the number of time management arrows in your quiver, the one that hits the most targets is Monday. Monday's core function is project management, but it also has solid features for:
Time tracking
Task management
Focus/timeboxing
Calendar sharing
Of these features, calendar sharing is the weakest when compared to the Calendar App.
Outsource the Small Stuff
An increasingly popular method of increasing productivity is outsourcing your admin work to a remote virtual executive assistant. Virtual assistants excel at task management and give executives back those 16 hours a week spent on busy work. Routine tasks that virtual assistants perform include:
Scheduling meetings
Planning travel
Filing expenses
Project tracking
Data entry
Personal tasks
A virtual assistant can handle any task with documented processes and preferences. As a virtual assistant gets to know you and your business, they can take on more work that might require more judgment calls, including:
Inbox management
Sales lead follow up
CRM management
Prialto has provided managed virtual assistant services for more than ten years. We hire and train virtual assistants on your tools, systems, and processes to be onboarded and ready to be productive on day one. Fully trained backup assistants ensure continuity. To learn more about working with a Prialto virtual assistant, download our guide.