---
Friday the 13th is offically here. You scared? If so, you're not alone. This "holiday" breeds so much superstition and fear in people that there's actually a word for it: friggatriskaidekaphobia, which means the fear of Friday the 13th.
People are so phobic about this very day that businesses across the board have historically experienced a massive drop in revenue today.
The Stress Management Center and Phobia Institute estimates between $700 million and $800 million are lost every Friday the 13th because of people's refusal to travel, purchase major items or conduct business.
Say what?!
So it's a very good thing that this article takes the time to leverage the very worst of Friday the 13th - the actual movie Friday the 13th - in order to help you be more productive at work in one very specific, totally obnoxious area of business: email.
Email doesn't have to drive us to thoughts of fictional violence.
But if it does, here are a few email hacks...
MAYHEM, MURDER, AND MOVIES...OH MY!
According to Wikipedia, Friday the 13th is an American horror franchise that comprises twelve slasher films, a television show, novels, comic books, a video game, and tie‑in merchandise.
Compared to the other top-grossing American horror franchises (A Nightmare on Elm Street, Child's Play, Halloween, the Hannibal Lecter series, Psycho, Saw, Scream, and The Texas Chainsaw Massacre), Friday the 13th is the highest grossing horror franchise in the United States, with approximately $687.1 million to date.
HACK AWAY AT YOUR INBOX
Below, I've compiled several published resources on the topic of how to manage your email inbox, giving each a Jason Voorhees-style summary.
Jason doesn't like mindfulness. In fact, he prefers when the mind is dislocated from the brain altogether. This is reminiscent of the tech pundits who say that email has seen its heyday. They seek to cut it out of our lives entirely, severing it from our lives much like Jason severs parts from the body.
Many email alternatives have popped up in the last few years (namely, Slack), yet I believe we're quite a ways out from seeing the complete disappearance of email. In reality, it's better to figure out how email continues to play a central role in long-distance and business communication...
"10 Signs Your Team's Email Culture is Dysfunctional"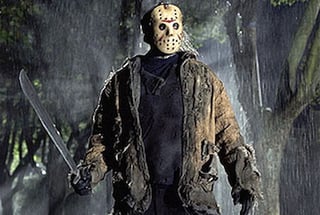 Jason's backstory is filled with seriously dysfunctional campgoers. After all, the whole horrifying franchise leverages the precipitating factor that Jason was drowned by his fellow campgoers. Then his mother went nuts and killed a bunch of those campers until she was beheaded. So, there's loads of dysfuntion inherent in poor Jason's backstory, courtesy of his fellow campers.
Do your colleagues contribute to the fact that you're drowning in your email inbox? If so, what are some email communication best practices? We don't let our colleagues set our calendars for us, so we probably shouldn't let them into our email...
"Logging Emails in Salesforce"
Camp Crystal Lake is notorious for its logs. There are logs everywhere, jamming up people's ability to run away while simultaneously acting as chopping blocks that contribute to their demise.
We spend nearly a third of our day mired in our inboxes (log jam!), and use them for everything from file storage to creating to-do lists to CRM management. So what happens when we dive into understanding how to update CRM by putting our current email practices on the chopping block? Short of engaging Prialto and having an assistant do it for you, there are three ways to do a brain dump of all your inbox information into your CRM...
"Email Subject Line Best Practices to Improve Your B2B Open Rates"
Jason is way too interested in the insides of things. And by things, I mean people. While his level of bloodthirsty should remain within the walls of Hollywood, we could all learn a thing or two when it comes to being mentally cutthroat about our email open rates.
Here are some basic email subject line best practices that will get your emails opened, read, and clicked through by more of your recipients...
"Refocus: Email Best Practices with Jocelyn Glei of "Unsubscribe"
Be glad you have your eyes (ears, nose, and mouth), because Jason is a huge fan of damaging and/or removing these key facial ingredients.
What are some key ingredients that will enhance your productivity in the workplace? According to Jocelyn Glei's recent book on the subject, there's plenty of email best practices and inbox management tools to increase even the most disorganized and overwhelmed individual's inbox...
When it comes to email, you can't start from scratch. It's too late for that. That ship has sailed, much like it did when Jason embarked on a quasi-cruise to the Big Apple to take over Manhattan in 1989. He likely thought Manhattan folks weren't as tough as their counterparts in the other four boroughs, but the joke was on him when he ended up melting away in the sewers.
Do you think you're right where you need to be in terms of your inbox, yet find that managing your team's emails is kicking your butt? Statistics show that the average knowledge worker spends 28% of their work week either writing, reading, or responding to email. Learn how time waste management practices can help...
"5 Tips for Making Effective Email Introductions"
Friday the 13th is the highest grossing horror franchise in the United States. That's quite a network of fans! I think we'd all like to have that kind of attention and support flooding into our business endeavors.
Making business connections with and between people helps everyone win. It's all about network management. These 5 tips will help you build a bigger fan base (e.g., network) for your business...
"How to Delegate Email to a Virtual Assistant in 2 Steps"
In 1985, the Friday the 13th franchise released A New Beginning, wherein a Jason Voorhees copycat wreaked havoc on the residents of a halfway house in Pennsylvania. But come on...can there really be another Jason? Clearly, the movie answered in the affirmative.
With thoughtful training and context, handing over your email keys to an assistant can be the answer to your overflowing inbox problem. Check out the benefits of outsourcing your email...
FRIDAY THE 13TH MANIA
The last Friday the 13th film was released in 2009. So fans have been waiting quite a long time for the next cinematic installment, which was rumored to come out today. But alas, no dice.
Some said it would come out on May 13, 2016. But that date came and went without a release. Now, the word is that the latest flick in the franchise will air in theaters on the second Friday the 13th of this year: October 13, 2017.
It'll be the 13th Friday the 13th movie, which seems to add an extra level of creepy to an already super creepy legacy.