Calendars come in all shapes and sizes nowadays—mobile apps, old school pocket calendars, Google calendars, and the ever popular kittens-in-cute-places calendar. Let's face it, though, none of these options are all that practical for tracking your company's booked inventory dates. But you manage your inventory in Salesforce, you say? That's great. Still, reports and views aren't the most useful when searching for available dates.
Humans tend to be visual creatures. That's why seeing a list simply doesn't cut it when you are trying to schedule at a glance. This necessity is where Salesforce calendar apps can do wonders for managing your inventory.
Schedule Quickly
Salesforce calendar plug-ins allow for one-stop booking of your inventory. The conditional coloring and filtered views let you select for only the inventory you need to see. You can then sort out the rest and know what's available at a glance.
Avoid Double Booking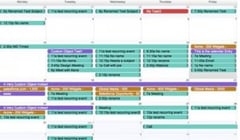 Whenever there are multiple salespeople selling the same product to different clients, you are bound to run into problems unless inventory management is transparent. Even the most communicative teams will end up double booking if information is not kept up-to-date and visible. Salesforce calendars manage inventory in real time as it is entered and booked in opportunities, ensuring that accurate data is being shared across the team.
Sidestep Google Calendar
I certainly appreciate my Google calendar when it comes to remembering to buy my mom's birthday present or to show up on time to the next baby shower. But it definitely isn't the best platform for reserving inventory. That's especially true when inventory is already being booked in Salesforce. With a calendar plugged directly into Salesforce, there is no need to double-track it in your Gmail business account calendar and run the risk of human error or outdated data.
Use Your Inventory Effectively
Unsold inventory is not necessarily money down the drain. If you know what is not booked, your internal team can make the most of it. Yes, ideally we would all sell out of our inventory every month. But guess what? This is reality—leftover product is common. Rather than seeing this as a detriment, see it as an opportunity to reallocate your product. When your whole team knows what is available, it not only helps you sell to external clients, but it also allows your team to utilize otherwise wasted product.
A Few Good Options
We've narrowed the options for the best productivity apps and calendar plug-ins down to three of our favorites:
CalendarAnything – lets you pull dates, product names and general information from opportunities and other objects within Salesforce
Campaign Calendar – helps you manage your marketing calendar by allowing you to schedule and review your campaigns all in one place
OFS Calendar – allows you to organize and display your events, tasks and emails on one easy to use calendar
In short, a Salesforce calendar application will not only make your inventory more transparent, but will also make employees more productive. It will save your team time by making scheduling management easier, and it will save your company money by avoiding doublebooking mishaps. And while the Salesforce calendar apps haven't come out with a kittens-in-cute-places version yet, I'm sure it's in the works.
Related: 13 Ways to Augment Your Time with Calendar Management