Growing up on Canada's west coast and attending university in the northeastern United States prepared me for a wide variety of things. I can now bear the cold with the best of them, and I've had to settle heated debates about whether clam chowder or poutine is the better food (it's poutine, by the way). Still I haven't had many experiences that could have prepared me for living and co-managing an office in the Philippines.
Six weeks ago, I flew to Manila to join Prialto's Engagement Management team. I was charged with helping to grow our service center and manage several Filipino employees in a country and a culture that was entirely foreign to me.
A number of challenges presented themselves immediately. To begin, I'd never traveled through any of Asia, never mind the Philippines. I was wholly unprepared for the heat! The grocery stores and supermarkets weren't stocked with all of the fruits and vegetables I was used to seeing in Safeway. The worst traffic jams I'd experienced in North America didn't come close to the long waits in taxis and buses around Manila. As a 6'3" tall white man, I stood out like a sore thumb walking down the street. Did I mention the heat?!
Amidst all the adjustments, I nearly forgot that I'd be celebrating Thanksgiving in the Philippines this year. The prospect of explaining the traditions to my new colleagues was daunting enough, let alone organizing a traditional expat Thanksgiving dinner. However, there was no need to worry! I got a crash course in Asian hospitality and cross-border office bonding instead.
When we explained the idea and concept behind American Thanksgiving to our team of administrative assistants, they were eager to learn more about the holiday. We disseminated some information and interesting facts about the holiday to the group and thought that would be the end of it.
But when the team realized that the three engagement managers would be missing the holiday at home with our families, they insisted on setting up a party for us to celebrate at work instead. Seizing the opportunity to organize some food and fun for the team, our Filipino team truly embraced the meaning of a "global office."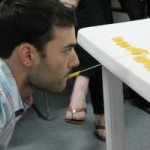 On Tuesday, November 26th Prialto's Manila service center hosted our first annual Thanksgiving Party. Consisting of what you might call "unorthodox" dishes and fun parlor games, the team spent a jam-packed three hours laughing, eating, and sharing a new tradition with new people. Okay, so maybe frog legs, deep-fried crickets, bicol express, and cupcakes aren't typical Thanksgiving fare, but they were the highlights of our Filipino holiday feast! Our Team Captains, Bernard and Jenny organized three rounds of games that weren't exactly your family's charades. Our team participated in a cotton ball relay, a noodle transfer game, and - my personal favorite - a Fita (Ritz) biscuit eating race. With three teams, the competition was heated and fierce. In the end, after an all-out sprint to the finish in the cracker race, my team won!
Looking back on our new office tradition, I'm truly excited about the mood and general atmosphere our team has created. Spending nine hours together with the same people every single day can be difficult at times. Constantly having to work across cultural and linguistic barriers only adds to the complexity.
For me, the fact that we are still able to spend quality time together outside of the office is what makes us a great team. It goes to show that when you focus on commonalities and are open to trying new things (even crickets), perceived differences are easy to overcome.