Choosing the right virtual assistant has a huge impact on your productivity and business success. While most people consider tangible factors including cost, available hours, technical skills, etc. the most effective VAs possess a specific set of personality traits that drive them to consistently do amazing work for their clients. We've combined those traits into five core values:
Commitment
Ownership
Integrity
Learning
Service
All of our VAs must demonstrate they possess those traits before we hire them and we constantly reinforce their importance through the messages posted around our offices, the language our managers use to provide feedback, and the monthly activities we do to recognize our employees.
After over ten years of providing virtual assistant services, we've learned that emphasizing these values enables clients to receive a more consistent, effective, and overall enjoyable experience working with a VA.
Read More: The Best Virtual Assistants Are Empathetic. Here's Why
How We Hire Highly Committed Virtual Assistants
I spoke with one of our virtual assistants, Claudia, to learn how she developed a passion for commitment and how it makes her a better VA.
Here's her story: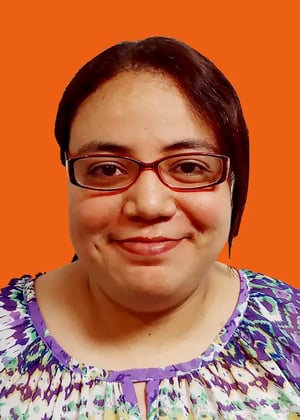 Claudia worked for over seven years as a judge's assistant. During her time working for the court, she faced many challenges and learned many valuable lessons, all of which impacted her life tremendously. However, the biggest lesson she learned was commitment.
As a judge's assistant, part of her job entailed documenting all the details of the cases under their jurisdiction. That meant that she had to listen to the victim's side of the events and put their words into paper. Soon she discovered that a dropped ball on her side meant that a child wasn't going to receive alimony or an alleged abuser could walk away free. Or even mistakes so small as documenting a wrong number in an address could mean that someone was not going to get to court on time and lose their home.
The risks were very high at her job and she had to step up to the game and always be on her toes. However, what truly kept her motivated to do her very best was that the mistakes were never going to affect her directly, it was always someone else's well-being on the line, and without a great dose of commitment on her part, things could have gone very wrong.
She was committed that whichever case reached her desk was going to be completed to the best of her abilities and as fast as she could, so people didn't have to wait years to hear back from the court. Now, that commitment has become part of her life and as a virtual assistant, she continues to be committed to her job and helping the accounts she works with reach their goals.
Want to work with a virtual assistant like Claudia? Contact us to explore how a VA can help you.
How a Highly Committed VA Will Amplify Your Success
Here are three ways a highly committed virtual assistant will amplify your success:
1) Focus on Strategic Activities
As a business-owner or high-powered professional, there's always more responsibilities than you have time to complete. Often, you're so busy that you don't even have enough time to slow down and delegate to others.
A committed virtual assistant understands this and will proactively complete tasks that they're already trained on, offer help you with additional projects, and solve any unexpected issues that come up.
Here are some of the ways our virtual assistants have proactively helped their clients:
A client had a medical issue and had to be out of the office for a few days. Their VA rescheduled all of their meetings for that time period without being asked so that the client could focus on recovering instead of all of their missed meetings.
One of the real estate agents we support experienced a technical failure that caused most of the content on their website to disappear. Their VA worked late to get her website back up and running within two days.
After returning from a business conference, a sales executive's virtual assistant quickly uploaded 100+ new contacts into their CRM and set up a cadence to follow-up with everyone.
With a committed virtual assistant tackling all of your tedious tasks and solving problems as they arise, you're able to focus on the strategic activities that drive your success.
2) Foster Stronger Relationships
A LinkedIn survey found that 49% of professionals struggle to engage in networking because they don't have enough time. Despite this, the majority of professionals acknowledge that networking is one of the most effective ways to engage with prospects, get business referrals, find amazing new hires, and achieve other business goals that require you to surround yourself with talented people.
A committed virtual assistant will take the time to understand your existing network and the kinds of people that you want to meet so that they can help you foster stronger relationships.
Here are a few of the ways a virtual assistant will support your networking efforts:
If you're on a business trip, they'll look for contacts in that area and set up meetings with them.
If you often forget to check in with contacts, they will create follow-up cadences and remind you to reach out.
If you forget details about your conversations, they can take live notes on virtual meetings or hop on a quick call after in-person meetings to document the key details you want to remember.
If you're trying to grow your business, they'll ensure your pipeline is always full of qualified prospects.
Just let your virtual assistant know what your goals and challenges are and they will do the heavy-lifting required for you to achieve them.
Read More: 5 Ways a Virtual Assistant Can Make You a Better Networker
3) Attain Greater Work-Life Balance
Surveys show that 33% of business owners work over 50 hours per week and 39% work over sixty hours per week. Meanwhile the average executive clocks in about 72 hours per week. Though business owners have substantially greater responsibility than the average employee, a major contributor to their long hours is all tedious that support your strategic efforts.
A committed virtual assistant will enable you to attain greater work-life balance tackling the tedious tasks associated with your work and personal life so you can focus on the activities that require your expertise, relationships and authority.
Here are some of the ways a committed virtual assistant can help you attain greater work-life balance:
Strategically managing your calendar so you can fit in all your meetings and still have time to work out, have dinner with your family, and be consistently involved in other parts of your personal life.
Make dinner reservations, order gifts, find holiday cards, and complete other personal tasks so they don't slip through the cracks and you can spend more time with the important people in your life.
Tackle all of your tedious tasks ranging from data entry to inbox management so you can focus on key activities and work fewer hours.
Since a VA can tackle almost any process-driven task, you can easily offload over a dozen hours a week worth of work to them and spend that time on the things that matter most to you.
Work with a committed virtual assistant like Claudia. Contact us to learn more.