Podcasts, by nature, boost productivity. Brief audio files designed to educate, inform, or entertain you in the background while you do something else like commute, exercise, or garden enable you to do two things simultaneously, ergo, be more productive.
Podcasts with productivity tips help you learn how to get even more done, and here are some of the best—not in any order.
1. The Tim Ferris Show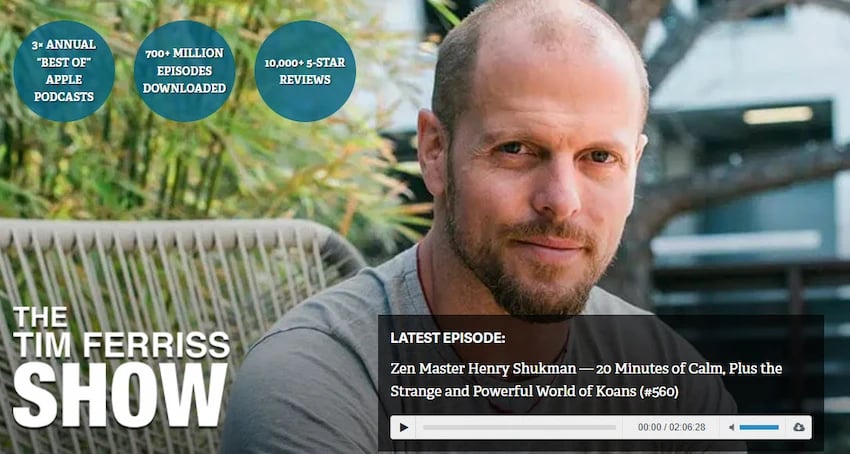 Who would not want a four-hour workweek? Tim Ferris, who invented the concept in 2007 with his 4-Hour Work Week book, has helped millions of people do more with less on The Tim Ferris Show podcast. The numbers do not lie—with more the 700 million downloads and three years ranking as Apple's "Best of" podcasts, the show is bringing value to listeners. Ferris' format is unique.
Tim interviews successful people from all fields and breaks down their secrets to high performance into routines that everyone can use. Guests include actors (Hugh Jackman), authors (Doris Kearns, Goodwin), athletes (LeBron James), scientists (Dr. Jane Goodall), entrepreneurs (Reid Hoffman), and investors (Marc Andreessen), giving the show a blue-chip roster.
Best for: People that want to learn about productivity from high-performing experts in their fields.
2. Getting Things Done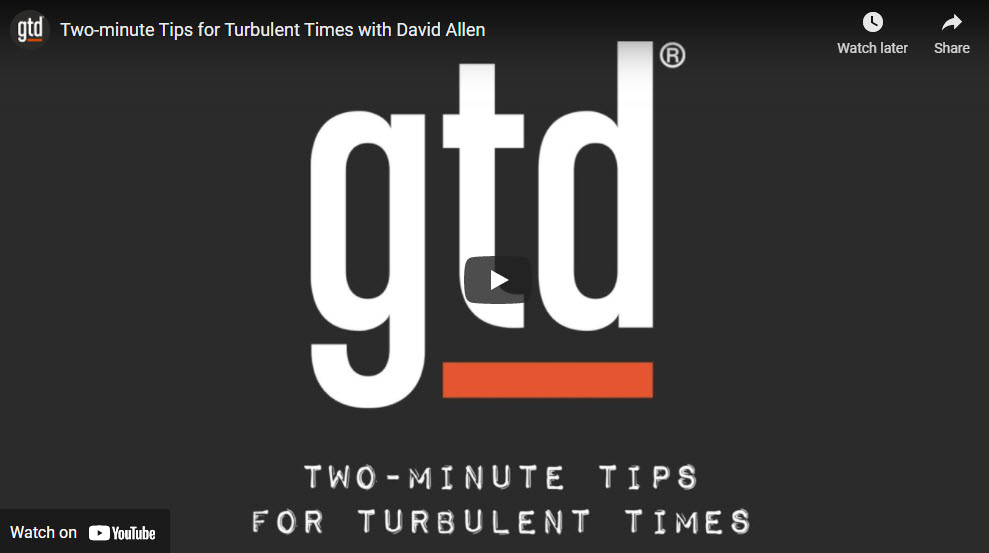 David Allen developed the Getting Things Done productivity system in 2001, and his book has sold more than 2 million copies, launching a GTD empire that includes the GTD podcast. The GTD system uses sets of to-do lists strategically built to ensure that you, well, get things done. In addition to the book and podcast, Allen sells planners, mobile apps, online courses, training to become a certified GTD coach, and more.
The GTD podcast focuses on how to best use the system, with occasional guests that share their stories. The GTD podcast helps you with your GTD "practice." Guests are less frequent than with the Ferris show, and if a celebrity is featured, they are users of the GTD system. Other guests include psychologists and coaches that offer their insights.
Best for: People that already or want to adhere to the GTD system and like lists.
3. Beyond the To-Do List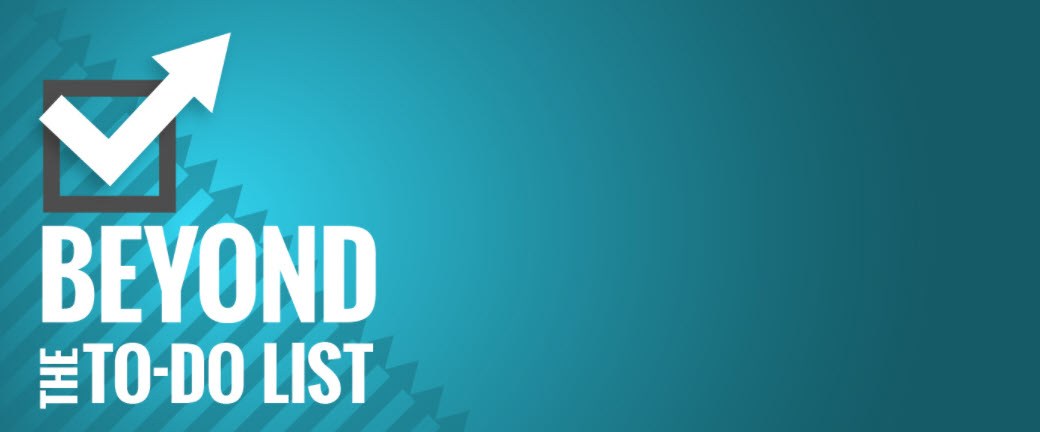 As perhaps a counter to GTD, which is all about lists, Beyond the To-Do List podcast looks at achieving the outcomes you want more efficiently, not just knocking tasks off a list. Host Erik Fisher is a social media manager turned productivity expert who talks with other productivity experts to find practical personal and professional productivity strategies. But the conversation does not stop there. Fisher recognizes that productivity is a means to an end, which is "a more meaningful life."
Topics include practical productivity tips like "How to Master Prioritization," as well as more mindfulness-oriented episodes like "Meditation and Achieving Balance as a Working Mom."
Best for: People who want to learn practical personal and professional development strategies.
4. The 5 AM Miracle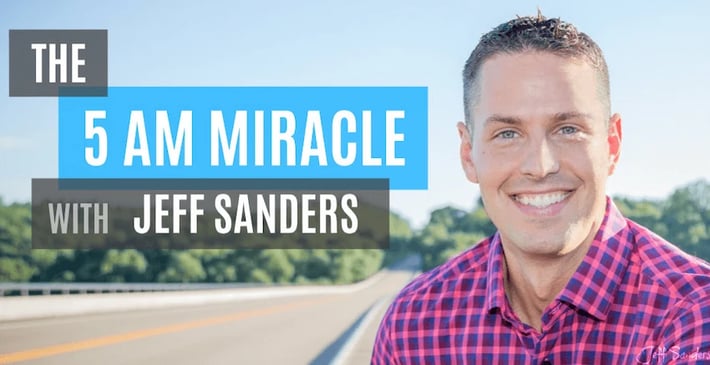 Jeff Saunders is a self-proclaimed "productivity junkie" that wants to help you "dominate your day before breakfast." Jeff's 5 AM Miracle book came out in 2015, and the 5 AM Miracle podcast boasts 10 million downloads. If you do not think you can do the 5 AM thing, Jeff might make you feel otherwise.
You learn to a seven-step system that includes:
Ambitious goals

Simple schedules

Powerful daily habits

Ideal rituals and routines

Productivity strategies

Progress tracking

Advanced tips and tricks
Like GTD, the 5 AM Miracle is a system, and the content leans toward making the system work for you. Saunders is also a plant-based food enthusiast and marathon runner, and his system includes a lot of health and fitness coaching.
Best for: People looking for a productivity system that includes fitness and nutrition.
5. The Productivityist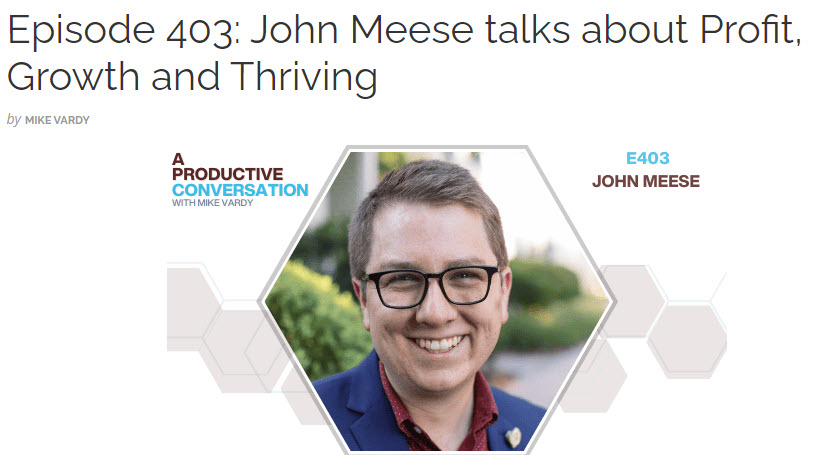 The Productivityist Podcast, hosted by former Lifehack editor Mike Vardy, features conversations with experts from various fields. Mike and guests share tips and tactics to boost their productivity. The show has garnered over 5 million downloads.
While also the author of a book—The Productivityist Playbook—Mike and guests' topics cover a lot of issues, with experts sharing information about things like the benefits of cohort-based learning, sleep management, how to use nature walks, and more. You can find many options for improving your productivity that are outside the box of traditional "tips and tricks."
Best for: People looking for productivity options from multiple fields.
6. The Accidental Creative

The Accidental Create podcast is more about how to unlock your brain from repetitive thinking to expand your capacity for growth. Like Beyond the To-Do List, Accidental Creative is less about getting stuff done than improving the quality of your work which will save you time from making up for mistakes.
Host Todd Henry is the author of The Accidental Creative, Die Empty, Louder Than Words, Herding Tigers, and The Motivation Code. Like Tim Ferris, Todd interviews artists, authors, and business leaders, and they offer tips for how to thrive in life and work. Todd leans more towards inspiration than information, which can help you get started on a more productive path.
Topics include "How to Release Control of Your Team," How to Begin with Michael Bungay Stanier, How to Achieve Peak Mind with Amishi Jha, and "Living a Rich Life with Seth Rami."
Best for: People looking for inspiration to do their best work.
7. Achieve Your Goals with Hal Elrod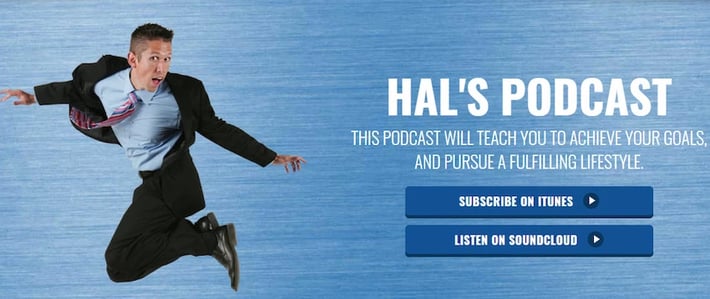 Speaking of inspiration, Hal Elrod was nearly killed by a drunk driver when he was 20 years old breaking 11 bones and sending him into a coma. Hal was told he would never walk again. Since then, Hal has run ultra-marathons and is a successful entrepreneur. Guests on Achieve Your Goals with Hal Elrod share their stories of overcoming adversity and learning how to succeed in life and work. For example, in "Virtual Freedom," author Chris Ducker talks about how he burned out after running his nutrition business for three years and found success building a virtual team.
Hal also goes solo, and one of his most popular episodes is "How to Commit to Your Mission in Life." He is not all business, either. Another favorite episode is "How to Forgive Yourself and Others."
Best for: People looking for inspiring stories that teach life and business lessons.
8. Eat Sleep Work Repeat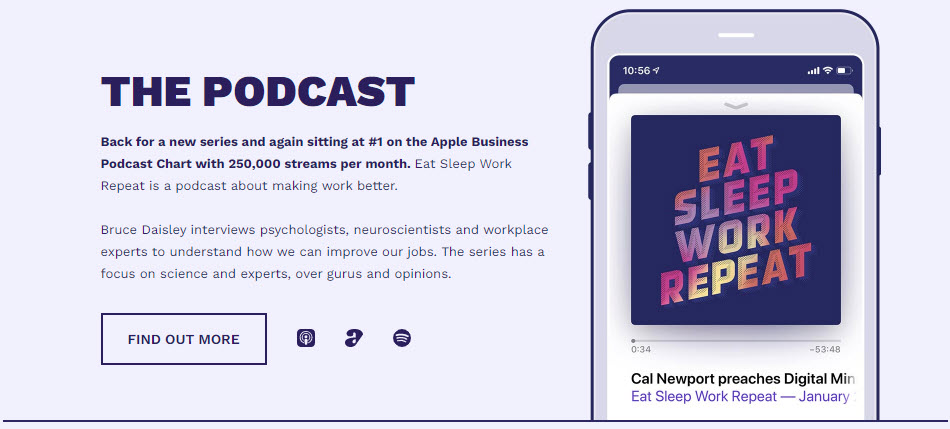 While the title of this podcast suggests work is a dull routine, do not be deceived. The Eat Sleep Work Repeat podcast looks at the science of job performance and satisfaction. Host Bruce Daisley talks with psychologists, neuroscientists, and workplace experts to understand how to improve our work. The series focuses on science and experts over self-proclaimed authorities and opinions.
Host Bruce Daisley worked at Twitter, YouTube, Google, and other tech and media companies and wants to "escape the bad opinions that leaders bring to work culture – and to replace them with evidence and facts."
Example sessions include "Unlocking Workplace Creativity" with Harvard Business School Professor Teresa Amabile, a Ph. D. in Psychology from Stanford University. Then there is "The Case for Human Connection," with Oxford Professor of Evolutionary Biology and author of the book "Friends," Robin Dunbar.
Best for: People that want to know the science behind workplace productivity and satisfaction.
9. How I Built This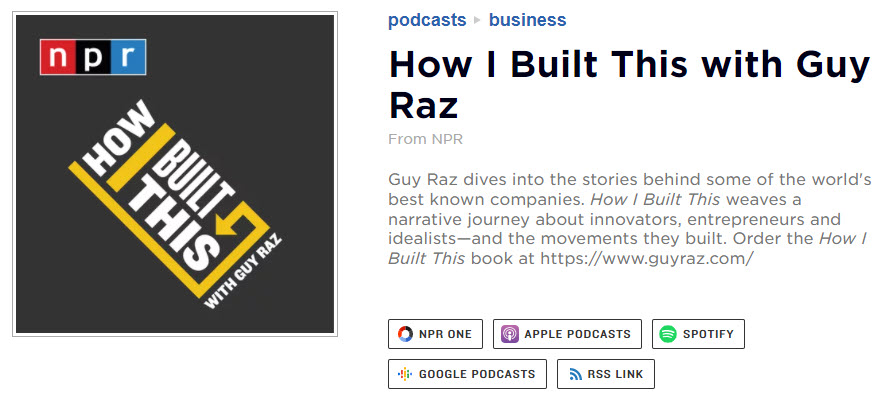 On NPR's How I Built This podcast which successful people tell their stories of building their businesses. Like Achieve Your Goals with Hal Elrod, the focus is on journeys with some "How To's" for listeners to apply to their own lives and work.
The speakers are not typically household names. For example, the founders of Planet, NASA scientists Robbie Schingler and Will Marshall, walk through how they set out to build an aerospace mission with the speed of a Silicon Valley startup. The company eventually launched 200 satellites that capture millions of pictures daily, tracking planetary data they share with governments, businesses, and nonprofits. Better known, Don Katz talks about how he, a non-techie, built the world's largest audiobook product and company, Audible.
10. The Productive Woman

The Productive Woman podcast aims to "help women find the tools and encouragement they need to manage their time, life, stress, and stuff so they can accomplish the things they care about most and make a life that matters." Host Laura McClellan has led an eventful life, eventually going back to college at 35 and earning a law degree at Cornell University. Laura loves connecting with other women and helping them (and herself) manage family and professional lives—especially working moms. She is a partner in a law firm and does her podcasts on the side.
Topics range from "Wardrobe Wisdom" with professional organizer Geralin Thomas to Laura's own episode, "Personal Retreats: Getting Away to Move Forward."
Best for: Busy moms, working or not, looking for help managing their time and life.
11. BizChix

Another woman-focused productivity podcast, BizChix, is focused on helping women solopreneurs with online personal service businesses like coaching. Topics on the BizChix podcast are practical and actionable. For example, in "Choosing a Niche," one successful coach helps another narrow her focus for a more rewarding, productive business. In another episode, a lawyer covers how to write a contract. There is even a session on managing your business when you become a caregiver for aging parents.
The vibe is friendly and empathetic. BizChix occasionally addresses large companies and even has male guests.
Best for: Women with personal services businesses or those that want to start one.
A Productivity Podcast for Everyone
As you can see, there are all types of productivity podcasts for all kinds of people and businesses. To find one that helps you slay the productivity dragon, you will have to do some experimenting. Those listed here are some of the bests, but there are dozens, if not hundreds. You can try them one at a time and adopt one or more, or you can sign up for the podcasts' newsletter and listen when the topic appeals to you.
Every day Prialto's managed virtual assistant service helps hundreds of busy executives maximize their productivity. For more productivity tips, download this ebook.
About the Author: Bill is Prialto's senior content marketing manager and writes about the future of work and how businesses can be more productive and successful. His work has appeared in the World Economic Forum Agenda blog and CIO magazine.