Having worked with different types of clients (we call them members) in various kinds of industries, the entire Prialto team has learned there is always a need for a contact relationship management (CRM) solution.
We have members who are talent managers and high-performing sales executives, and others who own ad agencies, investor groups, and even professional baseball teams.
In every one of these situations, there's more than enough ways for our members to benefit from collected data using CRM for small business.
Read about the top 3 reasons below.
The hardest part of managing CRM for small business is consistently entering the collected data. Since data entry isn't the best use of a founder's or executive's time (and often isn't in their wheelhouse), they often find it very difficult to get the data into the CRM. This is the typical scenario.
Which is why so many founders, executives, and companies of all sizes hire a virtual assistant to manage their CRM for them.
Top 3 Reasons to Leverage CRM for small business
When we talk to our members about using a CRM for sales growth and business networking, it's never a question about if they need it. Most of the time, their concern is how to leverage CRM software for small business.
Here are the top 3 reasons we share with them:
1. Confidently make important decisions
You can collect and enter almost any type of data into a CRM for small business. Once entered, you can leverage that data to make decisions of every kind.
You will pull confidence from a clean CRM dashboard, and step confidently into meetings armed with data to back up any discussion points.
2. Find Areas of Improvement or Strength
A little known advantage of CRM for small business is that they help you discover what your team or company is really good at...and what areas you're not so good at.
From a human resources perspective, you can collect data on what types of employees have left the company in addition to the reasons why they leave. Once you have that information, you can use it to address company policies, culture, and benefits.
At Prialto, there are times when we've been able to make suggestions for our members based on data in their CRM.
For example, when looking at a specific member's CRM, any one of our highly trained virtual executive assistants can find all contacts who have not been contacted (ever, in the last three months, in the last year, etc), and suggest which ones to reach out to on your next business trip to a specific area, or nearby a scheduled meeting with someone else, or in the same city as an upcoming conference, and so on.
3. Managing Contacts
Managing contacts is probably the main reason most founders subscribe to a CRM.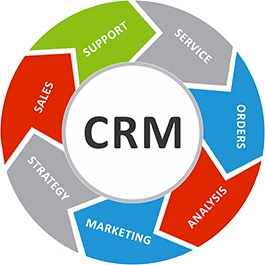 When you leverage CRM solutions for small businesses, sales teams can be shown in an instant who they should reach out to and when. Likewise, your marketing team can be shown who should be funneled into a nurturing outreach program.
The absolute best way to leverage this aspect of CRM is to have your virtual executive assistant enter as much information about a potential client as possible on the front end. Additionally, have your virtual executive assistant routinely add information about what actions have been taken with a specific client or potential client so that you can better prepare to present your product or services to them.
---
CONCLUSION
So many small business owners try to run their businesses from spreadsheets, which is overwhelming.
A CRM for small businesses can go a long way toward increasing sales, improving office culture, and increasing your overall branding experience by giving you the data you need to help achieve those goals.
The point is to leverage the data that's been entered into your CRM, because a CRM filled with all the data in the world is useless if you don't use that data to your strategic advantage.
Bottom line: CRM solutions are crucial for small business growth.