We all want to become the masters of our time. Whether in life or at work.
Surprisingly though, our collective ability to manage time efficiently often falls short of the mark.
A startling statistic reveals that a mere 17% of individuals actively employ methods to track their time. Unwittingly, we find ourselves sacrificing precious hours to activities that yield little value, while our significant tasks get lost in the shuffle.
To remedy this, we can harness the power of time management tools, enabling us to navigate our daily obligations strategically and accomplish our goals. Yet, even more crucial is the skills learned from reading time management books and articles. These provide insights that can empower us to develop essential skills and introduce us to hacks that can significantly enhance our productivity.
However, with a deluge of books on the market, all promising to turn you into a time management guru, how can you discern the truly helpful from the mere hyperbole or marketing ploy?
We've analyzed an array of books for their ability to truly optimize your time - separating the wheat from the chaff, if you will. We've considered the insights from seasoned business leaders and evaluated customer ratings on Amazon to present you with a curated list of the best time management books.
Let's pick a proper time management book for you.
8 Essential Books for Time Management
Check the following roundup of must-reads about time control and effective planning that absolutely belong in your library.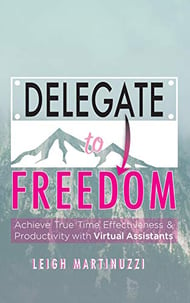 Delegate to Freedom: Achieve True Time Effectiveness & Productivity with Virtual Assistants
Author: Leigh Martinuzzi
Published in: 2017
Pages: 94
Amazon rating: 4.7
Tons of tasks snowball into an unstoppable boulder?
Why not outsource some of them to a virtual assistant (VA)?
This way, you save time and achieve a better work-life balance. The author enumerates some other valuable advantages of VAs and explains how they contribute to time efficiency overall. He also gives some actionable pieces of advice on how to hire virtual assistants and what to check before you do so.
According to Stephan Baldwin, Founder of Assisted Living, "Delegate to Freedom is a must-read book on time management for business founders and managers.
Leigh Martinuzzi proves that delegation is the key skill to learn if you want to manage your workday more effectively. It's a perfect tool for freeing up your energy and time and focusing on other significant tasks."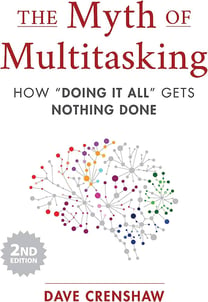 The Myth of Multitasking: How "Doing It All" Gets Nothing Done (2nd Edition)
Author: Dave Crenshaw
Published in: 2021
Pages: 224
Amazon rating: 4.6
Do you know what's worse than a lie?
It's multitasking, according to the author.
"If you're still trying to do multiple things simultaneously, this read will become a revelation for you," says Anthony Martin, Founder and CEO of Choice Mutual.
"This time management book is a thunderbolt for those who try to outsmart time and think they can complete more than one task at a time. From one business leader to another, this guidebook transfers the hands-on experience of managing time. The worksheets at the end of the book were particularly useful to me."
Indeed, Dave Crenshaw, the founder of Invaluable Inc. and time management coach, demolishes the multitasking myth with one fell blow. Instead, he unveils the hidden power of single-tasking.
Dopamine Detox: A Short Guide to Remove Distractions and Get Your Brain to Do Hard Things
Author: Thibaut Meurisse
Published in: 2021
Pages: 70
Amazon rating: 4.3
"Even though it's one of the shortest books about time management, it's not less informative or helpful," claims Jesse Hanson, Content Manager at Online Solitaire & World of Card Games.
"Dopamine Detox is a go-to resource for procrastinators and people who get easily distracted from work. If you want to forget about distractors for good, you should definitely try this dopamine detox with Thibaut Meurisse," he adds.
This book lays out everything about dopamine and illustrates how we get bombarded with dopamine hijackers or activities that undermine our attempts to work productively. They are:
Scrolling through social media

Watching YouTube

Playing video games

Shopping

Ruminating, etc.
Thibaut Meurisse also guides you on how to modify your morning routine with a single ritual that can become a game changer.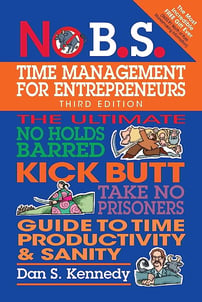 No B.S. Time Management for Entrepreneurs
Author: Dan Kennedy
Published in: 2017
Pages: 244
Amazon rating: 4.6
How often is the average employee interrupted at work?
Every three minutes and 50 seconds.
Dan Kennedy takes you aback with this fact right at the beginning of his book. After that, he provides basic instructions on how to avoid wasting time, handle the information avalanche, and achieve peak productivity.
Witold Stawarz, CEO of Foter, believes you should read this book ASAP:
"Today, time is under attack as never before. Especially in the business world. That's why every entrepreneur needs a cheat sheet on time management. And that's what this book is. It gives you the tools to cheat time. To crown it all, the author uncovers the secrets to entrepreneurial success that go beyond delegation."
In addition to that, Dan Kennedy reveals the dark side of instant communications and demonstrates adequate usage of communication tools.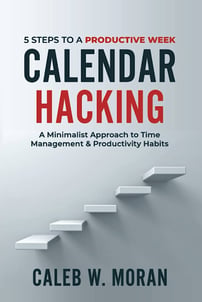 Calendar Hacking: 5 Steps to a Productive Week
Author: Caleb W. Moran
Published in: 2021
Pages: 120
Amazon rating: 4.7
"Only a couple of hours spent on reading this book will maximize your days, recharge you, and make you think clearly of your daily plans," notes Eric Mills, Owner of Lightning Card Collection.
"It's an ideal investment if you're looking for the best time management books. The author shares the only method you need to conquer time. It isn't a dry, theoretical read you can easily forget. It's full of practical guidelines and resources for your toolbox," he mentions.
Caleb W. Moran, the CEO of The 400 Company and father of five, tested the Calendar Hacking method in his personal life. Now he tells you what to do exactly to manage your calendar:
Step #1.

First things first.
Step #2.

Lock it in.

Step #3.

List it or miss it.

Step #4.

Fill in the slots.

Step #5.

Nickle and dime it.
You're only five steps away from hacking your workweek and amplifying productivity.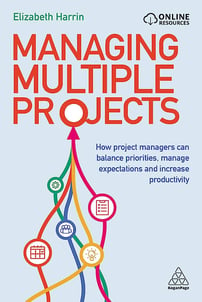 Managing Multiple Projects
Author: Elizabeth Harrin
Published in: 2022
Pages: 240
Amazon rating: 4.5
Here's what Ken Savage says about Managing Multiple Projects:
"One of the newest books for time management and productivity, it's an invaluable resource not only for project managers but also for everyone who deals with several projects at a time.
Elizabeth Harrin crafted a simple framework for managing workload and combining project schedules. Each chapter is finalized with action steps. As a bonus, you also receive checklists, templates, and books."
Elizabeth Harrin, a project manager with 20+ years of experience, teaches you the art of balancing and prioritizing projects as well as making to-do lists you'll love. She also instructs you on how to work with tasks more efficiently, if you use Kanban boards, Gantt charts, or other workflow visualization tools.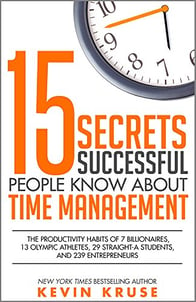 15 Secrets Successful People Know About Time Management
Author: Kevin Kruse
Published in: 2015
Pages: 202
Amazon rating: 4.4
In his book, Kevin Kruse, the Founder & CEO of LEADx, suggests fifteen time management tricks and work habits to hack productivity. He deducted them from the interviews with –
20+ A-level students

10+ Olympic athletes

And seven multimillionaires
You'll come across such names as Mark Cuban, Richard Branson, Marissa Mayer, Jack Dorsey, Brianna Scurry, Sara Hendershot, and more.
This book made an unforgettable impression on Morgan Taylor, Co-Founder of Jolly SEO:
"These are the most valuable lessons I've learned from successful people who control time perfectly well. Besides, the book contains some motivational quotes about time management and a questionnaire to identify your time-management personality type."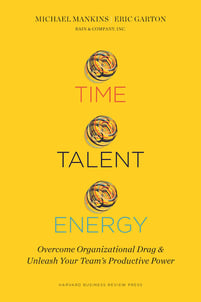 Time, Talent, Energy
Authors: Michael Mankins and Eric Garton
Published in: 2017
Pages: 240
Amazon rating: 4.4
"Primarily, this book is for founders, CEOs, and other executives who want to test the level of productivity and time management in their companies and undertake some measures to improve it," says Andrew Pierce, Founder of Real Estate Holding Company.
"The authors prove that time is a careful investment decision similar to financial choices we make every day. Based on numerous case studies, reports, and other research materials, they outline the main principles on how to manage employees' work hours, talents, and strengths."
Time, Talent, Energy is broken into the same-name parts:
Each of those includes the tried-and-tested tactics that can help leaders increase productivity in the workplace.
Choose the Right Books and Manage Your Time Wisely
Enjoy your journey of time management discovery begin with these indispensable time management books. However, keep in mind - the power of these books doesn't lie in the reading alone. The true value is unearthed when you step beyond theory and venture into the world of practical application.
By implementing these insightful strategies, you're not just reading about progress - you're living it, shaping your path toward unparalleled proficiency in time management.
Want more time to read? Delegate to Prialto.
Our managed virtual assistant service helps you lighten your workload by taking on administrative tasks so you can spend more of your time focused on the things you want to be doing.