---
In a recent Frost & Sullivan survey of C-level executives, respondents were asked about their use of video conferencing during business meetings. The C-level executives cited "improved customer service, faster decision-making, and lowered costs" as prime drivers for their use of video conferencing.
Another recent global survey of 4,737 enterprise video conferencing end-users by Wainhouse Research and Polycom revealed the top benefits of videoconferencing:
Increased efficiency/productivity (94%).

Meetings can be scheduled in minutes, and collaboration can begin with a mouse click whether participants are in the office, working from home, waiting for a flight, or sitting in a hotel room. Meetings via video tend to accomplish more in a shorter amount of time.

Increased impact of discussions (88%).

Unlike conference calls and email, face-to-face discussions enable people to read facial expressions, reactions, gestures and other forms of non-verbal communication in order to develop a real sense of trust. Instead of simply watching, users are more actively involved.

Expedited decision-making (87%).

There's no need to fly back to the corporate office to regroup and formulate a response. Video conferencing makes it easier for all stakeholders to attend a meeting (instead of waiting days or even weeks to gather in person), which accelerates business processes as a result.

Reduced travel costs (87%).

Previously, this had consistently topped the list of reasons why videoconferencing was being used, showing that users are looking beyond hard cost savings and recognizing how video conferencing can improve how they do business.
The study also showed that the most common use case of videoconferencing is to meet with customers and partners (71%).
At Prialto, we consider it best practice to hold at least half of our internal meetings via video conferencing. It enables us to better understand how our colleagues are doing day-to-day and week-to-week, and also helps us to better leverage a course of action when any of our teams need assistance.
So without further ado, let's get into our favorite video conferencing tools to help you decide which platform is right for your business needs.
Top 5 Free Video Conferencing Tools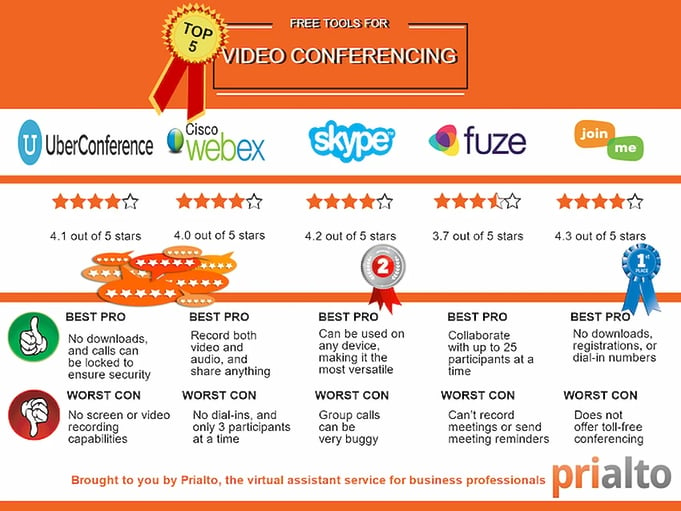 "Doing things together, whenever you're apart"
For a free service, you can't beat Skype. Skype is chalk full of features that allow you to share, message, video, text, call…
The list goes on and on to make your life easier.
Pros:
With Skype, you can share a story, celebrate a birthday, learn a language, hold a meeting, work with colleagues, and more. You can use Skype on your phone, computer, and TV, which makes it super versatile and mobile-friendly.
Cons:
Skype tends to want to update way too often. That's a serious bummer, because it won't let you use any of its features until you update the darn thing. Ever tried to dial only to be told that the person is "not available", yet you know they're waiting on the other end of the proverbial line for your call? Yeah, me too. It's not the greatest start to a business call when the person can't pick up because they must update their Skype before they can answer your call.
Skype can also be fairly buggy. Group calls don't always work. For instance, sometimes Skype just doesn't want to add people to a group conversation, like when you've added two out of three people to a call and you're calling and calling that third person with no luck. Meanwhile, the third person is on their end struggling to be added. So they call the host of the call, but the host can't merge them into the group conversation that way. What happens then? Typically, the host must close the whole group conversation and re-call everyone again.
"Work where you are"
The free plan hooks you up with a host license, both desktop and document sharing, a fairly standard whiteboard feature, beefy video and audio connections, and 1250MB of cloud storage.
Getting started is simple. Just sign-up for a free account then download the temporary application, which is necessary to run business meetings.
Pros:
WebEx allows hosts the ability to record both the video and audio of meetings. All of the sharing features can be used concurrently with video chat, and every participant has the option to use chat features. Additionally, WebEx makes it pretty easy to share files and mark them up with built-in annotation tools. All-in-all, the free version of WebEx gives you more features than other web conferencing services.
Cons:
The free plan only provides access for up to three people per meeting. So if you're business prefers one-on-one opportunities with clients, this limitation shouldn't pose an issue.
If you want dial-in numbers then the free version of WebEx isn't going to work for you. There's not much else to say on that subject, so moving on to phone support: it's not available for free. Ouch. What about the display quality? Well, the desktop platform shows very tiny text that doesn't get better if you zoom in or resize the display. High-resolution displays don't like this platform. Or maybe it's the other way around…
"We're the stress-free conference call"
Built by the team behind Google Voice, UberConference is the current darling of the video conference-loving internet. They tout themselves as the most feature-rich teleconferencing system on the market, and to be quite honest we agree. UberConference is legit.
The free version comes with a ton of features like HD audio, visibility for everyone on the call that shows who is talking as well as a link to their social media profiles (wow, seriously?!), the ability to record calls, screen and document sharing, available on iOS and Android devices, lions, tigers, and bears, oh my!
Just kidding about the animals.
Pros:
UberConference can keep you on schedule by calling you, so you never have to worry about dialing in again. What?! Now that is cool.
Even cooler than that is the ability to lock calls to make sure lines are kept secure and private during important business meetings. In addition, UberConference allows you to share files to all the call participants from your Google Drive, Dropbox, Box, or Evernote. And last but not least, participants don't have to download anything!
Cons:
Here's where the letdown happens. With UberConference, there's no screen or video recording capabilities. Also, customer service isn't 24/7/365. Granted, these lacks will likely change as the company beefs up its platform and services.
Ready for more sad news? You can only include 10 participants with the free version, though the UberConference Pro version comes with all the features of the free version as well as allowing up to 100 participants, international access to over 40 countries, custom hold music, and scheduled call-outs to participants so you don't have to worry about them forgetting to call-in when the meeting starts.
With the price of the Pro version coming in at only $10/month, it is still very affordable and worth the expense considering the features you get with it. If you are a small to medium business with one person in charge of setting up conference calls then you would only need one subscription for UberConference Pro.
"Work from phone"
If you're running a small business on a tight budget, Fuze web conferencing provides a way to collaborate with up to 25 participants at a time. Share files and screens easily. Fuze will automatically save your files (1GB of cloud storage is included) so participants can download them at their convenience.
The meeting space supports 12 simultaneous HD video feeds, desktop and application sharing, audio conferencing via VoIP, and more. You also get 1GB of free cloud storage space where you're able to keep important documents and presentation files for participants to download later.
Pros:
No other company supports meetings this large (up to 25 participants at a time) without charging their customers a fee, which makes this an excellent value.
Cons:
You can't record meetings. To have access to that feature, you must upgrade to the Pro plan, which is about $15/month and comes with 12 HD video feeds and cloud storage space. If you commit to a one year contract (and pay for that year), you'll save about $70 total. Not bad.
Here's the other bad news about Fuze: it doesn't (can't, won't) remind your participants of the upcoming meeting. You have to remind them yourself. And if you want to send a follow up email after the meeting...well, Fuze isn't going to do that for you. You'll have to type out and send those emails all by yourself...or get a virtual assistant to do it for you! #JustSaying
"Show work who's boss"
GoTo Meeting touts itself as the one-size-fits-all sharing solution. We definitely agree. It's the web conferencing tool we use most (well, equal to our Skype usage), both internally and with clients.
It's super simple to share with another team by adding additional users or entire teams in just a few clicks. Plus, it integrates into the top organizational productivity tools, including Outlook, Google Calendar, Salesforce and Office 365.
The free version allows 10 meeting participants, 5 video feeds, screen sharing, and internet calling. With the Pro version, the numbers bump up to 50 meeting participants, 10 video feeds, unlimited audio with international conference lines, and some customization options. The Business version gives you all the Pro features plus 250 meeting participants, user management, feature management, and enterprise authentication (SSO).
Pros:
There are no downloads, registrations, or complicated dial-in numbers required. This is huge, since everyone appreciates the ability to instantly join a meeting!
Join.me provides a streamlined admin console that allows you to designate who does what. This means that as the admin, you can give access or set limits on features like recording, presenter swap, and video options. Additionally, admins can track join.me usage company-wide to show you how many meetings are taking place and which features are getting the most play.
Cons:
Join.me does not offer toll-free conferencing. This is a bummer. In addition, some users experience issues when using the desktop version. Finally, the whiteboard feature is only available on the iPad, so this can be fairly limiting for some.
Summary
Using video for business meetings provides low overhead, the ability for lightening fast decision-making, the convenience of remote connection, collaboration compatibility with all types of endpoints including mobile devices like smartphones and tablets, and saves business professionals a ton of time.
It can't be overstated that video business meetings can help marketing and sales people create targeted campaigns, qualify leads, analyze effectiveness, develop and deepen customer relationships, and enable collaboration with sales teams and lines of business. They can use the technology to offer customized content across physical and cultural boundaries, and then deliver it to as many people as possible, regardless of where they're located.
Using video is also key to building cohesion within your internal, but geographically dispersed team.
The best business leaders are proactive. They know that staying competitive is key.
Want help leveraging your video conferencing tool?